With the latest technologies reshaping the world of manufacturing, CNC machine jobs are skyrocketing. So, whether you apply for a CNC machinist or a CNC operator, both hold a lot of value and offer higher salaries. But how do you figure out which career pathway is better for you? Here, take a look at everything you need to know before applying for CNC machine jobs and accordingly decide which role suits you the best. 
What are CNC Machine Jobs?
CNC machine jobs are simply divided into three roles- CNC Machinist, CNC Operator, and CNC Programmer. When it comes to machinists and operators, their roles and responsibilities are pretty similar and entail loading materials into machines, inspecting items for accuracy and quality, and maintaining the manufacturing equipment. 
CNC machinists and programmers are also pretty similar, as a CNC machinist should have knowledge of developing programs and instructions to operate the CNC machines. So, if you think you can run CNC (computer numerical control) machines and use computer languages to cut parts from solid materials, these CNC machine jobs are a great career to follow.
CNC Machinists v/s CNC Operators

CNC Machinists vs CNC Operators | findwyse
CNC operators are simply entry-level CNC machinists who are starting afresh. And when they gain some experience, they are classified as CNC machinists. Both roles involve setting up systems and running CNC machines accurately to build and modify products. When you work with different organisations as a CNC operator, you may work under a CNC Machinist as they don't need any supervision while operating equipment.
Because Machinists come with experience, they earn more than operators and supervise them as well, so that operators can learn quickly and do the job right. So, if your career is just starting, try getting a good CNC Operator job.
Roles and Responsibilities of CNC Operator-
Preparing and Operating CNC machines to perform various tasks like drilling, grinding, and mining.

Converting instructions into computer commands to carry out precise and accurate machine operations.

Understanding KPIs and requirements of the tasks and delivering appropriate results by reading blueprints, mechanical drawings, and more.

Clean and maintain CNC equipment and troubleshoot all mechanical and quality issues.
Roles and Responsibilities of CNC Machinist-
Programming CNC machines with data acquired from blueprints or technical drawings.

Operating and maintaining CNC machines.

Supervising and guiding CNC operators.

Meeting with clients, managers, and other CNC operators to keep everyone aligned with company goals.

Choosing the correct tools and scheduling the machining tasks for every stage.

Carrying out quality assurance checks on finished products.




---
   2. CNC Machinists v/s CNC Programmers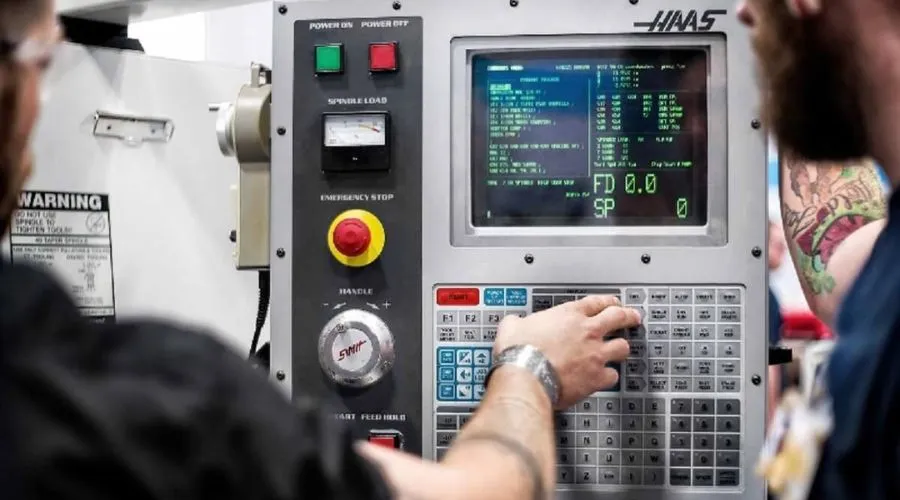 While CNC Machinists need a basic understanding of computer programming languages to function the machines and equipment, programmers' roles contain a lot more responsibilities. To manufacture CNC machinery, CNC programmers are required to read blueprints and 3D computer designs, make calculations about material usage, and at what speed to cut the material and so much more.
Afterward, they code the details into numbered, sequential instructions for machines to understand and start doing their jobs. As CNC programmers have more roles and duties to comprehend, they are paid even more than machinists.
Roles and Responsibilities of CNC Operator-
Develop and implement strategies to increase production and efficiency of products.

Coding programs, so machines can understand and perform tasks successfully.

Assisting in installation or troubleshooting any problems with CNC machinery.

Understanding the blueprints and client requirements to make sound decisions that help equipment perform better.

Identify and resolve any defects and equipment malfunctions quickly and effortlessly.




---
How to become eligible for CNC machine jobs?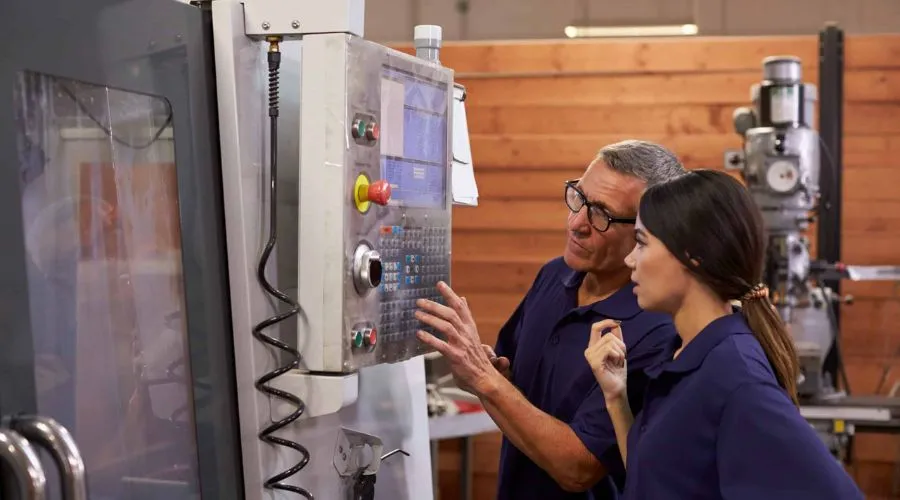 Get Valid Education
Obtaining a degree in mechanical engineering would be a good start when thinking of acquiring good CNC machine jobs. While obtaining a valid degree, mastering a few certifications like Certified CNC Setup Programmer, Level 1 Certificate in Performing Engineering Operations, and more will surely kickstart your career much better.
    2. Undertake Internships
Taking internships or apprenticeships while studying allows learners to develop specific skills that are required for the roles in CNC machine jobs. This way, candidates already have a way of earning some money, and it will only help build them an impressive portfolio when they apply to bigger companies.
   3. Develop Skills Required
CNC machine jobs are technical roles that require certain skills like good command of programming languages, coursework in advanced math and technical drafting, understanding and reading of blueprints, and more. The more skills you develop, the better salaries you can secure.
     4. Start Applying
The last and most crucial step is to find a good platform, create your profile, and start applying for suitable jobs. Ensure that you match the requirements that employers need and accordingly shortlist them.
---
Skills Required for CNC Machine Jobs
Engineering Knowledge
CNC machine jobs are very technical, so having an aptitude for mechanical engineering and great mathematics skills is very much appreciated. Also, having an understanding of computer programming languages and certifications can land you better roles and higher packages. 
     2. Attention to Details
Having a good concentration span is very crucial for scoring CNC machine jobs as you need to ensure that each step is carried out efficiently. And, when complex issues arises you'll be able to come up with best possible solutions.
     3. Communication Skills
CNC machine jobs entails tons of communication with other colleagues, clients, and stakeholders. So, even if you are applying for an entry-level position, you should have decent communication skills.
CNC Machine Job Market in Poland
Poland is one of the most popular countries in Europe for finding the best CNC machinist jobs. The country offers low-cost living, amazing healthcare benefits, numerous MNCs offering competitive packages, and because the economy of Poland is growing, so is the job market. So, if you are thinking of moving abroad, Poland seems like a smart choice.
When it comes to determining the average salary of a CNC Machinist in Poland, it goes up to zł47,416 with a bracket of zł33,053 and zł60,142. If you are applying for CNC machine operator job, you can grab a salary package of zł12,700- zł15,000.
---
Online Platform to Find CNC Machine Jobs in Poland
For finding great CNC machine jobs, Pracuj is one of the best job portals in Poland that will help you land your dream job. The platform has a wide range of available job opportunities that offers competitive salary packages. Pracuj is made to be a user-friendly platform that enlists verified employers and candidates to offer the best possible experiences. So, if you are looking for any jobs in Poland, Pracuj is the right answer.  
Conclusion
If you are interested in the field of manufacturing, where everything is controlled by advanced technologies and computers, CNC machining careers are what you should look into. And, with the Pracuj job portal, you can easily look up tons of CNC machine jobs that house top companies offering higher salaries. So, what are you waiting for? Explore the platform and target your dream companies. For more such information, visit Findwyse.
FAQs