In the digital age, blogging has become an integral part of content creation and communication. Whether you are an individual looking to share your thoughts and experiences or a business aiming to establish an online presence, having a well-designed and functional blog is crucial. Squarespace, a popular website builder, offers a range of blog templates that can significantly enhance your blogging experience.
Benefits of Squarespace's blog template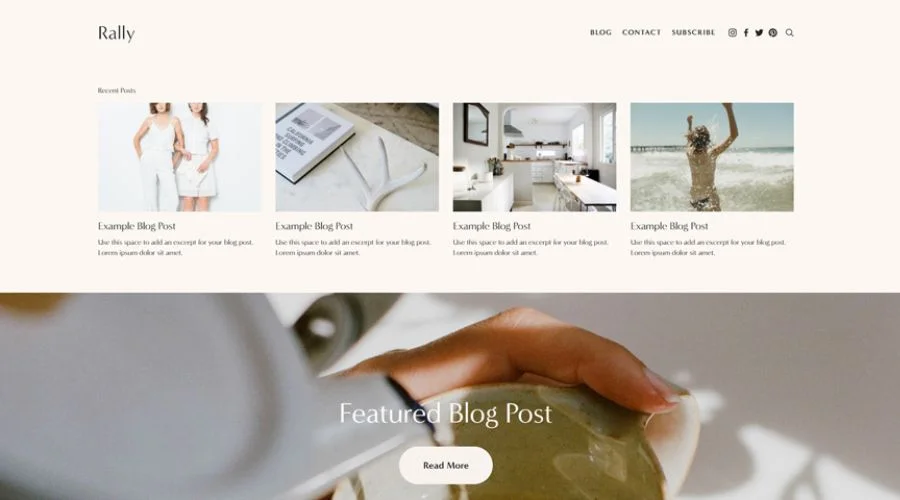 I. Versatility:
Responsive Design:
One of the major advantages of using a blog template by Squarespace is its responsive design. In today's mobile-dominated world, it is essential for your blog to adapt to various screen sizes and devices. Squarespace templates are designed to be responsive, ensuring that your blog looks and functions seamlessly on smartphones, tablets, and desktop computers.
   2.Multiple Layout Options:
Squarespace offers a wide array of blog layouts to suit different content types and preferences. Whether you prefer a traditional grid-style layout, a magazine-style arrangement, or a single-column format, Squarespace has templates that cater to your needs. This versatility allows you to showcase your blog content in a visually appealing manner, enhancing the overall user experience.
II. User-Friendliness:
Drag-and-Drop Interface:
Squarespace's blog templates come with a user-friendly drag-and-drop interface that makes it easy for anyone, even those without coding knowledge, to create and customize their blog. You can effortlessly rearrange blog elements, such as images, text blocks, and multimedia, by simply dragging and dropping them into the desired positions. This intuitive interface saves time and eliminates the need for complex coding or design skills.
     2.Built-in Content Management System:
Squarespace provides a powerful built-in content management system (CMS) that simplifies the process of managing and organizing your blog content. The CMS allows you to easily create new blog posts, edit existing ones, and categorize them using tags or categories. Additionally, you can schedule posts in advance, enabling you to maintain a consistent publishing schedule without manual intervention.
III. Customization Options:
Design Customization:
With Squarespace's blog templates, you have full control over the design elements of your blog. You can customize the colors, fonts, and overall aesthetics to align with your brand or personal style. Squarespace offers a vast selection of pre-designed templates, ensuring that you find one that resonates with your vision. Furthermore, you can upload your logo, incorporate custom CSS code, and integrate third-party widgets to further personalize your blog.
     2.SEO-Friendly Features:
Squarespace understands the importance of search engine optimization (SEO) for driving organic traffic to your blog. Their blog templates are equipped with built-in SEO features, such as customizable meta tags, clean URL structures, and automatic sitemaps. These features help search engines understand and index your blog content effectively, improving your chances of ranking higher in search results and attracting more readers.
Features of Squarespace's blog template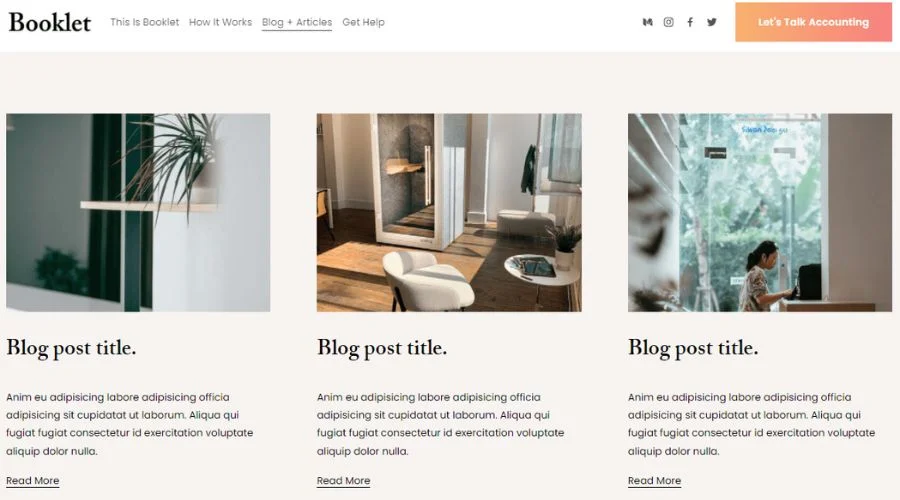 1.Elegant and Responsive Design:
One of the standout features of the blog template is its elegant and responsive design. Squarespace understands the importance of aesthetics in capturing readers' attention and provides a visually appealing template that creates a positive first impression. The design is clean, modern, and adaptable to various blog topics, ensuring that your content takes center stage. Moreover, the template is responsive, meaning it automatically adjusts to different screen sizes, allowing readers to enjoy a seamless browsing experience on desktops, tablets, and mobile devices.
 2.Customization Options:
The blog template offers extensive customization options, allowing bloggers to personalize their websites according to their preferences and branding. Users can choose from a wide range of fonts, color palettes, and layouts to create a unique and cohesive look that aligns with their blog's theme. Additionally, Squarespace's intuitive drag-and-drop editor enables bloggers to easily arrange and rearrange content blocks, such as blog posts, sidebars, and social media integrations, to create a visually appealing and user-friendly layout.
3.Multiple Blog Layouts:
Squarespace understands that bloggers have diverse content needs, and the blog template caters to this by offering multiple blog layouts. Whether you prefer a traditional chronological blog feed or a grid-style display, the template provides various options to showcase your content in the most engaging manner. The flexibility of the blog template allows bloggers to experiment with different layouts and choose the one that best suits their content and aesthetic preferences. Integrated Commenting System:
Engagement and interaction are crucial aspects of blogging, and the blog template simplifies this through its integrated commenting system. Readers can leave comments directly on blog posts, encouraging discussions and fostering a sense of community. The commenting system can be customized to allow moderation, ensuring that the blogger has control over the conversations happening on their website. With the ability to reply to comments and engage in meaningful conversations, bloggers can build stronger connections with their audience.
Conclusion
In conclusion, utilizing a blog template by Squarespace offers a multitude of benefits. Its versatility, user-friendliness, and customization options empower bloggers to create visually stunning and highly functional blogs. Squarespace's responsive design ensures an optimal browsing experience across devices, while the intuitive drag-and-drop interface simplifies the blog creation process. Furthermore, the customization options enable bloggers to tailor their blogs to their unique needs and brand identity. For more information, visit Squarespace and the official website of Findwyse.
FAQ's