An integrated washing machine with a tumble dryer is a heaven-made match. The best-integrated tumble dryers function and feature comparably to freestanding versions, yet they entirely vanish behind cabinet doors. There is no need for a separate laundry room to resemble a branch of your neighbourhood launderette if you are fortunate to have one. Considering the present emphasis on energy conservation and lowering those high electricity bills, purchasing a tumble dryer may seem counter-intuitive. It simply isn't practical for families with many laundries to dry it in the spare room.
---
What type of tumble dryer is the best?
The majority of integrated dryers on the market now use heat pumps. Since heat pump designs are the most energy-efficient you can find, they are less expensive to operate than the alternatives, which is a positive point. The drawbacks are that they can cost more and that drying cycles can take a lot longer than with vented dryers.
---
What capacity do I need?
With all models having a 7kg capacity, integrated tumble dryers offer fewer options than freestanding devices, with around 6kg to 10kg capacity. You must purchase a freestanding unit if you require a high-capacity dryer for a large household.
---
What are the most useful features and programs?
The specialty of a sensor-equipped dryer is that it turns off automatically when no moisture is left in the load, saving energy consumption and the clothes from damage.
It is another popular feature that can give you access to different programs and settings of the integrated tumble dryer from different corners of the house.
It enables you to load up and schedule the dryer to turn on later in the day or, if you're on an Economy 7 tariff, electricity is less expensive. Just be careful not to let wet garments rest for too long before starting the cycle, as they'll smell musty when they come out.
---
Best Integrated tumble Dryers
1. Caple TDI4001: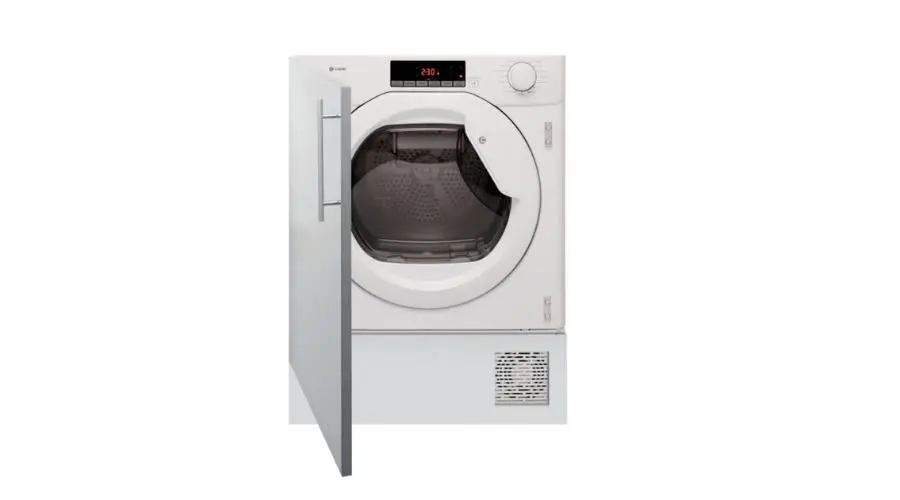 Although it is the priciest integrated tumble dryer on this list, consumers overwhelmingly agree that the higher price was worthwhile. Reviewers are ecstatic to say it performs better than most of the integrated heat pump dryers they bought. It has 15 drying programs capable of accommodating all varieties of clothing. This integrated tumble dryer undergoes standard cycles for delicates, synthetics, cotton, and sports. It also has separately designed cycles for antiallergic purposes and refreshing clothes. Also, you won't need to consult the instruction booklet because the dial clearly labels the drying cycles.
There are four different drying settings, and sensor drying boosts productivity. Additionally, the anti-crease function helps to cut down the time you'll spend at the ironing board, which is a major plus in our book. It is the best-integrated tumble dryer.
2. Candy BCTDH7A1TE: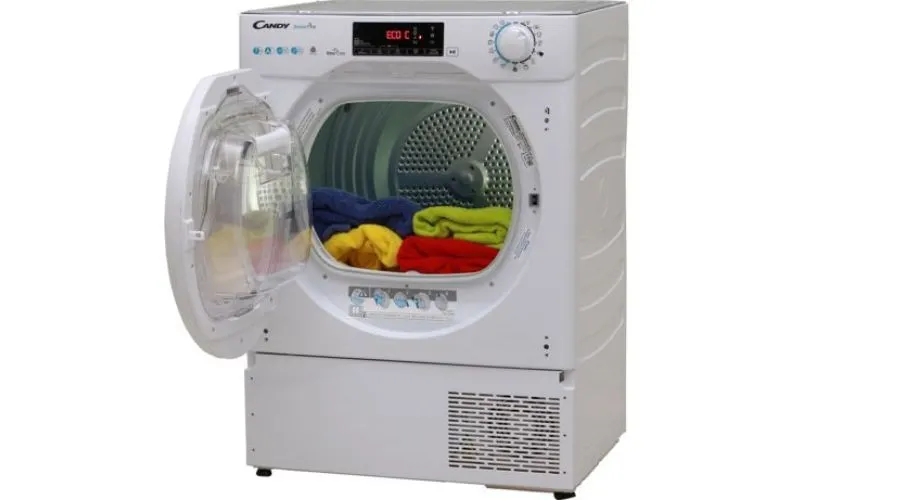 Although it costs almost twice as much as the least expensive freestanding heat pump drier, the Candy dryer is among the most reasonably priced integrated models.
The controls are easy to use, with a large dial to choose your drying program. If you prefer a more advanced method, it is also Wi-Fi enabled, and you can operate it by an app on your phone. Candy integrated tumble dryer is a bit of a no-brainer. Despite being the least expensive on the list, it has nearly identical specifications to all the others, including sensor drying, an A+ energy rating, and a delay timer. It is the best pocket-friendly integrated tumble dryer.
3. Hoover BHT DH7A1 CE: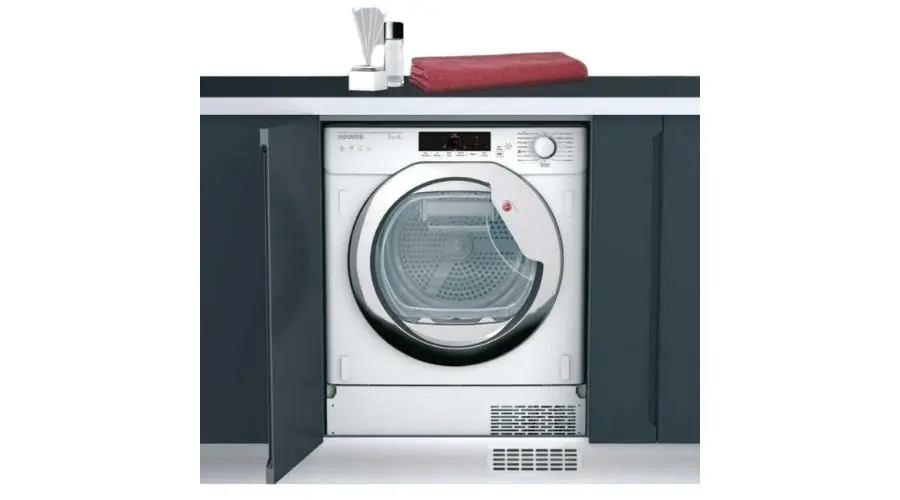 A convenient sensor drying cycle on this Hoover tumble dryer balances the load and calculates your ideal drying time. It makes setting the dryer program easier. It also guarantees that your clothes dry quickly. Connecting this integrated tumble dryer to the app will offer 40 extra drying programs. , When you snap a picture of the care label inside your apparel, the app will choose the best cycle to care for your clothes while maximizing drying efficiency. Users also adore the easily accessible water tank within the door that quickly indicates whether there is a need to empty it. Hence, it is the best-integrated tumble dryer with the latest functions and a weight sensor.
4. Hoover BATDH7A1TCE-80: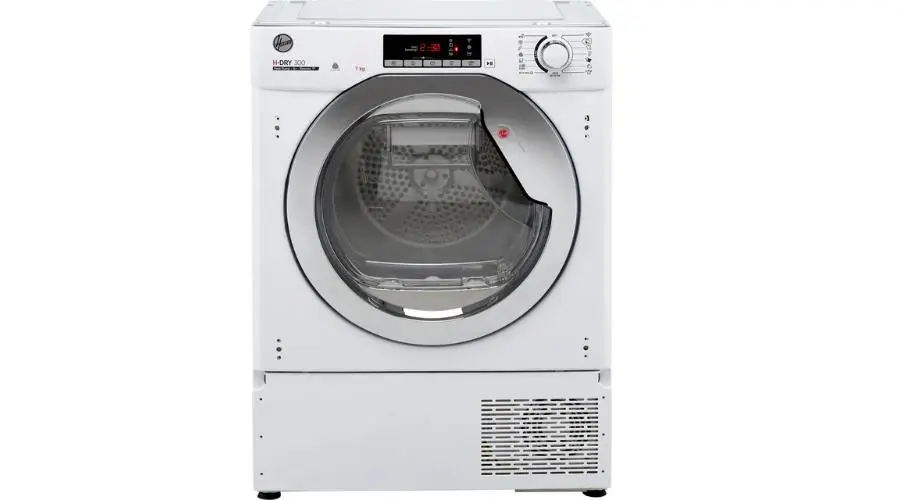 With so few versions available, it is worthwhile to add both of these models to the list. This model of integrated tumble dryer by Hoover is comparable to the Hoover dryer mentioned before in terms of pricing and functions. It also has Wi-Fi capability that entitles you to control your device remotely. Also, it gives you access to additional drying programs and sends program alerts on your phone. This integrated tumble dryer's 16 drying cycles include:
A Woolmark-approved wool cycle.
Time-saving alternatives for quick drying activities.
A cleanliness program.


---
Conclusion
This article covers the best-integrated tumble dryers that are popular these days. The key benefits they come with are wi-Fi connectivity, sensor dryer, and delay timer. They save the time of ironing clothes and keep the clothes wrinkle-free. The integrated tumble dryers are easy to operate and have various programs for different types of clothes.
FAQ's
Affiliate Disclosure: Our website may contain affiliate links, which means we may receive a commission if you click a link and purchase something that we have recommended. While clicking these links won't cost you any extra money, they will help us keep this site up and running. Thank you for your support!