In this era of technological advancements, smart devices have become an integral part of our daily lives. Among these, Samsung has been at the forefront, consistently introducing innovative products that enhance our digital experiences. One such remarkable creation is the Samsung Smart Monitor. 
Key Features of the Samsung Smart Monitor
Ultra-High Definition (UHD) Display:
The Samsung Smart Monitor boasts a stunning UHD display, ensuring exceptional image quality and clarity. The 4K resolution provides sharp and vibrant visuals, allowing users to immerse themselves in an immersive viewing experience.
Integrated Smart TV Capabilities:
One of the standout features of the Samsung Smart Monitor is its integration of smart TV capabilities. Users can access a wide range of streaming platforms, such as Netflix, Disney+, and Hulu, directly from the monitor, eliminating the need for an external device. Additionally, the monitor supports voice commands, allowing users to control their entertainment experience hands-free.
Wireless Connectivity:
With built-in Wi-Fi capabilities, the Samsung Smart Monitor enables seamless wireless connectivity. Users can easily connect their smartphones, tablets, or laptops to the monitor, allowing for effortless screen mirroring and content sharing. This feature enhances productivity by enabling multitasking and collaboration.
Here is a list of the Best Samsung Smart Monitor
1. 32″ M70B UHD, USB-C Smart Monitor with Speakers & Remote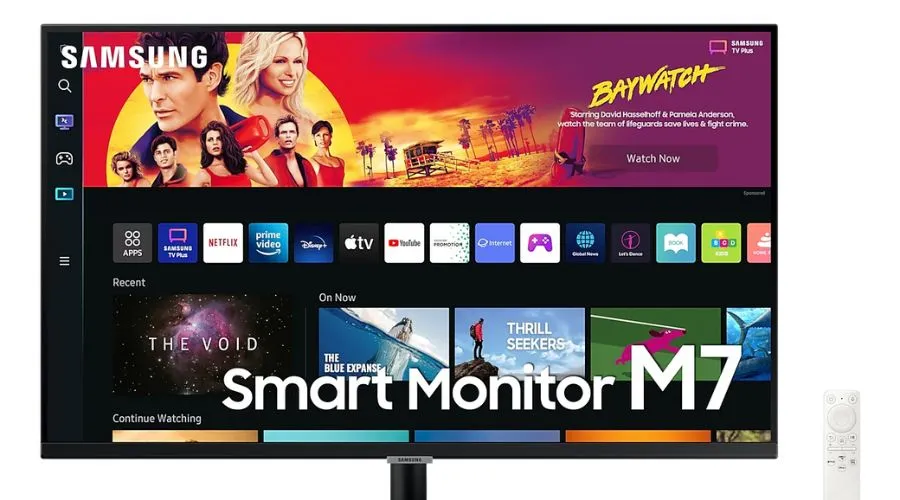 The Samsung Smart Monitor boasts a generous 32″ Ultra High Definition (UHD) display, providing users with breathtaking visuals. With a resolution of 3840 x 2160 pixels, this monitor guarantees stunning clarity and crispness in every image. 
Whether you are working on intricate design projects, watching your favourite movies, or immersing yourself in the latest video games, the M70B UHD ensures a visually captivating experience. Its wide colour gamut and HDR10 compatibility contribute to vibrant colours and lifelike visuals, elevating the viewing experience to new heights.
Connectivity is a crucial aspect of modern technology, and the Samsung Smart Monitor excels in this domain. Equipped with USB-C connectivity, this monitor simplifies the user experience by serving as a central hub for all your devices. 
2. 27″ M50B White Full HD Smart Monitor with Speakers & Remote
The 27″ M50B White Full HD Smart Monitor is designed to offer users an immersive and convenient experience. Its vibrant 27-inch Full HD display ensures sharp and clear visuals, bringing images and videos to life with vivid colours and crisp details. The monitor's slim bezels provide an edge-to-edge viewing experience, creating a more expansive screen space and reducing distractions.
The integration of speakers directly into the monitor eliminates the need for external speakers, enhancing the audio experience and decluttering your workspace. With the built-in speakers, you can enjoy rich, immersive sound while watching movies, playing games, or listening to music without the hassle of additional equipment.
---
3. 24″ M50A Full HD Smart Monitor with Speakers & Remote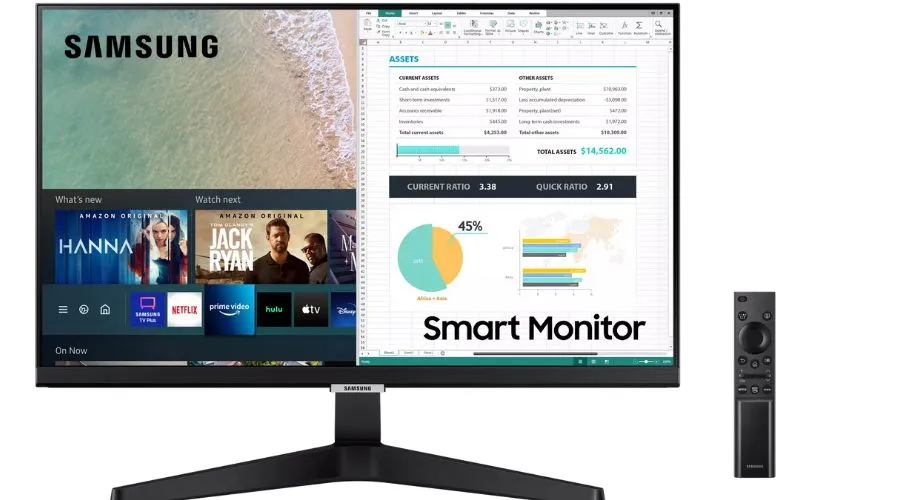 The 24″ M50A Smart Monitor is designed with aesthetics and functionality in mind. It is slim bezels and sleek form factor give it a modern and sophisticated look that complements any workspace. The monitor can be easily integrated into multi-monitor setups for increased productivity. 
In terms of connectivity, it features multiple ports, including HDMI and USB, allowing seamless connectivity with various devices such as laptops, gaming consoles, and media players. The versatile connectivity options make the Smart Monitor a flexible choice for different tasks and purposes.
The 24″ M50A Full HD Smart Monitor with Speakers & Remote by Samsung is a remarkable display solution that combines advanced features, sleek design, and smart functionalities. Its high-resolution display, built-in speakers, remote control, and versatile connectivity options make it an excellent choice for both work and entertainment. The Samsung Smart Monitor enhances productivity by providing a seamless and user-friendly experience, eliminating the need for additional devices and clutter. 
---
4. 49″ G95SC Odyssey OLED G9 240Hz Smart Gaming Monitor
The Samsung G95SC Odyssey OLED G9 features an ultra-wide 49-inch screen, providing an expansive field of view that enhances immersion. This extra-wide aspect ratio (32:9) is perfect for gaming enthusiasts, as it mimics peripheral vision, allowing players to spot enemies or objects that might otherwise be hidden on a narrower display. 
Moreover, the monitor's 1000R curvature ensures that the screen wraps around the user, creating a truly immersive experience. The combination of ultra-widescreen real estate and curvature makes the G95SC Odyssey OLED G9 an ideal choice for gamers seeking a fully engrossing gaming experience.
---
5. 32″ M80B UHD, USB-C White Smart Monitor with Speakers & Remote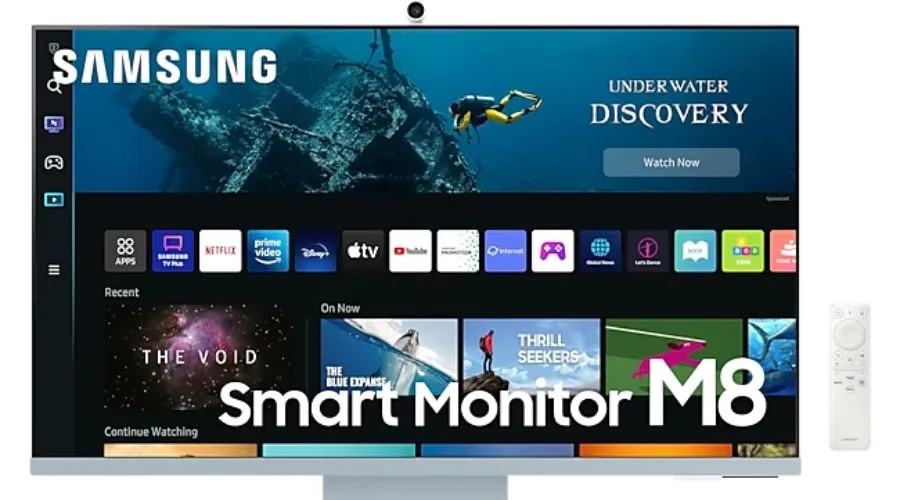 The 32″ M80B UHD, USB-C White Smart Monitor with Speakers & Remote is a cutting-edge display device manufactured by Samsung. This monitor offers a host of features and capabilities that cater to the needs of modern users seeking a seamless and convenient visual experience. 
With the integration of smart functionalities, USB-C connectivity, a high-resolution display, built-in speakers, and a user-friendly remote control, this monitor sets itself apart as a versatile and user-centric choice.
The Samsung Smart Monitor series has gained a reputation for its innovative design and advanced features, and the M80B UHD is no exception. With its sleek and modern appearance, the monitor effortlessly blends into any workspace or home environment. The white colour variant adds an elegant touch to the overall aesthetic, making it a visually pleasing addition to any setup.
---
Conclusion
The Samsung Smart Monitor has revolutionized the display industry by bridging the gap between traditional monitors and smart TVs. Its innovative features and functionality have set a new standard for monitors, inspiring other manufacturers to develop similar all-in-one solutions. For more information, visit Findwyse.
FAQ's