In today's digital age, having a personal website has become essential for individuals looking to establish a strong online presence. Whether you're an artist, a freelancer, a professional, or simply someone who wants to showcase your passions, a personal website provides a versatile platform to express your unique identity. Among the various website-building platforms available, Squarespace stands out as an exceptional choice, offering a seamless and intuitive experience. A personal website serves as your virtual home on the internet, offering a space to share your achievements, talents, and perspectives. It allows you to curate your online identity, build credibility, and connect with a global audience. 
Why is Squarespace a good choice? 
Squarespace is renowned as a leading website-building platform due to its user-friendly interface, stunning design options, and robust features. Let's explore the reasons why Squarespace is the ideal choice for creating your personal website:
1. Intuitive interface
Squarespace offers an intuitive drag-and-drop editor that requires no coding knowledge. You can easily add and arrange elements, images, and text to create a visually captivating website.
---
2. Beautiful templates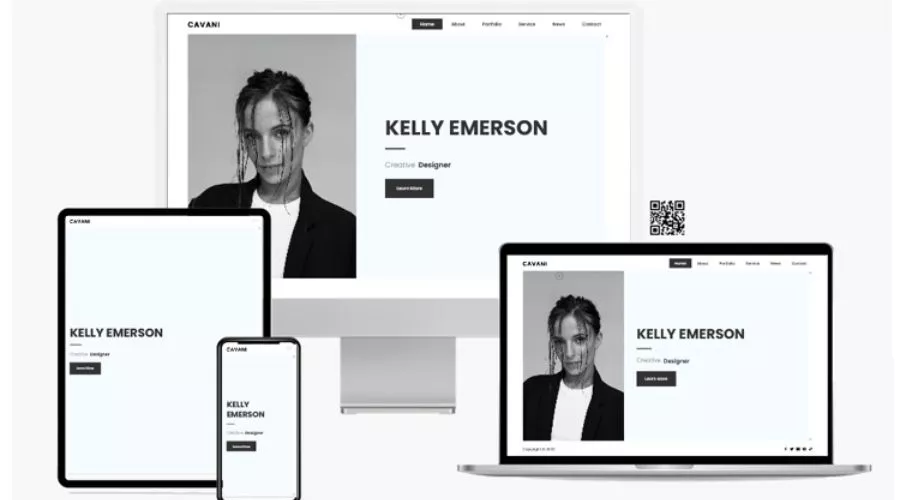 Squarespace boasts an impressive collection of professionally designed templates catering to various industries and styles. These templates are fully customisable, allowing you to personalise your site and make it truly unique.
---
3. Responsive design
With Squarespace, your personal website will automatically adapt to different devices and screen sizes. This responsiveness ensures a seamless user experience, regardless of whether visitors access your site from a desktop, tablet, or smartphone.
---
4. Extensive features
Squarespace offers a wide range of built-in features to enhance your personal website. From e-commerce functionality to blogging capabilities, you can easily incorporate different elements to meet your specific goals and requirements.
---
5. Robust support and security
Squarespace provides reliable customer support, with 24/7 assistance available via email and live chat. Additionally, the platform ensures the security and stability of your website, including SSL certificates and regular backups.
---
Standout features of personal website templates on Squarespace
When it comes to creating a personal website, Squarespace offers a range of standout features that make it an excellent choice. The standout features of the personal website by Squarespace.
Stunning Templates

: Squarespace provides a wide array of professionally designed templates specifically tailored for personal websites. These templates are visually appealing, modern, and responsive, ensuring your personal website examples look fantastic on any device.

Drag-and-drop Editing: Building a personal website with Squarespace is a breeze, thanks to its intuitive drag-and-drop editor. You don't need any coding knowledge to create a personalised and unique website. Simply select elements, such as text, images, and videos, and arrange them effortlessly on your pages.

Customization Options

: Squarespace offers extensive customisation options, allowing you to make your personal website truly reflect your style and personality. You can easily customise fonts, colours, layouts, and more, ensuring your website stands out from the crowd.

Image and video Galleries: With Squarespace, you can create stunning galleries to showcase your photography, artwork, or any visual content. The platform supports high-resolution images and videos, allowing you to create a visually captivating experience for your visitors.

Blogging Capabilities

: If you're looking to share your thoughts, experiences, or expertise, Squarespace's built-in blogging capabilities make it a great choice for a personal website. You can create and manage a blog with ease, utilising features like tags, categories, and commenting to engage with your audience.

E-commerce Functionality: For those who wish to sell products or services through their personal website, Squarespace provides seamless e-commerce functionality. You can set up an online store, manage inventory, accept payments, and track orders, all within the platform.

Integrated Analytics

: Understanding how your personal website is performing is essential. Squarespace offers built-in analytics tools that provide valuable insights into visitor traffic, popular content, and more. This data can help you optimise your website and tailor it to better meet your audience's needs.

Mobile Optimization: With the increasing use of mobile devices, having a personal website that looks and functions well on smartphones and tablets is crucial. Squarespace ensures that your website is automatically optimised for mobile viewing, providing a seamless experience for visitors on any device.

SEO-Friendly Features

: Squarespace is designed with search engine optimisation (SEO) in mind, helping your personal website rank higher in search engine results. The platform includes features such as customisable page titles, meta descriptions, clean URLs, and automatic sitemap generation to enhance your website's visibility.

Reliable Hosting and Security: Squarespace takes care of hosting your personal website, ensuring it remains accessible and secure. You don't have to worry about server maintenance or security updates, allowing you to focus on creating and promoting your content.
Conclusion
In conclusion, In the era of digital self-expression, a personal website is an invaluable tool for showcasing your talents, expanding your network, and shaping your online identity. With Squarespace, building a stunning personal website becomes an enjoyable and seamless experience. Its intuitive interface, beautiful templates, and extensive features empower individuals to create impactful digital platforms without the need for extensive coding knowledge. For more information about the personal portfolio website, visit the official website of Findwyse.
FAQs