In the world of natural sweeteners, few can claim the unique charm, flavor, and versatility of organic maple syrup. Often referred to as "liquid gold," this delightful amber elixir has tantalized taste buds and charmed health-conscious individuals with its potential health benefits. Beyond its unmistakable taste, organic maple syrup offers a range of advantages that may surprise you. In this blog, explore with Findwyse the golden world of organic maple syrup, exploring its health benefits, and creative ways to use it in your food.
1. Health benefits of
organic
maple syrup
1. Organic maple syrup offers more than just a delightful flavor; it also provides some potential health benefits:
2. Rich in Antioxidants: Maple syrup contains various antioxidants, including phenolic compounds. Antioxidants help combat oxidative stress in the body, which can contribute to chronic diseases and aging.
3. Versatile Culinary Uses: Maple syrup is incredibly versatile in the kitchen. It can be used in a wide range of dishes, from sweet breakfast items like pancakes and waffles to savory dishes, marinades, salad dressings, and desserts.
4. Nutrient Boost: Maple syrup contains small amounts of essential minerals like calcium, potassium, and zinc.
5. No Artificial Additives: Organic maple syrup is free from artificial additives, colors, and flavors. It's a pure and unadulterated sweetener, making it a healthier choice compared to some processed sweeteners.
6. Gluten-Free: Maple syrup is naturally gluten-free, making it a suitable sweetener for those with gluten sensitivities or celiac disease.
---
2. The best certified organic maple syrup
1. Coombs Family Farms Maple Syrup Dark Amber Grade A 100% Pure Organic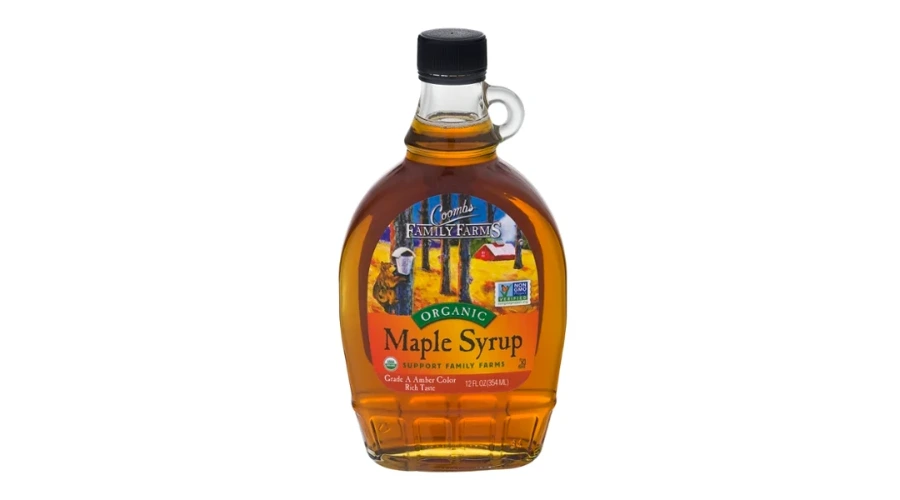 Coombs Family Farms Maple Syrup, Dark Amber Grade A, is a testament to the rich tradition of maple syrup production. Crafted with care, this 100% pure organic maple syrup embodies the commitment of the Coombs Family Farms to quality and sustainability. What sets it apart is its certification as an organic product by QAI (Quality Assurance International), assuring consumers that it meets stringent organic standards. With each pour, you can savor not only the exquisite taste but also the dedication to responsible farming and environmental protection that this syrup represents.
---
2. Butternut Organic 100% Pure Maple Syrup
Butternut Mountain Farm Organic 100% Pure Maple Syrup is a tribute to the natural beauty and flavor of Vermont's maple trees. This syrup is a pure, unadulterated representation of nature's sweet bounty, carefully harvested and crafted without the use of synthetic chemicals or additives. Certified as organic, it upholds the highest standards of sustainable farming and environmental responsibility. Every drop of this liquid gold tells a story of the pristine forests and meticulous craftsmanship that define organic Vermont maple syrup. Drizzle it over pancakes, waffles, or your favorite dishes, and you'll experience the authentic, rich taste of organic maple syrup at its finest.
---
3. Cary's 100% Pure Maple Syrup Organic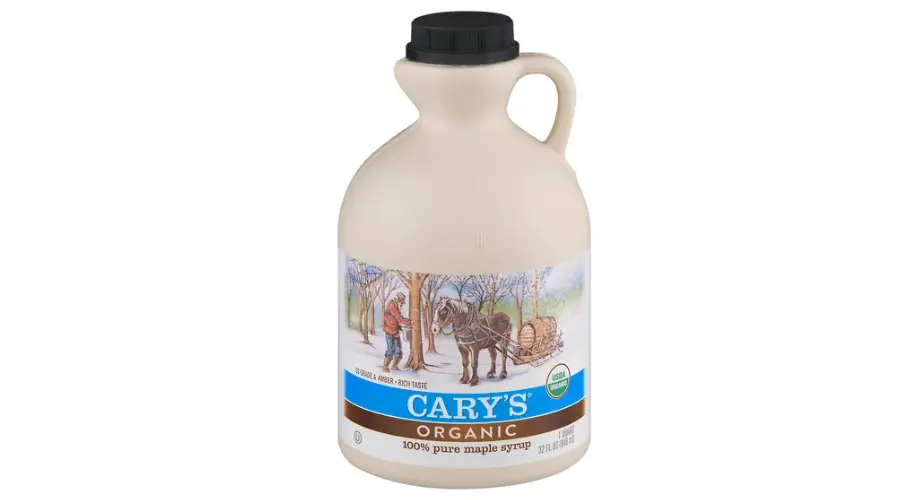 Cary's 100% Pure Maple Syrup Organic contains every drop's essence of organic goodness. Crafted with a commitment to purity, this syrup is a delightful representation of nature's sweetness, free from synthetic additives or artificial flavors. With its rich taste that embodies the natural flavors of maple trees, it elevates any dish it graces. Whether drizzled over breakfast classics or included in your favorite recipes, this organic maple syrup adds a touch of indulgence to every bite while aligning with a conscious choice for organic products.
---
4. Giant Maple Syrup 100% Pure All Natural
Giant Maple Syrup Dark Amber Grade A 100% Pure All Natural syrup is a delicious testament to the timeless tradition of maple syrup production. Crafted with the utmost care and purity, this syrup offers a bold and rich maple flavor that's sure to satisfy the most discerning palates. As a Grade A Dark Maple Syrup, this organic maple syrup boasts a deep amber hue that reflects its robust taste. What sets it apart is its commitment to being all-natural, free from artificial additives or preservatives. With each pour, you experience the unadulterated essence of pure maple syrup, a natural delight that can elevate your breakfasts, desserts, and culinary creations with its irresistible sweetness and unparalleled quality.
---
5. Nature's Promise Organic Maple Syrup Pure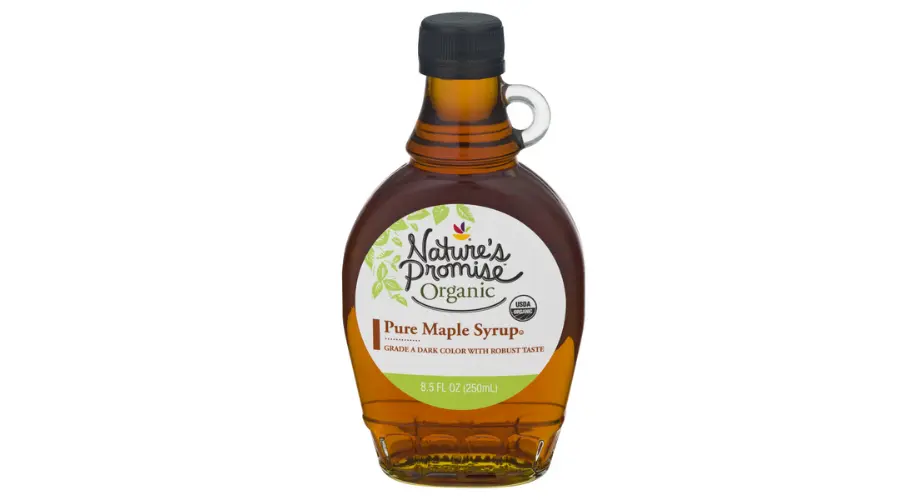 Nature's Promise Organic Maple Syrup Pure is a genuine gift from nature and a testament to the beauty of organic maple syrup at its finest. Crafted with a commitment to organic farming practices, this Grade A syrup is the pure embodiment of authenticity. With its delicate amber hue and rich, sweet flavor, it transforms ordinary meals into extraordinary culinary experiences. Free from artificial additives, it's a natural delight you can feel good about enjoying. Whether you're drizzling it over pancakes, or waffles, or incorporating it into your favorite recipes, Nature's Promise Organic Maple Syrup Pure offers a wholesome, organic touch to every dish, making each bite a celebration of nature's purest sweetness.
---
3. Creative ways to use organic maple syrup beyond pancakes
1. While maple syrup is a breakfast staple, its applications in the culinary world go far beyond topping pancakes. Here are some creative uses for this versatile sweetener:
2. Marinades and Glazes: Maple syrup adds depth and sweetness to marinades for meats like pork and chicken. Maple syrup also makes an excellent glaze for roasted vegetables.
3. Salad Dressings: Include maple syrup in salad dressings for a hint of sweetness to balance out tangy or savory flavors.
4. Baking: Maple syrup is a key ingredient in many baked goods, from maple muffins and scones to maple-glazed donuts and cakes.
5. Cocktails: Craft cocktails often feature maple syrup as a natural sweetener. It pairs wonderfully with bourbon, whiskey, and even in non-alcoholic beverages.
6. Desserts: Use maple syrup to sweeten desserts like pies, tarts, and custards. It complements the flavors of fruits and nuts beautifully. 
7. Savory Dishes: Experiment with savory dishes by adding a touch of maple syrup to dishes like roasted Brussels sprouts, glazes for grilled salmon, or a sweet-savory sauce for stir-fries.
---
Conclusion
Organic maple syrup from Giant Food is not just a sweet topping; it's a testament to nature's exquisite craftsmanship. Whether drizzled over breakfast classics, used in savory dishes, or added to desserts, maple syrup elevates the flavor profile of countless dishes. So, the next time you reach for that bottle of maple syrup, take a moment to appreciate the liquid gold that nature provides and savor the sweetness with a smile. 
For more information, visit Findwyse.
FAQs