Chili beans, those flavorful legumes infused with a medley of spices and seasonings, have earned a special place in the hearts and kitchens of food enthusiasts worldwide. These culinary powerhouses offer not only a delicious taste but also a wealth of nutritional benefits. From hearty stews to zesty dips, chili beans find their way into a diverse array of dishes, embodying comfort, warmth, and a touch of culinary magic. In this comprehensive guide, delve into the world of chili beans with Findwyse and explore their benefits.
The benefits of canned chili beans
Chili beans can offer a host of benefits that make them a convenient and nutritious addition to your meals. Here are some of the key advantages of including chili beans in your diet:
1. Rich Source of Protein:
Chili beans are a fantastic plant-based source of protein. Protein is essential for building and repairing tissues, supporting muscle growth, and maintaining overall bodily functions. Including chili beans in your meals can help you meet your daily protein requirements, especially for those following a vegetarian or vegan diet.
2. Complex Carbohydrates:
The carbohydrates in chili beans can primarily come from complex carbohydrates. These carbohydrates provide a steady and sustained release of energy, helping to maintain stable blood sugar levels and keeping you energized throughout the day.
3. Nutrient-Rich:
Canned chili beans are packed with essential nutrients such as folate, iron, magnesium, potassium, and B vitamins. These nutrients play vital roles in various bodily functions, including energy production, immune system support, and heart health.
4. Heart Health:
The high fiber content in chili beans is associated with heart health. Fiber helps in lowering cholesterol levels by binding to cholesterol molecules and also helps remove them from the body. Additionally, the low-fat content of chili beans can make them a heart-healthy choice.
5. Convenient and Versatile:
Canned chili beans are incredibly convenient. They are pre-cooked and ready to use, saving you preparation time. They can be easily added to various dishes, including soups, stews, salads, wraps, and more, enhancing both flavor and nutritional value.
6. Budget-Friendly:
Canned chili beans are an economical way to include nutrient-rich foods in your diet. They offer a cost-effective source of protein, fiber, and essential nutrients without breaking the bank.
7. Customizable Flavor:
Canned chili beans come in a variety of flavors and seasoning options. This allows you to choose options that align with your taste preferences and the specific dish you're preparing, adding a burst of flavor to your meals.
The best chili bean cans are full of nutritional values
1.   Gardein Plant-Based Chili with Beans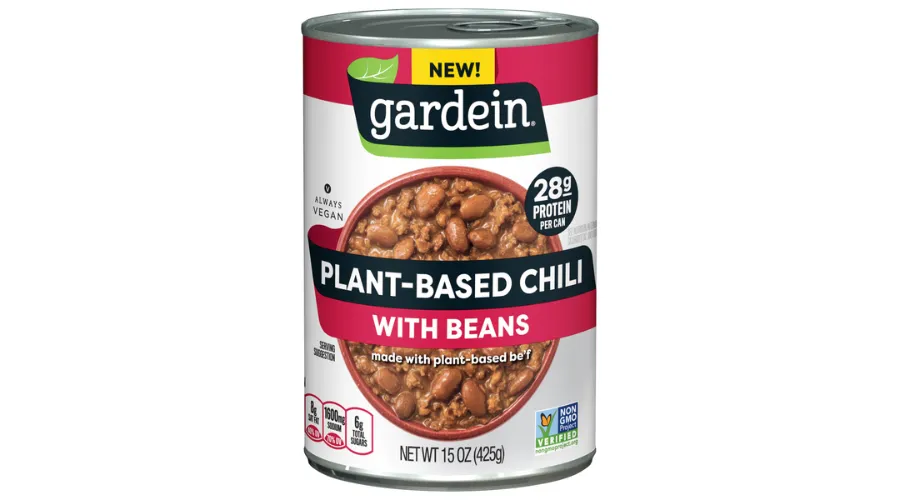 Savor the rich and hearty flavors of Gardein's Plant-Based Chili with Beans, a delicious and convenient choice for those seeking a wholesome plant-based meal. Crafted with care, this chili is a medley of prepared pinto beans, tomato puree, textured soy protein concentrate, rolled oats, and aromatic spices that tantalize the taste buds. With a touch of natural flavors, sunflower lecithin, and a hint of caramel color, this chili offers a symphony of satisfying and nourishing tastes. Whether you're microwaving it for a quick and hassle-free option or prefer the stove-top method for a traditional approach, these chili beans can offer versatility to suit your preferences
2.   Hormel Plant Based Chili with Beans
Experience the delectable taste of Hormel Plant-Based Chili with Beans, a wholesome and flavorful option for those embracing a plant-based lifestyle. Crafted with precision, these chili beans can combine a medley of tomatoes, pink beans, kidney beans, onions, green and red bell peppers, soy protein concentrate, and a range of aromatic spices for a truly satisfying culinary experience. Enriched with vegetable broth concentrate that includes organic cane sugar, natural flavors, and a touch of garlic and onion powder, this chili delivers a symphony of hearty and delightful tastes.
3.   Bush's Best Chili Magic Chili Starter Campfire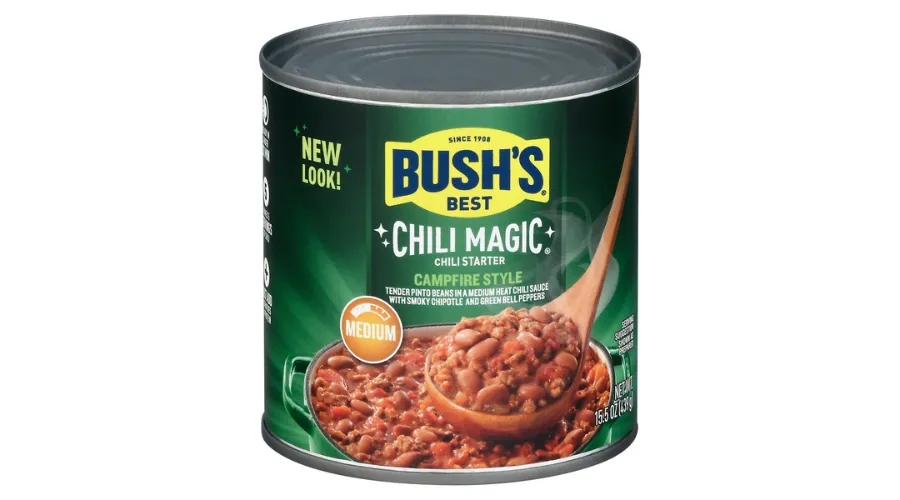 Elevate your chili-making experience with Bush's Best Chili Magic Chili Starter Campfire Style Medium. These premium chili beans can starter features tender pinto beans enveloped in a medium-heat chili sauce that boasts the rich flavors of smoky chipotle and green bell peppers. With a blend of high-quality ingredients, including prepared pinto beans, tomato paste, and a harmonious array of spices, onion powder, and garlic powder, this chili starter offers convenience without compromising on taste.
4.   Westbrae Natural Chili Beans Organic
Unlock the essence of organic goodness with the Westbrae Natural Chili Beans No Salt Added Organic. Crafted with the enticing blend features organic kidney beans, black beans, and pinto beans, all simmered to perfection in water. With a commitment to quality, these beans proudly bear the Certified Organic seal by Quality Assurance International (QAI), ensuring a farm-to-table journey that prioritizes nature's finest ingredients.
5.   Teasdale Simply Especial Mexican Chili Beans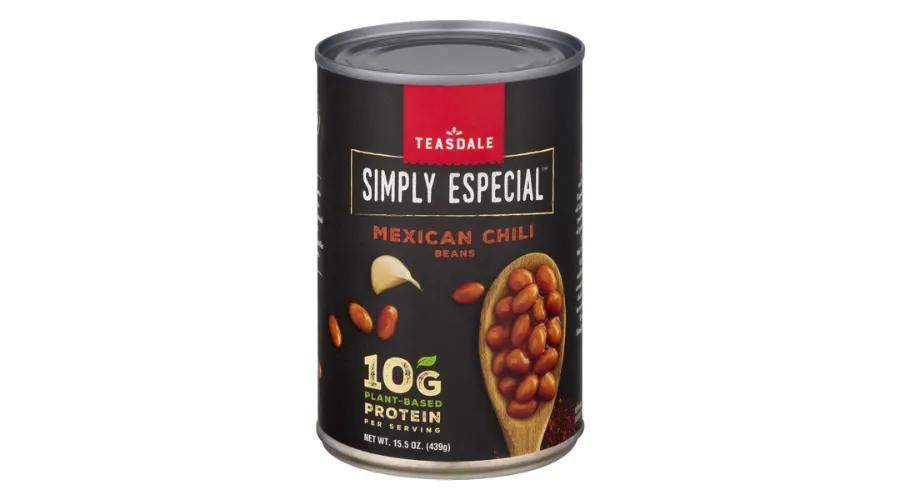 Indulge in a fusion of flavors with this Teasdale Simply Especial Mexican Chili Beans can. Made with prepared Pinto Beans, Water, Pea Protein Isolate, and Tomato Paste, this culinary delight offers a perfect balance of taste and nutrition. The blend of spices, including Chili Pepper, Cumin, Oregano, and more, creates a tantalizing medley that's both hearty and vibrant. With zero grams of plant-based protein per serving, these chili beans remain a good source of iron and fiber, making them a wholesome addition to your meals. Embark on a culinary journey where the richness of pinto beans harmonizes with the heat of Mexican-inspired spices, resulting in a flavorful experience that's simply exceptional.
Conclusion
Whether you're a fan of the classic beef and bean combo or prefer exploring vegetarian or chicken variations, chili beans can from Giant Food offer a world of culinary possibilities. From cozy evenings at home to gatherings with friends, these chili bean cans are sure to become staples in your kitchen, inviting you to savor the rich flavors and warmth they bring to the table. For information, visit Findwyse.
FAQs