Apple's iOS is the most advanced and efficient mobile operating system in the world. The new iOS 16 update features numerous new API's and facilities that allow you to do a lot more than before. Being able to use the enhancement option in maps, bring widgets to your lock screen, or let everyone finish tasks by talking to Siri!
For these reasons and more, Apple introduces its next version of the iOS  every year, which gets ready to be launched/installed by September. One of the best parts about the release is that after the release, Apple introduces point-based releases as well.  E.g. after the release of iOS 16, it will release 16.1, 16.2, 16.3 and so on).
Many people have doubts regarding the iOS 16 update downloading process, iOS16 beta release date, iOS16 beta features and more. This article aims to answer all of these questions.
More about the beta iOS 16 update:
Features 
Lock Screen

Lock screen gallery
Lock screen editing
Multi Layered photo effect
Photos shuffle
Widgets on the lock screen
Live activities
Lock screens made for focus
Astronomy
Emoji
New design for Now Playing
Notification animations

Lock screen switching
Stylised date and time
Suggested photos

4.            Photo styles

5.            WidgetKit API

6.            Live activities API

7.            Apple collections

8.            Weather

9.            Colors

10.          New Notification design

11.          Notification view on lock screen

Focus

Lock screen linking

2.            Home screen page suggestions

3.            Focus filter of API

4.            Easier startup

Lock screen suggestions
Focus filters

3.            Focus schedules

4.            Allow and silence list

Messages

Edit a message
Mark as unread
SharePlay via messages
Collaboration invitations
Messages collaboration API
Dual SIM message filtering
SIM based filtering
SMS event suggestions

Undo send
Recover recently deleted messages
Shared with you API

4.            Collaboration updates

5.             SMS tapbacks on Android

6.            Audio message playback

7.            SMS subclassification

Safari

Shared tab groups

2.            Pinned tabs in tab groups

3.            Web push notifications

4.            Website settings sync

Tab groups start pages
New web extension API
Extensions syncing

4.            New languages

Siri

Easy shortcuts setup
Emoji in texts
Call hang up
Pan India for Siri

Automatically send messages
Expanded offline support

Health

Track your medications
Medication logging
Cycle deviation notification

Reminders for medications
Invitations for health sharing

Family sharing

Improved child account setup
Screen time requests in messages

Device setup for kids
How can you install the iOS 16 public beta?
Between the developer beta and public beta, the majority of customers would be downloading the public beta since the former is for developers only.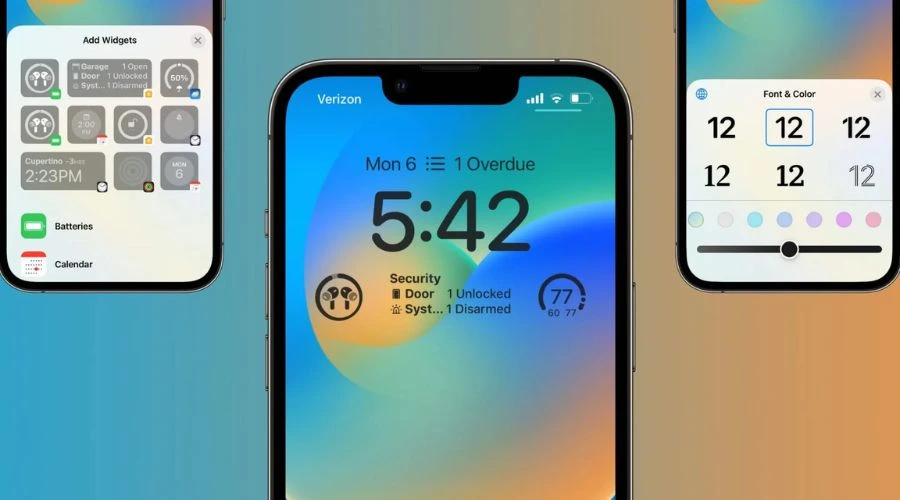 Here are the instructions on how to install the public data:
Press sign-up on your Apple beta page.
Register with your own Apple ID.
Log in to the beta software program.
Press "Enroll your iOS 16 device".
Please note that if you installed a previous version of the iOS, you will have to uninstall that profile and then re-enroll for a new one.
After this, go to the beta.apple.com/profile on your device.
Now press download and install the configuration code received.
If nothing happens, go to your settings and enable the profile. The path you will take is general – VPN and device management.
Press the iOS16 beta profile there.
Now the beta version will be available and you will be able to see it in the settings app.
Following the path of general – software update, the iOS 16 will be visible.
How to install the iOS16 developer beta?
If you are a developer and wish to run the beta version and be able to draw comparisons between this and the previous versions, then this version of the operating system is for you. The stages of the iOS 16's development cycle will first be released for the developers and then for the general public.
To be able to download and use it, you must be registered as an Apple developer by joining the Apple Developer Program which costs $99 per year.
Here is how to install the new beta iOS 16 update for developers:
Open Safari and open the link developer.apple.com
Log in using your Apple ID
Press the downloads section (left menu). Scroll till iOS 16 beta.
Press install profile and then press
Next, open your settings app. At the top of the main screen, you must see "profile downloaded"
Now, follow the path of going to general – VPN – device management
Press the iOS 16 beta profile that will be shown there
Press the install icon on the top right
You must read the developer consent form and if you are happy with the terms, give your consent.
Next, restart your iPhone
Once it restarts, follow the path of settings – general – software update. Here you should be able to see the iOS 16 beta version.
Download and install this
Once the iPhone that you use downloads the version, there will be a pop-up. Press on install.

IOS 16 UPDATE | FINDWYSE
Keeping in mind that everything runs smoothly, your iPhone should now have the beta iOS 16 version of Apple's operating system.
Conclusion: 
While the new version of the operating system brings with itself numerous exciting features, one thing to keep in mind is to backup your iPhone before you install the new ios 16 update. You can also use a secondary device instead of your main iPhone.
The new version is not completely perfect, as nothing really is. You may experience some battery drain and incompatibility between some apps and the operating system. These issues usually get resolved when the next beta comes along so do not worry.
For more information about the new gadgets, new versions, new accessories that Apple has, visit their site below:
For more tips and tutorials visit FINDWYSE.
FAQs