Console tables are an essential piece of furniture that not only adds functionality to your living space but also enhances its aesthetic appeal. Among the various retailers known for offering high-quality furniture, The Range stands out as a trusted brand that offers an extensive range of console tables to suit different tastes and preferences. Whether you are looking for a sleek and modern design or a classic and timeless piece, The Range has a console table to suit your needs.
Console tables are known for their versatility, as they can be used in various rooms and serve multiple purposes. In the living room, a small console table can be placed against a wall, acting as a focal point to display decorative items such as vases, photo frames, or sculptures. It provides a perfect platform to showcase your personal style and add character to the room. The Range offers tall console tables in different sizes, shapes, and finishes, allowing you to find the perfect match for your interior decor.
Advantages of Console Tables by The Range
One of the advantages of console tables is their slim and narrow design, which makes them ideal for small spaces. Whether you have a compact hallway or a narrow entryway, a console table from The Range can provide a functional solution without occupying much floor space. 
These tables are designed to be sleek and unobtrusive while offering storage options such as drawers or shelves, providing a place to keep everyday essentials like keys, wallets, or mail. By utilizing the vertical space in your home, console tables help maximize storage without sacrificing style.
Another noteworthy feature of console tables is their versatility in terms of placement. While they are commonly used in the living room or hallway, console tables can also be placed in the dining room, bedroom, or even home office. In the dining room, a console table can be transformed into a stylish buffet or serving station during gatherings or dinner parties. 
In the bedroom, it can act as a chic vanity table or a place to store books and personal belongings. The Range offers console tables in a variety of designs, including traditional, contemporary, and rustic styles, allowing you to find the perfect match for any room in your home.
Here is the list of the top 5 Console tables by The Range 
1. Regis Extending Console Desk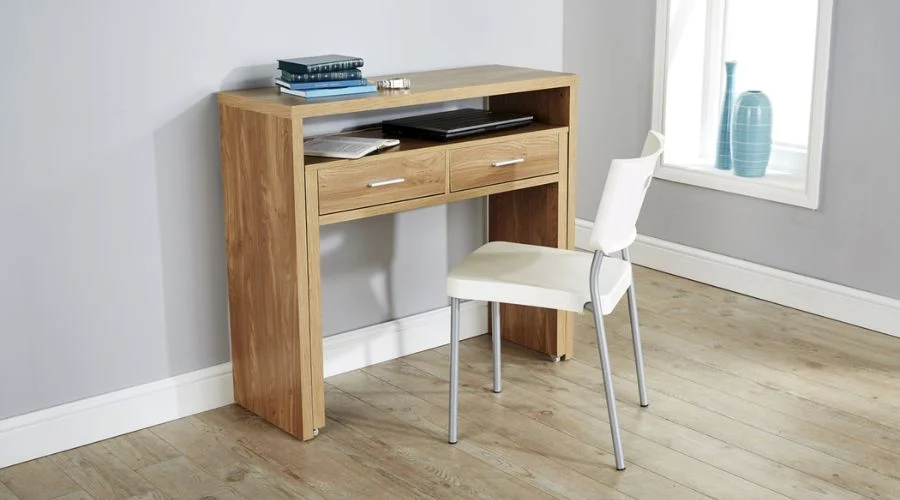 One of the key features of the Regis Extending Console Desk is its ability to extend from a compact console table into a full-sized desk. When not in use, the console desk can be folded up to a slim and unobtrusive size, allowing it to be placed against a wall or in a narrow space. However, when you need a dedicated workspace, the desk can be easily extended to provide a larger surface area for your work or study needs.
The extending mechanism of the Regis Console Desk is designed to be smooth and effortless, ensuring easy operation. With a simple pull or push, the desk smoothly expands or retracts, allowing you to adjust the size according to your requirements. This flexibility is particularly beneficial for those with limited space, as it offers the convenience of a full-sized desk when needed while maximizing floor space when not in use.
2. Scala Console Table
Crafted with meticulous attention to detail, the Scala Console Table is built to last. It is constructed from high-quality materials, such as solid wood, tempered glass, and metal accents, ensuring durability and stability. The use of these premium materials not only enhances the table's longevity but also contributes to its overall aesthetic appeal.
One of the key features of the Scala Console Table is its practical storage capabilities. Many models of this console table come equipped with multiple shelves, drawers, or compartments, providing ample space to store and organize various items. From books and magazines to decorative accessories and everyday essentials, the Scala Console Table offers a convenient storage solution, keeping your living space tidy and clutter-free.
3. Lancaster Console Hall Table – Grey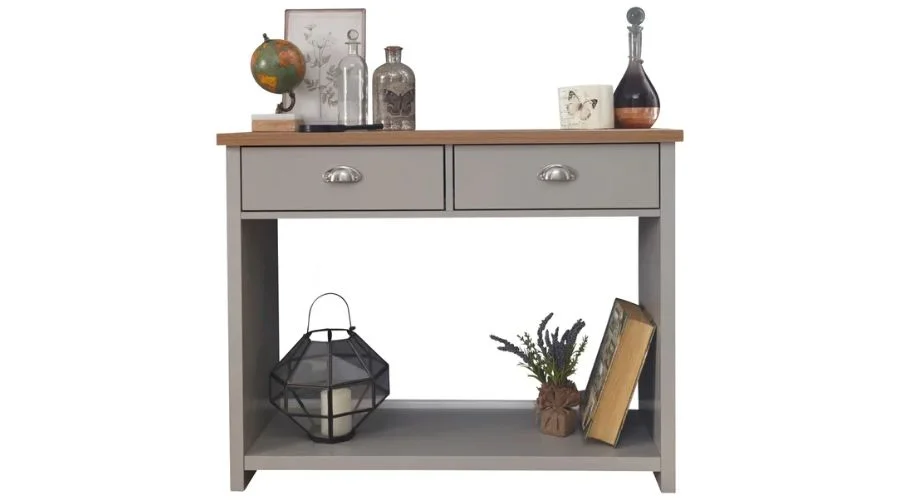 The Lancaster Console Hall Table in Grey is a stunning furniture piece that combines elegant design with functional appeal. With its sleek grey finish and versatile features, this console table effortlessly complements various interior styles while providing ample storage and display options for your hallway or living space.
One of the standout features of the Lancaster Console Hall Table is its elegant design. The sleek grey finish adds a touch of sophistication and modernity to any room. Whether your interior decor is contemporary, rustic, or traditional, this console table effortlessly blends in and enhances the overall aesthetic. The grey colour also creates a neutral backdrop, allowing you to easily incorporate other colours and decorative elements into your space.
4. Anna Console Table
The Anna Console Table is known for its timeless design and sophisticated aesthetics. Crafted with meticulous attention to detail, this console table features clean lines, elegant curves, and a sleek finish that effortlessly complements a wide range of interior styles. Its classic design ensures that it remains a stylish focal point in your space, even as trends evolve over time.
One of the key design elements of the Anna Console Table is its versatility. It can seamlessly integrate into various rooms, such as entryways, living rooms, hallways, or even bedrooms, adding both functionality and charm. The table's compact size allows it to fit into smaller spaces without overwhelming the room, making it an excellent choice for both large and small areas.
5. Provence Console Table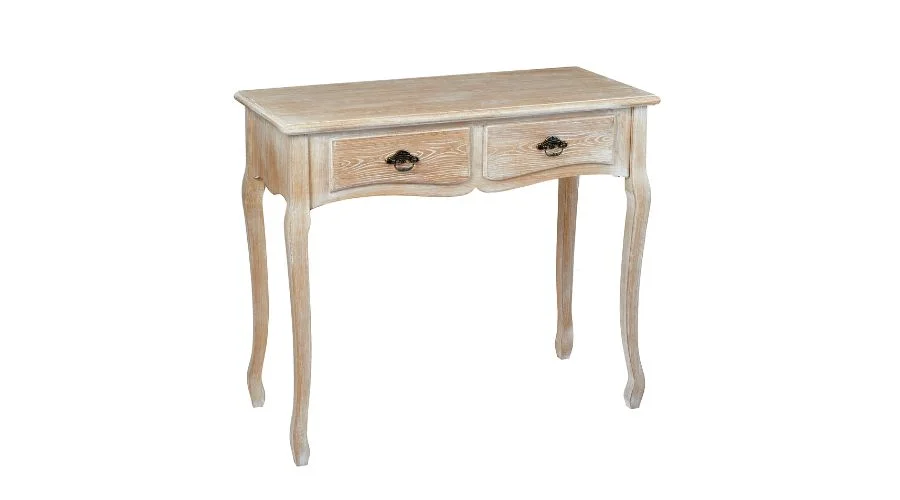 The Provence Console Table is a beautiful and versatile furniture piece that adds a touch of timeless elegance to any living space. This console table is known for its exquisite design, quality craftsmanship, and exceptional functionality, making it a popular choice among interior decorators and homeowners alike.
One of the standout features of the Provence Console Table is its classic and sophisticated design. It is crafted with attention to detail, combining traditional elements with a touch of French provincial charm. The table often features ornate carvings, graceful curves, and decorative accents, all contributing to its elegant aesthetic. The intricate craftsmanship and fine detailing make the Provence Console Table a statement piece that enhances the overall ambience of any room.
Conclusion
Console tables are versatile and stylish furniture pieces that can elevate the look of any room. The Range, a trusted furniture retailer, offers a diverse selection of console tables to suit various tastes and needs. With its slim design, storage options, and wide array of materials and finishes, The Range's console tables provide a perfect balance of functionality and aesthetics. Whether you want to enhance your living room, create an inviting entryway, or add functionality to any other space in your home, The Range has the ideal console table for you. For more information, visit Findwyse.
FAQs