Call of Duty: Modern Warfare 2 is the highly anticipated sequel to 2019's Call of Duty: Modern Warfare. For fans of the game, the Call of Duty release timetable has become somewhat predictable, with the official announcement of Modern Warfare 2 arriving after months of speculation. However, 2023 is becoming less confident due to rumors that the series may take a year's sabbatical. But that isn't stopping us from being thrilled about the 2023 entry.
Activision Blizzard claims that Modern Warfare 2 will be "the most advanced experience in franchise history" and that the impending Warzone 2.0 will be constructed "from the ground up" alongside it. The game did not arrive at Gamescom 2023, as predicted, as Activision had no presence at the exhibition. However, at a specific Call of Duty: Next event, the publisher confirmed further Modern Warfare 2 details. You can also sign up for the Modern Warfare 2 open beta. There's a lot to look forward to, but in the meantime, keep reading to find out all we know so far about Call of Duty: Modern Warfare 2.
---
Call of Duty Modern Warfare 2 Release Date
Modern Warfare 2 will be available on October 28 for the PlayStation 4, PlayStation 5, Xbox One, Xbox Series X, Xbox Series S, and PC via Battle.net and Steam. In a strange reveal video, Activision gave away the release date that accompanied a container ship covered with a mural of the story's protagonist, Ghost. You may watch the enticing, albeit brief, teaser video below. Following Microsoft's takeover of Activision, the release of Modern Warfare 2 on PlayStation will be welcomed by many. While there has been much debate about the future of Activision franchises, it appears that this specific series will remain multi-platform for the foreseeable future.
Modern Warfare 2 Trailers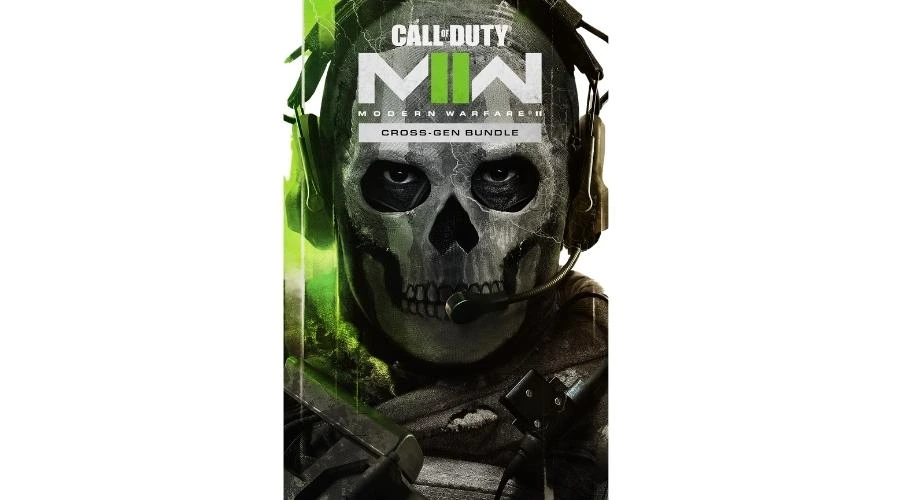 Activision released a series of trailers to give Modern Warfare 2 the popularity it deserves. A bunch of trailers are released displaying all the game's upcoming features. The trailers are as follows:
Multiplayer Reveal Trailer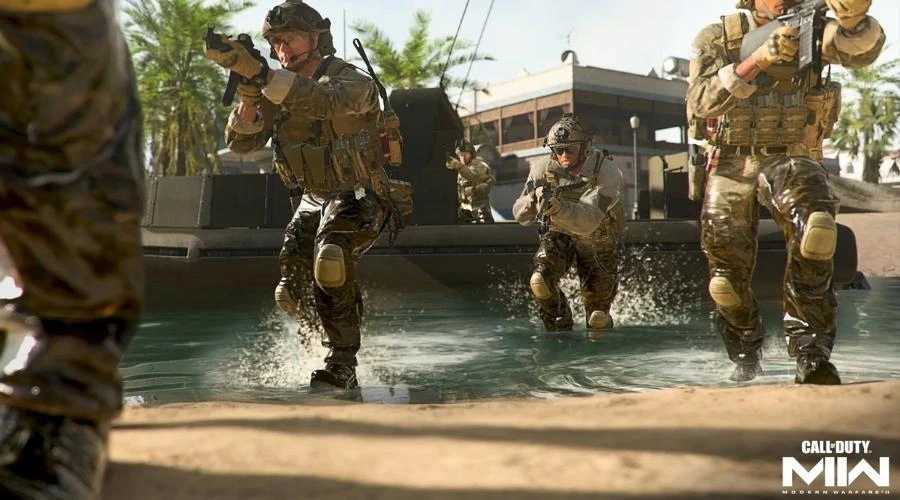 Activision revealed the entirety of Modern Warfare 2 multiplayer during the Call of Duty Next conference on September 16. With this trailer, we also got to look at Warzone 2.0 for the first time.
Oni Operator Trailer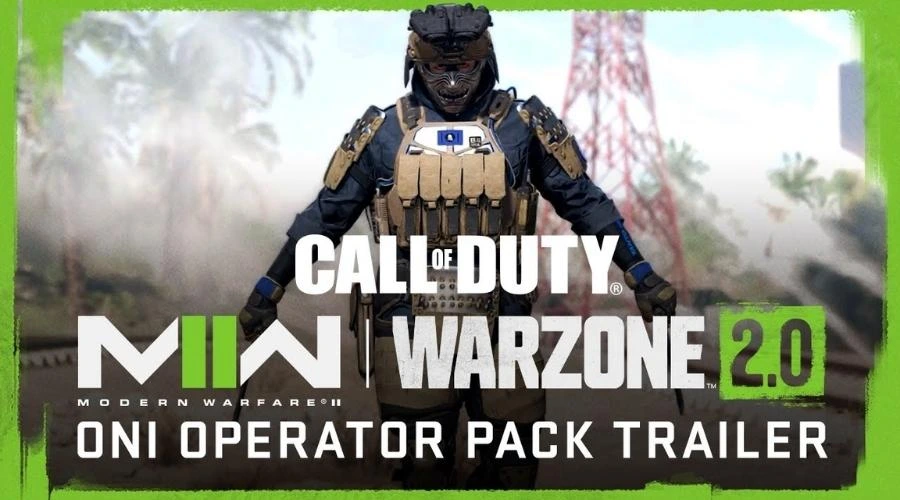 Call of Duty Next didn't stop with the reveal of Modern Warfare 2 multiplayer. We also got a peek at Hiro "Oni" Watanabe, a PlayStation exclusive operator who will be accessible on day one if you pre-order through the PlayStation Store. It was only a brief glimpse, but it contained a high-level Weapon Blueprint, so here's what you need to know.
Gunsmith 2.0 Reveal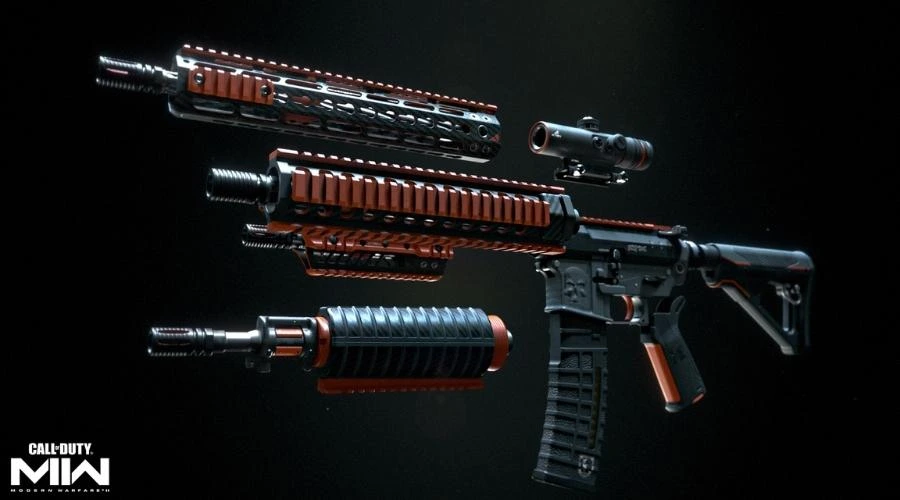 Finally, in the Call of Duty Next presentation, we highlighted Gunsmith 2.0, which promises new ways to customize your weapons in Modern Warfare 2.
Summer Game Fest Gameplay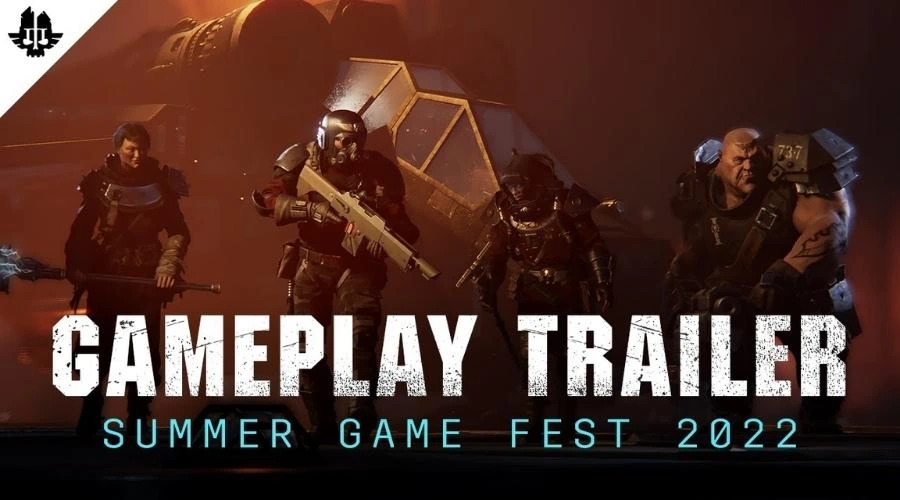 Activision debuted the Modern Warfare 2 campaign for the first time at Summer Game Fest 2023. This demonstration, which has a cargo ship level, features the player and a few Task Force 141 personnel on an infiltration mission. Not only did we get a clear look at the aesthetics of Modern Warfare 2, but we also saw a battle and the level's moving cover.
---
Call of Duty: Modern Warfare 2 Editions and Pre-Orders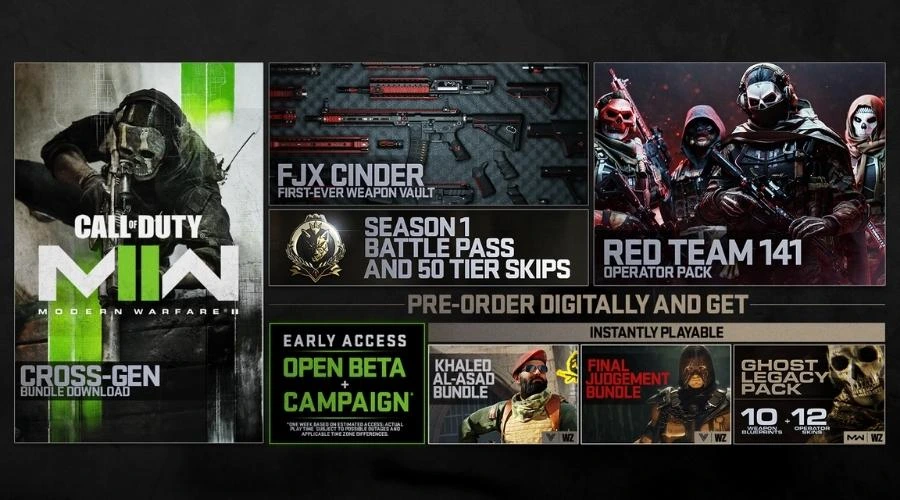 COD Modern Warfare 2 is available for pre-order on all platforms ahead of its October 28 release date, with several editions. It's worth noting that if you pre-order it, you'll receive early access to the game's open beta and the Final Judgement Bundle, which includes the Legendary "Deathknell" Operator Skin. Digital pre-orders will also grant you early access to the primary campaign (opens in a new tab) beginning October 20, a week before the game's release.
Vault Edition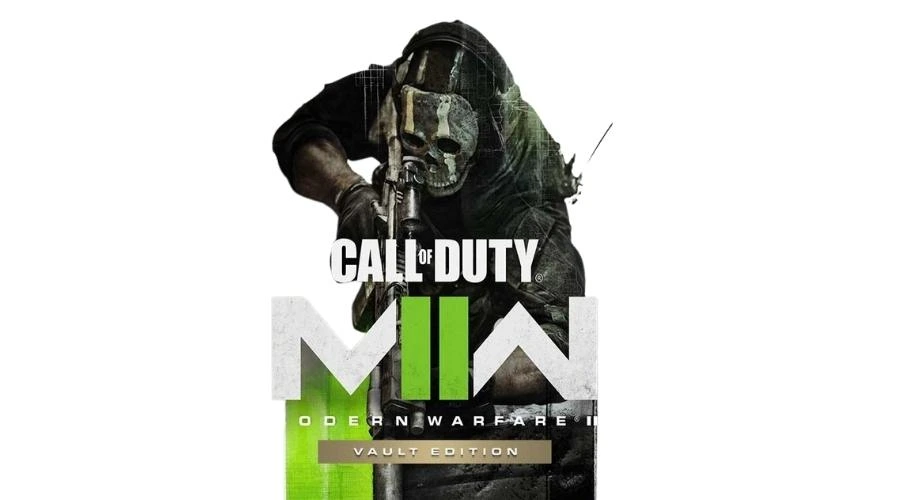 The Vault Edition, available on all platforms, is the complete version of the game open. In addition to the game, the Vault Edition includes On day one, Red Team 141 has four playable Multiplayer Operators, Ghost, Farah, Price, and Soap, each sporting a special masked suit inspired by the renowned mercenary Ghost. The FJX Cinder Weapon Vault has more information about this bonus that will release closer to the game's release. Season 1 Battle Pass can help you access the first season of the Battle Pass and 50 free tier skips. If you purchase the Vault Edition after Season 1, you will have access to the current season instead, with the tier skips remaining.
Digital Edition
The Cross-Gen Digital Edition is available for Xbox and PlayStation users who want to upgrade from last-gen systems to current-gen platforms within the same console family. The Digital Edition, like the Vault Edition, "will provide players access to the previous generation console version of COD Modern Warfare II and the current edition," according to Activision(opens in new tab). "
Physical Console Edition
Finally, there is the Physical Console Edition for those who want a tangible disc. There's a Cross-Gen Bundle for the Xbox Series X|S and Xbox One, a cross-generation version for the PlayStation 4, and an utterly next-generation edition for the PlayStation 5 that doesn't include a PS4 version.
---
Conclusion
According to speculations, Modern Warfare 2 will receive a slew of updated maps due to the game's DLC growing in reaction to the series' decision to bypass a 2023 release. Moreover, the game is all set to release on October 28. Stay tuned to the official findwyse website for more details about Call of Duty Modern Warfare 2.
FAQ's