A soundbar, or a TV sound system is a long, rectangular shaped loudspeaker that is designed to match the width of the television and is much wider than the standard speakers. If you want to buy one, here is a list of some of the best TV sound systems and things to keep in mind before buying them.
Best selling TV sound systems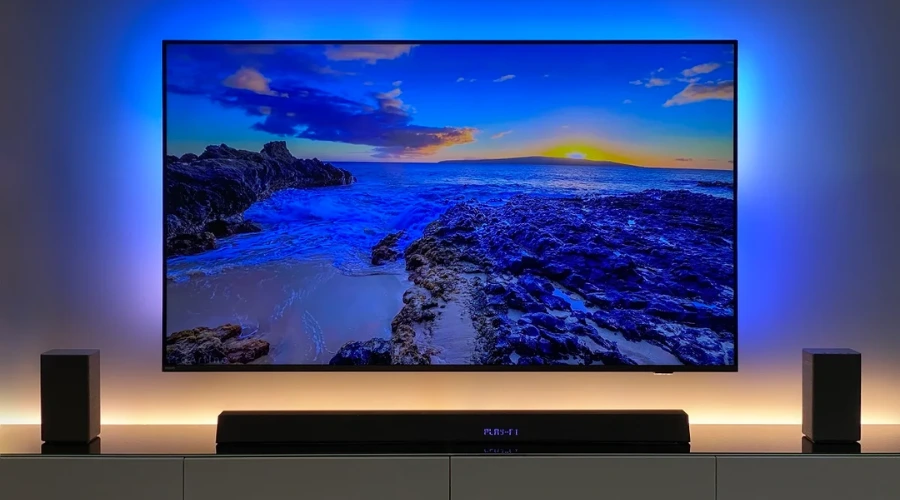 We have created a list for you to guide you through some of the best TV sound systems:
1. Soundbar Verizon Stream TV Soundsystem (with Bang & Olufsen Audio)
Verizon paired up with Bang & Olufsen, which is a luxury audio brand, to design two sound systems with built-in access to stream TV platforms. It is a 2-in-1 entertainment solution, has 5 built-in speakers and Dolby Atmos sound system. It requires a compatibility of 4k.
2. Sony HT-A7000
This Sony TV sound system lets you enable control by using voice assistants such as Google Assistant, Apple HomeKit or Alexa. It gives you an experience of better quality sound, including a Dolby Atmos soundbar packed in two up-firing speakers and beam tweeters, five front-facing drivers and a built-in subwoofer.
3. Wireless Bluetooth Subwoofer JBL Bar 3.1
It comes along with true 4K connectivity with 3 HDMI IN and 1 HDMI out. The JBL bar 3.1 premium features 450W of total system power, voice clarity, a center channel, Dolby Digital experience and so many other features!
4. Soundbar Samsung HW-Q950T
They have been designed, tested, and tuned by world-class audio engineers at the California Audio Lab. Alexa comes inbuilt with this TV sound system. It synchronizes Samsung TV speakers with the Q-Series soundbar speakers. It has the sound systems of Dolby Atmos and DTS: X and 20 soundbar channels.
5. Soundbar Vizio V21-H8B-RB
It lets you control via Voice Assistant such as Alexa, Siri, or Google Assistant. It has a special feature of 5" Wireless Subwoofer, Dolby Audio, 3D sound along with other useful and some really cool features.
Also read: You Should Know about These Clearance Laptops at Backmarket
---
Are soundbars better than speakers?
Let's do a comparison between soundbars (TV sound systems) and speakers:
| | | |
| --- | --- | --- |
| Basis | Soundbars | Speakers |
| Affordability  | They are affordable | Costs more than sounders |
| Sound quality  | Tv's audio is good but not the same as speakers | They deliver better audio quality  |
| Features | Some models come with advanced features like surround speakers and Dolby Atmos compatibility  | May or may not come with advanced features, can mix and match  |
| Installation | Easy to assemble and set up | Setting it up can be complicated  |
| Separate box requirement  | Not needed. They are self contained | Don't require boxes |
| Upgradation  | Cannot be upgraded or modified  | Can be upgraded and modified |
| Space | Takes lesser space  | It takes up more space  |
| Wires and cables  | Usually only have one wire  | Many wires are needed  |
Now that you know the difference between the two, you can choose which one you want for your TV system.
---
How to pick the best TV sound systems
Take care of the following things before buying a TV sound system for yourself:
1. Number of channels
You should go for a sound system which has at least 3 or more channels which gives you a more immersive experience.
2. Authorized dealer
You should buy it from an authorized and authentic dealer so that you can get the manufacturer's warranty, customer service, and support.
3. Connectivity
Do check for the key connections such as: Wi-Fi and/or Bluetooth-enabled, HDMI-switching (lets you switch the sources of audio without the need to re-route the cable), Optical Port or USB inputs.
4. Make space
Do check where you want to place it: above or beneath the TV? You can also hang it or lay it down on a table, but do make sure you have enough space for setting it up. The size of it should not be any wider than the TV width.
5. Go for active and not passive sound bars
Active sound systems come with a built in amplifier which means they power everything and channel processors which separate all the speakers built in them. You will, thus, not need more wires.
6. Control
Some TV sound systems come with a free application which lets you operate the TV sound system via your phone itself. You can also modify your main TV remote to make it work with the system.
---
Conclusion
To buy your favorite TV sound systems, findwyse recommends you visit the official website of Backmarket also, you will can modify your main TV remote to make it work with the system. It also gives you an experience of better quality sound. All the above details are the few things to keep in mind before buying them.
FAQ's
Affiliate Disclosure: Our website may contain affiliate links, which means we may receive a commission if you click a link and purchase something that we have recommended. While clicking these links won't cost you any extra money, they will help us keep this site up and running. Thank you for your support!