Those who don't have space issues at home must own a tumble dryer rather than a wash dryer.
Tumble dryers are much faster and more gentle as compared to washer dryers. Their capacity to take many clothes in one go is fantastic. One might find it challenging to choose the right one strictly because of many consideration points such as which brand to choose, evaluating features, and pricing. To save you a lot of time, we have gone on one leg to find the best-suited tumbler dryer, from low-end cheap condenser dryers to high-end expensive heat pump dryers. Go through the article below to find the best tumble dryer that suits your requirement. So, before you decide to buy one we recommend you to visit the official website of Findwyse
---
List of Best Tumble Dryer for fresh clothes in a flash:
1. Haier HD90A636: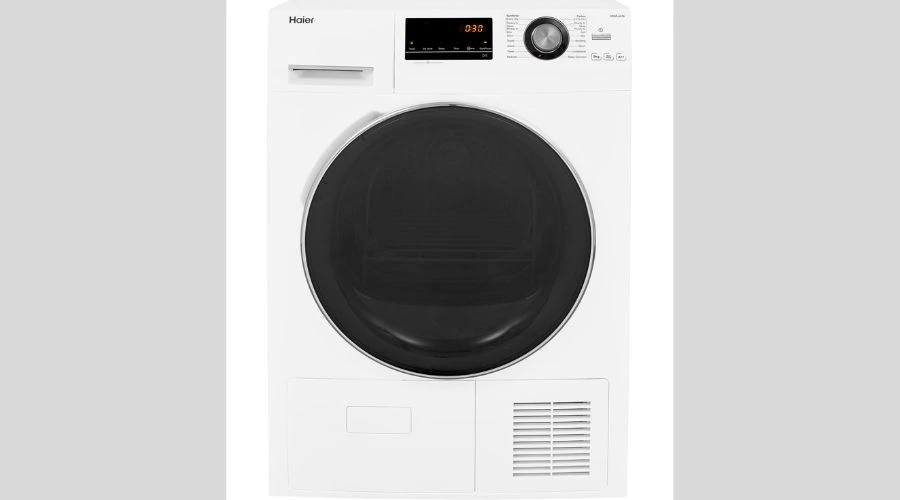 A brilliant heat pump tumble dryer This Haier heat pump dryer is an excellent buy as it incorporates an A++ energy efficiency rating, and 16 drying programs, giving an effective drying performance. The Haier also makes a stylish dash and has a refreshingly different black door with an orange LED display and a stylish fascia. It might work well if you want a device that suits a contemporary kitchen. Importantly, this tumble dryer has a satisfactory overall performance. The large drum makes it simple to load and unload, and clothes are also dried effectively. However, the sole drawback of Haier, after accounting for the low operating costs, is that it is distinctly noisier than the competitors. It is a pocket-friendly tumbler dryer with a heat pump.
2. Beko DCR93161: A great-value condenser tumble dryer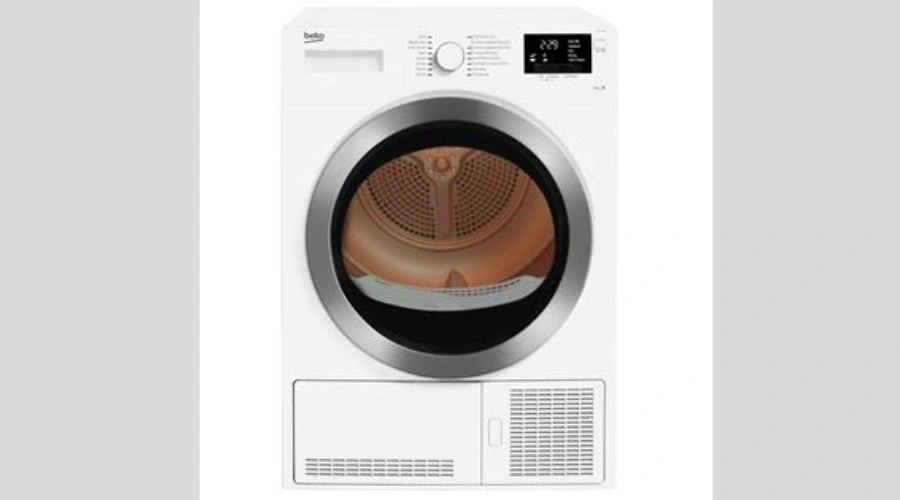 Beko specializes in inexpensive appliances with great value. In addition, some Beko machines have capabilities you might anticipate finding in devices costing twice as much. Though they may not be as well-made as Siemens, Miele, and Bosch appliances, the steadily expanding clientele of this company appears to be very impressed with their purchases overall.
This family-sized condenser model offers exceptional value because of its large 9kg reverse action drum for faster and gentler drying, full-sensor control, reversible door, and automatic anti-crease function. It also has an interior LED light for those who enjoy the hypnotic sight of clothes swirling around in a vortex. Direct drainage is another feature, allowing you to connect the device to the closest wastewater exit, saving the inconvenience of emptying the collection tank. Users of this machine have reported excellent drying times and are extremely happy with this product. However, it's not the most energy-efficient device in this comparison. Still, it is super-easy to use and delivers excellent performance.
3. Bosch Serie 6 WTWH7660GB 9KG Heat Pump Tumble Dryer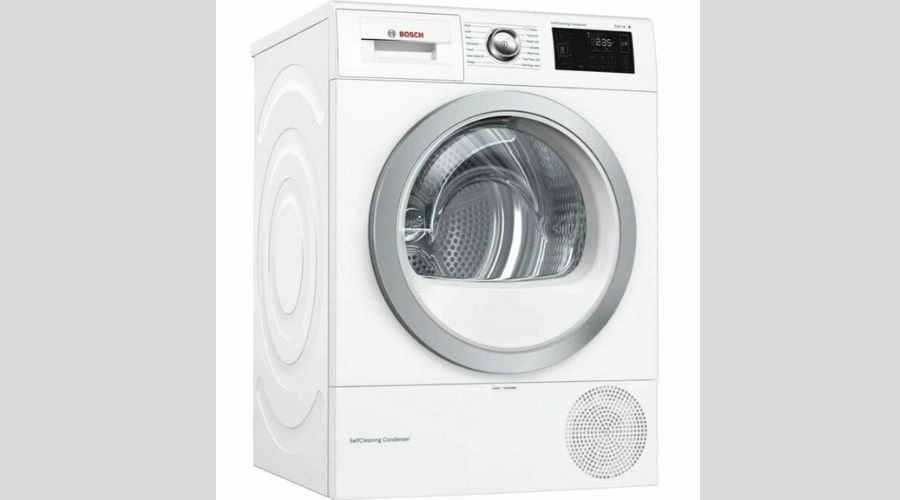 Since it has a heat pump, it has all the benefits of a condenser. It is more energy efficient and has an impressive A++ energy rating. Bosch heat pump tumble dryer has a large capacity of 9 kg and a five-year warranty. Due to the availability of various programs and drying cycles such as sports, extremely dry, and wool, your garments will always be completely dry. However, some users complain that the timer does not work accurately. When we put it on, the intelligent sensor determines when the load is genuinely dry and adapts to save you money and prevent shrinkage of your clothing.
4. Samsung Series 6 DV90T6240LN/S1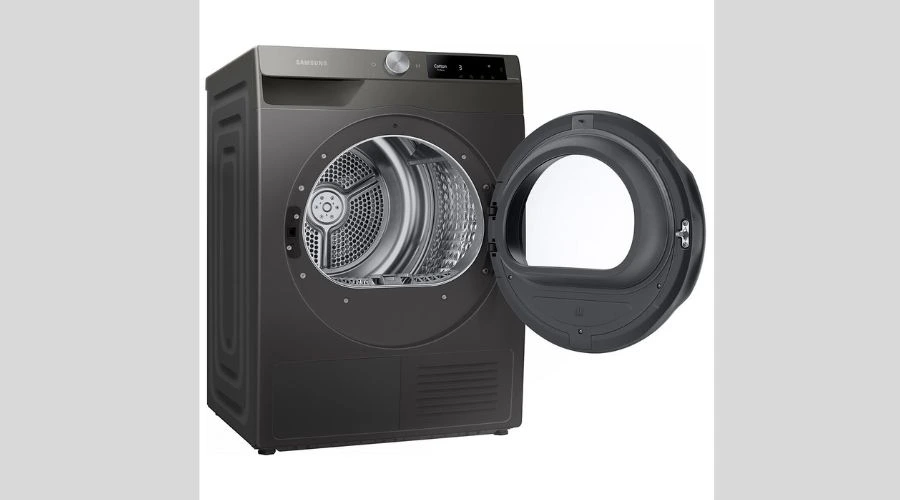 Samsung tumble dryer is one that you won't mind having on display if you don't have a separate room where you can hide your laundry gadgets. The sleek graphite finish gives this tumble dryer a desirable ultra-modern appeal. It also combines smart technology with exceptional energy efficiency. Since it has the Optimal Dry technology, which uses moisture and temperature sensors to alter drying durations during the cycle, it will be kinder to your clothing and use less energy. Additionally, wi-fi access lets you use your phone to schedule drying, make settings changes, and receive alerts when the cycle is complete.
Another beneficial feature is the wrinkle-prevention option, which helps you cut down on the dreaded ironing pile. Additionally, It has a reversible door. Hence, you can configure it to open from either the left or the right side, depending on which side is more practical.
Most reviewers believe it is worth the price despite not being a cheap option because of its excellent performance and attractive appearance, and they particularly appreciate how quiet it is. No matter what you need to get dry, there are several possibilities with 16 programs.
5. Indesit I1D80WUK 8kg Vented Tumble Dryer
All the negative reviews for sensor-equipped ones resulted from the sensor malfunctioning or the sensor parts breaking down, so I searched for one without a sensor. Everything is drying up, and I'm happy with the Indesit. This 7kg capacity vented tumble dryer is among the highest values available.
Despite its modest cost, it has numerous programs, a refresh cycle, scheduled drying, and a reverse action drum. It can be relied upon to deliver on time, every time, and has a control knob.
6. Hoover HLEV8LG H-Dry 300 8kg Vented Tumble Dryer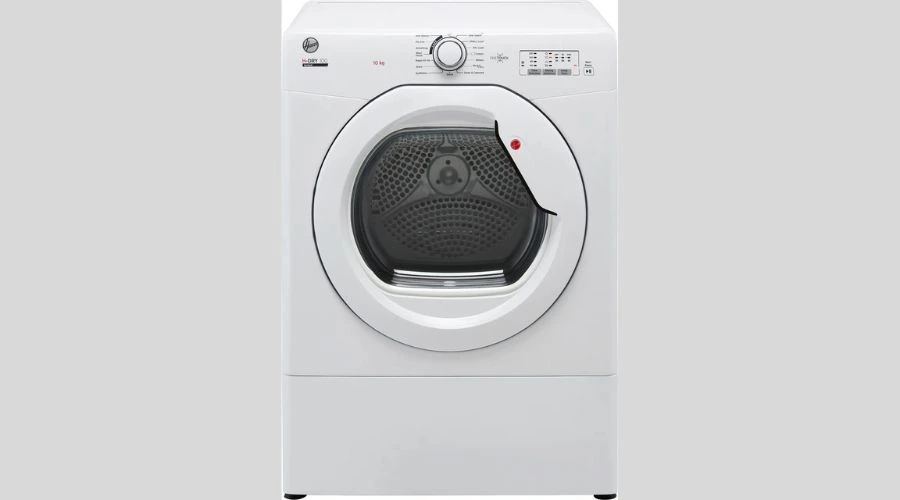 It offers a substantial 10-year parts warranty and a highly effective reverse action to prevent the tangling of your laundry. It can dry 8kg at a time and is extremely quiet. Although it has a pretty high energy rating, it does include the crucial delay start feature, which you can set for up to nine hours. Hence, it allows you to begin your drying cycle when it's more convenient or less expensive.
7. John Lewis & Partners JLTDH15 8kg Freestanding Heat Pump Tumble Dryer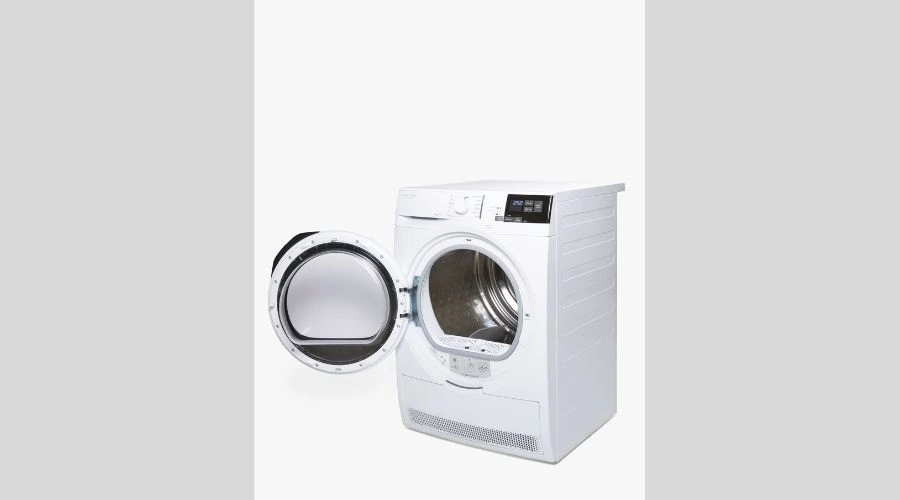 It includes 12 programs, a separate wool program, a 6kg synthetics program, and a mixed XL setting that eliminates the need to separate different fabric kinds from one another. Hence, John Lewis & Partners tumbler dryer makes laundry simpler. It comes with a three-year guarantee which is great to have.
8. Grundig GTA38261G 8kg Heat Pump Tumble Dryer
Although Grundig is not the most affordable option on the market, it comes with many extra features. This tumbler dryer has sensor drying programs that determine the quantity of moisture in the drum, saving you time and money. There are other programs for wool and a freshen-up option also. The automatic anti-crease mechanism is one useful bonus. The machine will intermittently tumble-dry your clothing for up to two hours after the cycle is complete, enabling the wrinkles to disappear. It comes with a five-year warranty, and the wider door simplifies loading.
---
Conclusion
Tumble dryers are life-changing machine and provide you with the opportunity to stay on
top of your clothes. They won't just dry your clothes more quickly they'll also leave fewer
wrinkles, which is good. This article lists the top tumble dryers, as rated by actual parents, to
assist you in choosing the ideal one for you, your family, and your house.
FAQ's