Women's Jackets and blazers have been a fashion staple for decades and have transcended generations. They are known for their ability to be dressed up or down, making them suitable for both casual and semi-formal settings. Nobody's Child offers a captivating range of women's jackets and blazers that effortlessly blend fashion-forward styles with sustainability. Their collection includes versatile outerwear pieces suitable for various occasions and seasons. From classic denim jackets and edgy biker jackets to tailored blazers, the place caters to a wide range of tastes. What sets Nobody's Child apart is their commitment to sustainability, products are made from eco-friendly materials and in accordance with ethical practices. Whether you're looking for a statement piece or a timeless staple, Nobody's Child offers a selection of women's jackets and blazers that cater to both your fashion needs and your desire to make environmentally conscious choices.
Women's Jackets and blazers come in various styles, including different cuts, lengths, and washes, making them suitable for a wide range of fashion preferences and occasions. They are characterized by features like metal buttons, chest pockets, and a relaxed fit.
Women's Jackets and Blazers to style with a Denim Jacket:
1.  Classic Casual:
A timeless way to style a denim jacket is by going for the classic casual look. Start with a plain white T-shirt as your base. Pair it with your favorite jeans. This creates a denim-on-denim style, also known as the "Canadian tuxedo." To complete the look, add comfortable sneakers or ankle boots. For an extra touch of style, consider rolling up the sleeves of your jacket.
2.  Dress It Up:
Surprisingly, you can dress up your denim jacket for more formal occasions. Opt for a sleek little black dress or a sophisticated jumpsuit. To elevate your outfit, select a dark-wash denim jacket for a polished appearance. Add heels, statement jewelry, and a clutch bag to achieve a stylish and elegant look.
3.  Bohemian Vibes:
For those who love the bohemian aesthetic, your denim jacket can play a central role if you pair it with an earthy-hued maxi dress. Accessorize with a wide-brimmed hat, and choose between ankle boots or strappy sandals to complete the boho look. Layering necklaces can add a charming bohemian touch.
4. Edgy Appeal:
If you're looking to create an edgy outfit, combine your denim jacket with leather leggings or distressed skinny jeans. Underneath, wear a graphic tee or a band t-shirt. Finish off the look with combat boots or chunky heeled boots for an edgy and confident style.
5. Monochromatic Magic:
Monochromatic outfits can look sleek and stylish with the addition of a denim jacket. Pair your jacket with jeans in the same shade for a coordinated look. To break the monotony, select a contrasting top that adds a pop of color. Finish the ensemble with sneakers, ankle boots, or loafers.
6.  Layer It Up:
Layering can be both fashionable and practical. Experiment by wearing your denim jacket over a cozy sweater or a turtleneck. Combine it with skinny jeans or leggings for a comfortable yet stylish outfit. Complete the look with ankle boots, knee-high boots, or even sneakers.
7.  Belted Chic:
Use a statement belt to define your waist and enhance your figure. Pair the belted jacket with high-waisted pants or a skirt to create a chic and fashion-forward ensemble.
8.   Smart-Casual:
To achieve a smart-casual look, style your denim jacket with tailored trousers and a blouse. The jacket adds a touch of relaxed charm to the outfit, while the trousers and blouse keep it sophisticated. Finish with loafers or low-heeled shoes for an elegant and versatile ensemble.
Best Women's Jackets and Blazers by Nobody's Child
1. Fearne Cotton Denim Worker Jacket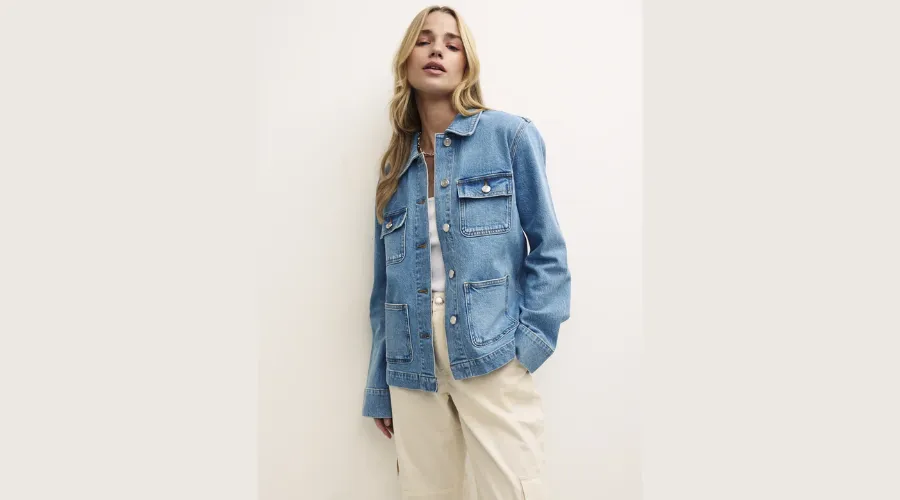 This denim worker jacket exemplifies classic craftsmanship with its intricate tobacco-colored topstitching, meticulously detailing its rugged elegance. Its intentionally slightly oversized fit provides both comfort and a nod to the vintage workwear aesthetic. Crafted from a premium organic cotton blend, this jacket not only showcases sustainability but also promises durability. Its practical patch pockets add a utilitarian touch, and the silver-tone NC buttons offer a subtle contrast against the rich indigo hue. Whether paired with cargo pants for a rugged outdoor adventure or styled with a chic mini skirt and knee-high boots for a city stroll, this jacket effortlessly transitions between various settings, making it a versatile and timeless addition to your wardrobe.
2.   Light Wash Denim Slim Fit Jacket
Achieve instant style with ease by draping yourself in this light-wash denim jacket, a wardrobe essential boasting all the iconic details, including the meticulously applied tobacco top stitching. Tailored for a flattering slim fit, it's skillfully fashioned from a sustainable organic cotton blend, ensuring both comfort and eco-consciousness. The jacket is adorned with practical patch pockets and tastefully accented by silver-tone NC buttons. Its versatility shines through as it effortlessly complements a flowing dress, adding a touch of rugged charm, or elevating a jumpsuit ensemble with a dash of timeless elegance. This versatile piece embodies both fashion and sustainability, making it a staple for those who value effortless style with a conscious twist.
3.   Pink Oversized Denim Jacket
Elevate your wardrobe with this 80s-inspired pink denim jacket, a must-have addition that embraces an oversized fit while maintaining classic elements such as a button placket and front pockets. Crafted responsibly from organic cotton, it not only exudes style but also grows softer with each wear, offering a comfortable and eco-conscious choice. Layer it up with lipstick pink accents for a contemporary look that effortlessly captures the current fashion zeitgeist. Featuring a point collar, long sleeves, silver-tone NC buttons, and practical pockets, this jacket combines aesthetics and sustainability for a timeless and on-trend ensemble.
4.   Black Puppytooth Check Double Breasted Blazer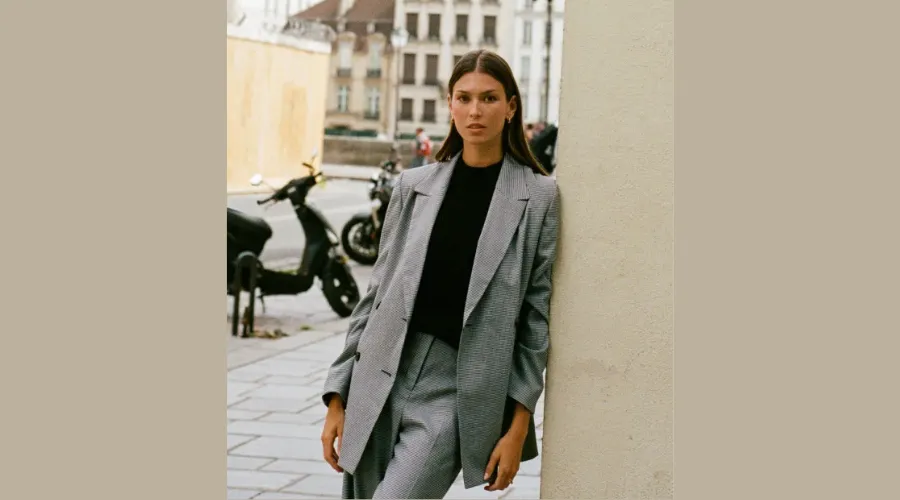 Fashioned from a distinctive puppy tooth check fabric, this double-breasted blazer stands as a versatile piece that seamlessly shifts from day to evening wear. What sets it apart is its eco-conscious approach, with the responsible fabric blend incorporating recycled materials, aligning fashion with sustainability. The blazer's intentional oversized fit is balanced by sharp-notch lapels, delivering a contemporary and sophisticated look. It's a versatile addition to your wardrobe, offering options to create a polished ensemble when paired with matching trousers or a more relaxed and chic style when combined with your favorite pair of jeans. The presence of flap pockets and double-breasted buttons adds a touch of functionality and timeless style to this standout blazer.
5.   Julie Blazer
Offering a stylish departure from the traditional black, our Julie suit blazer in a rich brown hue presents a chic and contemporary take on formal attire. Meticulously tailored with clean lines, it exudes a modern aesthetic while adhering to timeless sophistication. What makes it even more impressive is its commitment to sustainability, as it's crafted from recycled polyester infused with a gentle stretch for comfort and versatility. The blazer's design is punctuated by notch lapels, adding a refined touch to its overall appearance. With practical flap pockets and single-breasted buttons, it marries fashion with functionality seamlessly. For a complete ensemble, consider pairing it with our coordinating Frankie trousers for a polished and cohesive look, or take a more relaxed approach by combining it with your favorite pair of jeans, making it a versatile addition to your wardrobe that transcends formal and casual occasions with ease.
How should one care for and clean women's jackets and blazers?
To ensure your denim jacket maintains its appeal, it's essential to care for it properly:
Washing:
a) Check the care label for specific washing instructions, as denim jackets can vary.
b) Generally, washing your denim jacket inside out in cold water and using a mild detergent is a safe bet.
c) Avoid overwashing to preserve the color and fabric.
2. Drying:
a) If at all possible, air-dry your denim jacket to avoid shrinkage and preserve its shape.
b) To reduce any potential damage, use a low-heat setting on the dryer if you must.
3. Avoid Excessive Ironing:
a) Iron your denim jacket inside out to prevent direct heat contact with the fabric.
b) Use a low-heat setting to avoid scorching or damaging the denim.
Can I dress up with a casual jacket for a formal event?
Wearing a casual jacket for formal occasions is generally not recommended, as formal events typically require specific attire to convey respect and adherence to dress code norms. However, exceptions can be made depending on the type of jacket, its fabric, color, fit, and styling. Blazers or sports coats in structured fabrics and neutral colors can sometimes pass as semi-formal attire when paired with dressier items like a dress shirt, dress trousers, and accessories. Confidence, personal style, and the specific dress code norms of the event or location also play a role.
In short, While casual jackets are incredibly versatile, they are generally considered casual attire. However, with the right styling, you can incorporate a jacket into semi-formal or creative formal occasions. Here's how:
Choose a dark wash jacket for a more polished look.
Pair it with tailored trousers or a sleek skirt.
Opt for a blouse or dressy top underneath.
Elevate the outfit with elegant accessories and footwear, such as heels or loafers.
Keep the rest of your ensemble sophisticated to balance the casual nature of the jacket.
What differentiates a coat from a jacket?
Before we wrap up, let's clarify the distinction between a coat and a jacket.
1.   Coat:
Coats are typically longer and extend beyond the hips.
They provide more coverage and warmth, making them suitable for colder weather.
Coats often feature heavier materials, such as wool or down, and may have additional insulation.
2.   Jacket:
Jackets are generally shorter and may end at the waist or slightly below.
They are designed for a wide range of temperatures and seasons.
Jackets come in various styles, including denim jackets, leather jackets, blazers, and more.
Are puffer jackets warm enough for winter?
Puffer jackets are generally warm enough for winter, but their warmth depends on several factors:
Fill Power: Puffer jackets are insulated with down or synthetic fill. Higher fill power indicates better insulation, so look for jackets with higher fill power for extra warmth.
Fill Material: Down insulation provides an excellent warmth-to-weight ratio but may lose its insulating properties when wet. Synthetic insulation retains warmth when wet, making it a good choice for wet winter conditions.
Baffle Design: The construction of baffles (compartments that hold insulation) affects warmth. More baffles typically mean better heat retention.
Length: Longer puffer coats offer more coverage and warmth, especially in freezing temperatures.
Features: Features like a hood, adjustable cuffs, and a high collar can enhance warmth by preventing cold air from entering.
Layering: Layering underneath a puffer jacket with sweaters or thermals can significantly increase its warmth.
Climate: The suitability of a puffer jacket for winter depends on your specific climate. In milder winters, a lightweight puffer may suffice, while extremely cold regions may require a heavyweight, insulated puffer.
Conclusion
When it comes to fashion, Nobody's Child is a brand that stands out for its unique and sustainable approach. They offer a wide range of clothing, including denim jackets, that cater to women of all ages and styles. Their commitment to sustainability and responsible fashion makes them a go-to choice for those who care about both the environment and their style. The collection of women's jackets and blazers offered by Nobody's Child is a testament to their dedication to providing fashionable and eco-friendly clothing options. Whether you're looking for a chic jacket, a cozy coat, or a trendy denim jacket, they have something to suit your tastes. For more information, please visit the official website of Findwyse.
FAQs
You can find women's denim jackets, including options from Nobody's Child, at various clothing retailers. Nobody's Child offers a range of stylish and sustainable denim jackets on their official website. Additionally, you can explore popular online fashion retailers, and department stores, or visit physical stores to discover a wide selection of women's denim jackets in different styles and price ranges to suit your preferences./su_spoiler]