The summery weather brings forth a plethora of fashion trends. Whether it's tank tops or dresses, summer fashion is unmatchable. But one clothing garment stays trendy and remains a perfect go-to every summer season. Casual shorts! They are comfortable, allow breathability, and prevent excess leg sweating. GAP, a reliable clothing platform, is an excellent place to find top quality clothes. Keep reading to discover different ways to style women's casual shorts! 
About GAP 
Founded by Doris and Donald Fisher in 1969, GAP is one of the most renowned clothing, apparel and accessories brands in the world. GAP's catalog of products includes products for men, women, and children, including personal care products. The brand is known for its versatility and diversity of products. It gives customers the best choices at convenient rates. It is pro body positivity and includes products catering to different body types. There is a specialized section dedicated to maternity where you can find nursery decor items, clothes for pregnant women, and more functional accessories. 
Stylish and versatile women's casual shorts at GAP! 
1. Extra High-Waisted Trouser Shorts for Women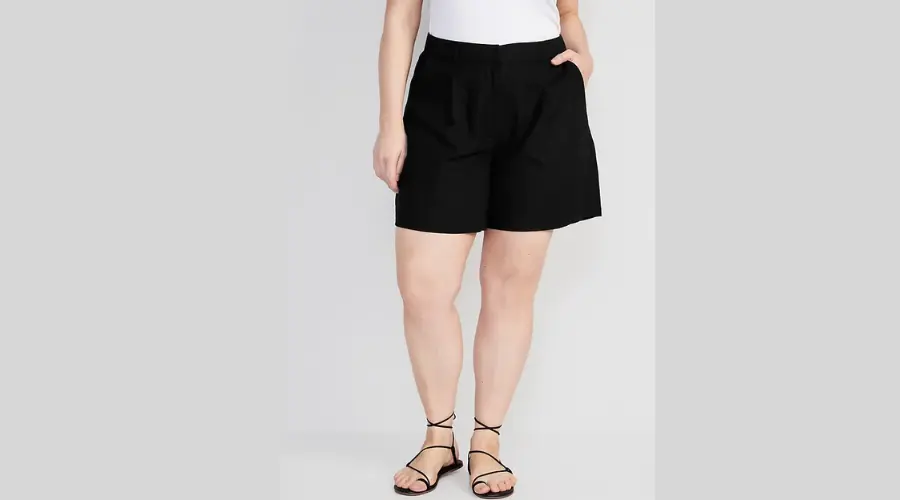 Incorporate these extra high-waisted shorts into your wardrobe. They are 1 inch higher than GAP's standard high-waisted shorts. Ideal for formal occasions as well! Pair them up with a matching blazer or black shirt, and voila, you are ready to embrace your corporate girl vibe! 
The shorts have a hidden zip fly and a belt loop. Add a black colored belt to look even more fly! They are easy to wear and walk in and have a soft fit. There are diagonal side pockets and a back welt pocket. Whether it's a formal outing or a casual effortless one, these shorts are here to help you look classy and chic.
---
2. High-Waisted Rib-Knit Biker Shorts for Women
Love tight fit outfits? Then these biker shorts serve exactly that! Perfect for your daily activities like yoga, workout sessions and exercising. The shorts have a rib-knit finish and are easy to pull on. They have a tight, high-waisted fit and are approximately thigh length. 
From daily errands to workouts, these shorts give comfort, have an easy fit, and prevent chafing. There are six different color options for you to choose from- Mocha, sycamore bark, gray, azure stone, black, and gold.
---
3. Straight Jean Shorts for Women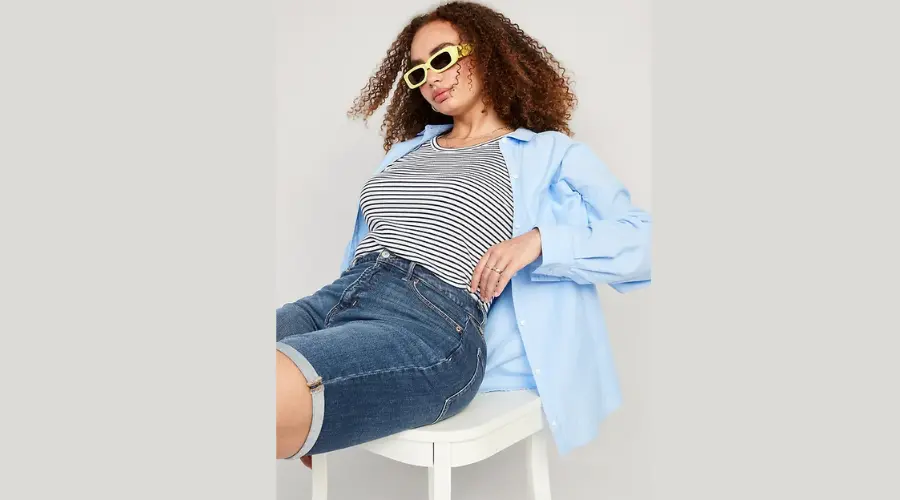 A timeless fashion staple, jeans have been here for ages. And resembling their aesthetic are jean shorts. They are best suited for casual days and are absolutely versatile in style. Pair them up with a jacket, graphic tee, or shirt! 
These women's casual shorts have a hidden zip fly and rolled up leg openings. It accentuates the figure perfectly and has a high-rise fit. Depending on your height and fit, the jean shorts are thigh length and sometimes go just above the knee. These cyrano colored shorts give off an ideal denim vibe.
---
4. Loose Pop Color Jean Utility Shorts for Women
An excellent way to add a pop of color to your outfits! These women's casual shorts are cute and absolutely elegant. They are not exactly tight fitting so there is space for your legs to breathe. They are cotton made and a great choice for the blazing summers. On top of that, there are two front and back pockets for added convenience. 
The 'See how it fits' section will give you a 3D review of how the shorts will look like on you. All you have to do is select your size and avatar and the 3D avatar will customize your size and give you a vision of it.
---
5. High-Waisted Cloud 94 Soft Sweat Shorts for Women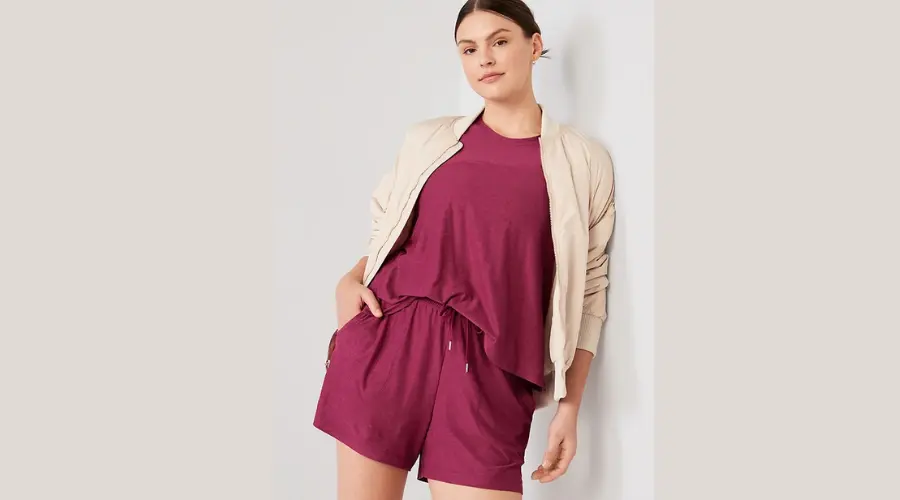 If you don't already have these shorts, then what are you doing? These women's casual shorts have a boysenberry juice shade. They are for both casual wear and workout sessions. There is a drawstring fastening, side slits, and diagonal hip pockets. 
They are functional and quick drying. So you don't have to worry about sweating during intense workouts. The loose fit provides ample breathability and prevents the shorts from feeling stiff around the thigh area.
---
Conclusion
Women's casual shorts are suitable for various occasions and are the best way to beat the heat. They are easy to style, affordable, and super comfortable. Whether it's a trip to the beach or a hangout with your friends, a pair of shorts are great add-ons. GAP's expansive range of women's casual shorts won't disappoint you and will add a dash of chicness to your life. 
For more information, visit Findwyse. 
FAQs