If there is one thing a woman can never have too much of, it's shoes! Be it new strappy heels for your next girl's night out, or everyday work flats, there is always something new to get. As the saying goes, "give a girl the right shoes and she will conquer the world." It is imperative to find your kind of shoes, ones that are made for you, for your fit, and for your style. Findwyse highly recommends the wide collection of shoes by Dorothy Perkins to help revamp your summer shoe wardrobe, flat slingback shoes. Read on to find your "sole-mate".
Which is the new trendy shoe style?
Don't we have the perfect shoe for you – so stylish and yet so comfortable! Flat slingback shoes have become a trendy style in recent years. They offer a modern and chic look, while also being practical and comfortable to wear. Slingback flats are versatile and can be worn with a wide range of outfits, making them a popular choice for many fashion-conscious women. They are available in a variety of materials, from leather to canvas and come in different colours and styles. Flat slingback shoes have been spotted on fashion runways and are also popular among fashion bloggers and influencers. Overall, they have become a must-have shoe for anyone looking to stay on-trend and comfortable at the same time.
Why flat slingback shoes are awesome
Flat slingback shoes are a good choice for a number of reasons. They are comfortable to wear and offer a more casual and relaxed look compared to heels. They are also easier to walk in and can be more practical for daily activities or longer periods of wear. Additionally, slingback flats come in a wide range of styles and colours, making them versatile and suitable for a variety of occasions, from work to casual outings. Also, the slingback strap helps keep the shoe securely in place, providing added support and stability while walking. Overall, flat slingback shoes can be a stylish and practical choice for those looking for comfortable and versatile footwear.
Findwyse's top picks for best women's slingback flat shoe options:
1. Peach ballet flats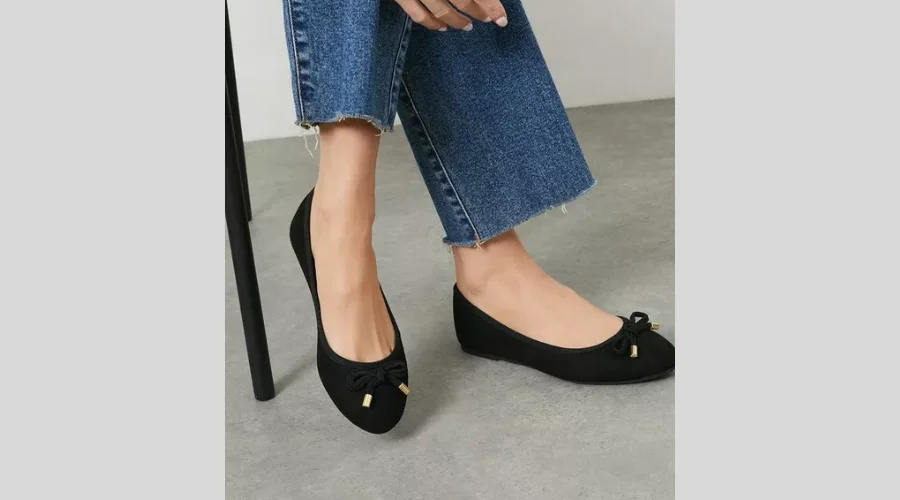 These flat slingback shoes from Dorothy Perkins are a stylish and feminine shoe option. They feature a round toe and a simple slip-on design, with a small bow detail at the front adding a touch of elegance. The soft peach colour is perfect for adding a pop of colour to any outfit, and the matte finish gives a sophisticated look. The flats are made from a synthetic material that is both durable and lightweight, making them comfortable for all-day wear. The flats have a low heel, which adds a bit of height without sacrificing comfort. Overall, the Peach Ballet Flats are a versatile and stylish option for any wardrobe.
---
2. Faith: Wide Fit Betsy 2 Part Espadrille Sandal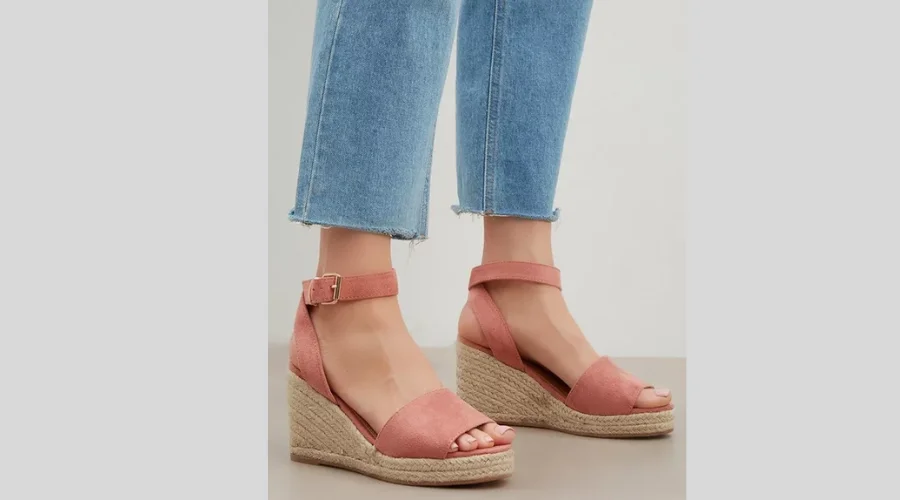 The Faith Wide Fit Betsy 2 Part Espadrille Sandal is a stylish and comfortable footwear option for women with wider feet. The sandal features a two-part design with a wide strap across the toes and another wide strap that wraps around the ankle, providing a secure and comfortable fit. The sandal's upper is made of soft and durable synthetic material, while the insole is padded with a cushioned foot bed for added comfort. The sandal also features a classic espadrille sole made of jute and rubber, which provides excellent grip and traction. Overall, the Faith Wide Fit Betsy 2 Part Espadrille Sandal is a fashionable and comfortable sandal that is perfect for everyday wear during the warmer months.
---
Conclusion
Flat slingback shoes are a type of shoe that features a strap at the back of the heel to keep the shoe in place. They have a flat sole and come in a variety of styles and materials, including leather, suede, canvas, and synthetic materials. Flat slingback shoes are a popular choice for both casual and formal occasions, as they are comfortable to wear and can be dressed up or down depending on the outfit. They can be paired with dresses, skirts, pants, and shorts, making them a versatile addition to any wardrobe.
When shopping for flat slingback shoes, it is important to consider the fit and comfort of the shoe. Make sure the strap at the back of the heel is not too loose or too tight, as this can cause discomfort or instability while walking. It is also important to choose a shoe with a sole that provides enough cushioning and support for your feet. For more information, visit Findwyse.
FAQ's
Affiliate Disclosure: Our website may contain affiliate links, which means we may receive a commission if you click a link and purchase something that we have recommended. While clicking these links won't cost you any extra money, they will help us keep this site up and running. Thank you for your support!