Spring dresses are a must-have for any fashion-forward wardrobe during the warmer months. These dresses come in a variety of styles, colours, and fabrics that are perfect for any occasion, whether it's a casual brunch or a formal wedding. Light and airy fabrics such as cotton, linen, and chiffon are popular choices for spring dresses, as they allow the skin to breathe and provide comfort in the heat. Popular spring dress styles include floral prints, pastels, and bright colours, as well as classic silhouettes such as A-line, wrap, and maxi dresses. Accessorise with sandals or wedges and a floppy hat for the ultimate spring look. 
Styling spring dresses
Styling a spring dress is all about creating a fresh and playful look. First, choose the right dress that compliments your body type and flatters your figure. Then, choose the perfect accessories to complete the look. A denim jacket or lightweight cardigan can be added for cooler weather or evenings. Choose shoes that are comfortable and stylish such as strappy sandals or espadrilles. Keep jewellery simple with delicate pieces that complement the dress. Add a pop of colour with a bright clutch or statement bag. Lastly, style your hair in loose waves or a messy bun for a playful and effortless vibe. Remember, the key to styling a spring dress is to keep it simple, yet chic.
Top picks of spring dresses:
1.  Mini Pleated Dress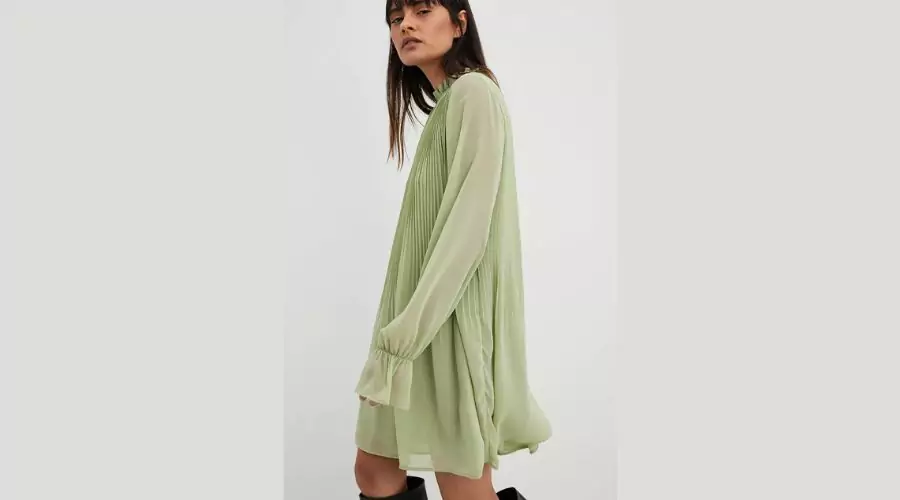 This spring dress is a mini pleated piece in dusty light green from NA-KD and is a perfect addition to any spring wardrobe. The dress features a flowy and feminine silhouette with a subtle V-neckline and adjustable straps that offer a customizable fit. The delicate pleats give the dress a beautiful texture and movement that's perfect for twirling around in the warm spring breeze. Made from lightweight and breathable fabric, this dress will keep you comfortable and stylish all day long. The dusty light green colour is a beautiful and soft shade that will complement any skin tone. Pair with strappy sandals and a denim jacket for a cute and casual daytime look or dress it up with heels and statement jewellery for an evening out.
---
2.  Front Twist Maxi Tube Dress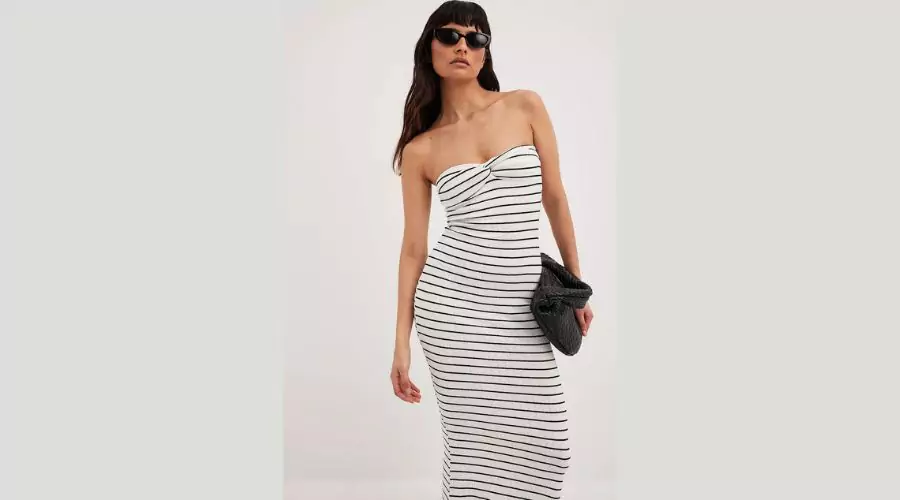 This front twist maxi tube dress in stripes from NA-KD is a chic and versatile option for any spring or summer occasion. This spring dress features a flattering tube-style silhouette with a twist detail at the front that adds an interesting and unique touch. The stripe pattern is a classic and timeless design that never goes out of style. Made from soft and breathable fabric, this dress will keep you cool and comfortable in the warmer months. The dress can be dressed up with heels and statement jewellery for a formal event or dressed down with sandals and a denim jacket for a casual daytime look. The possibilities are endless with this stylish and functional dress.
---
3.  Fuzzy Material Mini Dress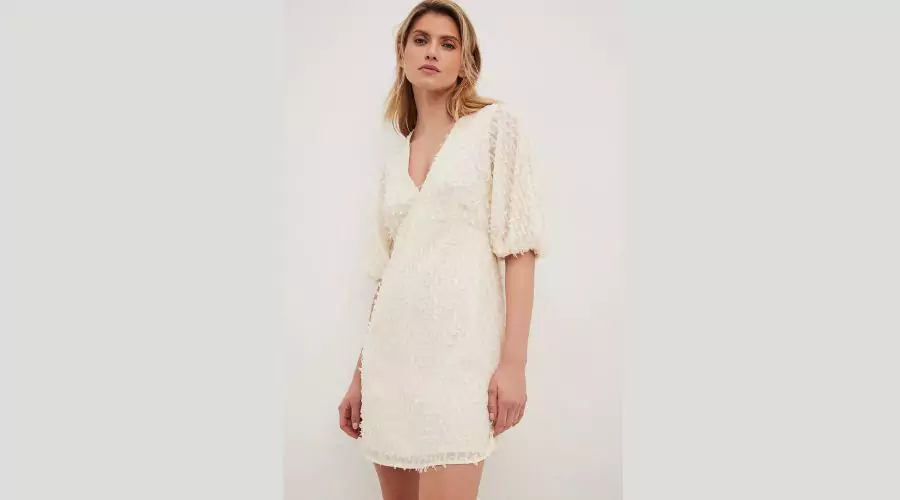 This fuzzy material mini dress in off-white from NA-KD is a unique and playful addition to any spring wardrobe. The dress features a fluffy and textured fabric that adds dimension and interest to the piece. The off-white colour is a versatile shade that can be paired with a variety of accessories and footwear. The mini length of the spring dress and the bodycon fit create a sexy and flattering silhouette that will turn heads. It is perfect for a night out or a special occasion when you want to make a statement. Pair with heels and statement jewellery for a bold and stylish look.
---
Conclusion
Spring dresses are light, airy dresses typically worn during the spring season. They come in a variety of styles, lengths, and colours, and are often made with fabrics such as cotton, linen, or silk. When choosing a spring dress, consider the occasion and the weather. For more formal events, opt for a dress that is knee-length or longer and made from a more structured fabric. For casual outings, a breezy sundress in a fun print or pastel colour is perfect. For more information on spring dresses, visit Findwyse.
FAQs
Affiliate Disclosure: Our website may contain affiliate links, which means we may receive a commission if you click a link and purchase something that we have recommended. While clicking these links won't cost you any extra money, they will help us keep this site up and running. Thank you for your support!