Ruffle dresses are a type of dress adorned with fabric frills or folds, commonly known as ruffles, which are sewn onto the garment. These ruffles can be found along the neckline, hemline, sleeves, or even throughout the entire dress. Ruffles add a touch of femininity, movement, and texture to the dress, making it a versatile choice for various occasions. They effortlessly transform your look, whether you're headed to a summer soirée or a casual brunch.
Styling Your Ruffle Dress: Tips and Ideas
Ruffle dresses offer endless possibilities for styling, and they can be worn for both casual and formal events. Here are some tips and ideas to help you make the most of your ruffle dress:
Embrace the Romance with Floral Ruffles
For spring and summer occasions or garden parties, consider opting for a ruffle dress adorned with floral prints. This choice will give you a romantic and feminine look. Pair it with strappy sandals and a wide-brimmed hat for a whimsical touch.
Go Bold with Statement Ruffles
If you're attending an evening event or a cocktail party, choose a ruffle dress with oversized or statement ruffles. These bold fashion statements can make you the center of attention. To balance the look, keep accessories minimal and let the ruffles steal the show.
Keep It Casual with Boho Ruffles
For a casual brunch date or a beach vacation, a flowy, bohemian-style ruffle dress in earthy tones is an excellent choice. This style exudes a laid-back, boho vibe. Accessorize with a floppy hat, gladiator sandals, and layered jewelry to complete the look.
Modern Elegance with Minimalist Ruffles
When attending work meetings or daytime events, select a ruffle dress with subtle, minimalist ruffles. This choice offers a sophisticated and contemporary appearance. Pair it with block heels and a structured tote for a polished ensemble.
Mix and Match Textures
For those who enjoy creative fashion experiments, don't be afraid to mix and match textures with your ruffle dress. Combine a lace ruffle dress with leather ankle boots, for example, to create a unique and edgy look.
Best ruffle dress by Vici Collection 
HAVANA RUFFLE MIDI DRESS – BLACK

HAVANA RUFFLE MIDI DRESS – BLACK | findwyse
A top-selling favorite, our Havana Ruffle Midi Dress strikes the perfect balance between sultry and sweet. This black midi dress, composed of 96% polyester and 4% spandex, boasts a flattering fit and flare silhouette. It features an off-the-shoulder neckline, a top shelf overlay, and a charming ruffle hemline. While not lined, this dress exudes elegance and style, making it an excellent choice for various occasions. To complete the look, pair it with accessories like the Perfect Hoop Earrings, Chloe Mini Necklace, Initial Card Necklace, Simple Bangle Bracelet, and a chic crossbody chain pouch bag. Don't forget to step into our Whimsy Heel to add the perfect finishing touch to your ensemble. Made with care in the USA, this dress is hand washable for your convenience.
---
    2. CAPRICCIO SATIN FLORAL RUFFLE MAXI DRESS
The Capriccio Satin Floral Ruffle Maxi Dress is designed to fit true to size, ensuring a comfortable and flattering fit. Crafted from 100% polyester and featuring a luxurious satin fabrication, this dress exudes elegance. It boasts a drape neckline with a hook/eye closure, ruffle trim detailing, and adjustable spaghetti straps for a personalized fit. The tie-back strap adds a stylish touch, while the front slit/opening detail enhances mobility. This dress comes with a concealed side zipper for easy wear. Although it is not lined, its exceptional quality shines through. The dress showcases a beautiful floral pattern in camel, mustard, sage, chocolate, and ivory hues, making it a best-selling favorite. To complete the look, pair it with our Cooper Sandal, Brushed Gold Hoop Earrings, and Quinn Necklace for an ensemble that radiates charm and style. After wearing, simply hand wash it in cold water and lay it flat to dry for easy maintenance.
---
   3. MAHONEY SMOCKED RUFFLE MINI DRESS – OFF WHITE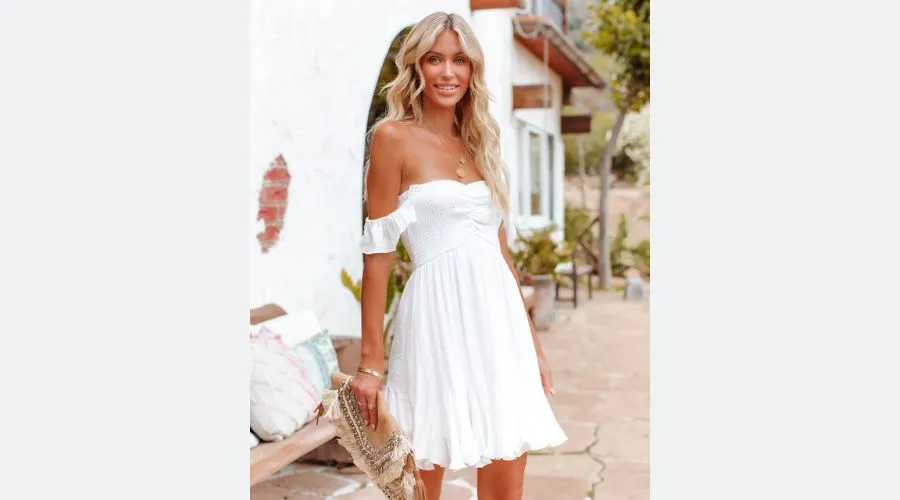 The Mahoney Smocked Ruffle Mini Dress combines a flattering fit and a flowy silhouette, making it a charming addition to your wardrobe. Crafted from a blend of 65% polyester and 35% rayon, with a 100% polyester lining in the skirt, this dress offers both comfort and style. The sweetheart neckline and elastic straps add a touch of femininity, while the smocked bust provides a tailored look. The flowy skirt offers ease of movement, and there are no closures, ensuring effortless wear. Please note that while the skirt is lined, the top remains unlined. Available in a new color, this best-selling dress radiates girly vibes and pairs perfectly with accessories like the Indigo Twisted Hoops, 5 Disc Choker, Chloe Mini Necklace, Gaia Coin Necklace, Emperor Coin Necklace, Simple Bangle, Leela Clutch, and Leila Sandal, adding the finishing touches to your ensemble. To maintain its pristine condition, simply hand wash the dress in cold water and lay it flat to dry.
---
    4. SCHULTZ LEOPARD PRINT RUFFLE DRESS
Introducing the Schultz Leopard Print Ruffle Dress, designed for those who appreciate a relaxed fit and the latest print trends, featuring a captivating black and mocha leopard print. This dress offers a comfortable and stylish choice, crafted from 100% polyester with a 100% rayon lining. It's easy to care for with a simple hand wash in cold water and line drying. The dress comes with a crew neckline and long sleeves adorned with elastic cuffs for added flair. To tailor the fit to your preference, it includes a removable and adjustable fabric waist tie. The back keyhole detail with a neckline button closure adds an element of charm, and for added convenience, a removable and adjustable spaghetti strap slip lining is included.
---
    5. VILLASANA SATIN PRINTED RUFFLE ROMPER – RED/MULTI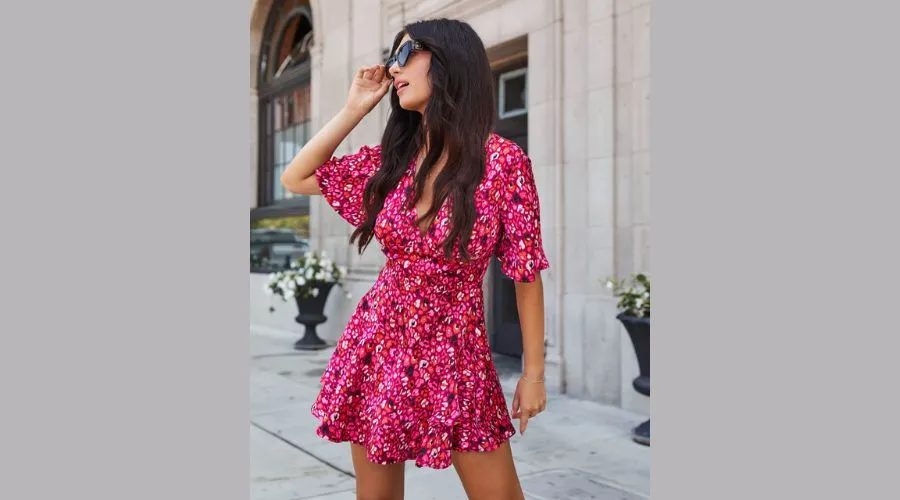 The Vici Collection Floral Print Satin Mini Dress is not only true to size but also embodies a timeless and flattering design. It features a charming V-neckline, short sleeves, and delightful button front detailing. The dress boasts a mini-length cut with a tasteful ruffle hem, elevating its overall appeal. The exquisite floral print and satin fabric make it a stylish choice for various occasions. For ease of wear, it is equipped with back zipper and neck button closures. Crafted from high-quality 100% polyester, this dress is easy to maintain with a simple hand wash in cold water and line drying.
---
How do I ensure the proper fit and comfort of a ruffle dress?
Ensuring that your ruffle dress fits well is crucial for both style and comfort. Here's how you can ensure the perfect fit:
Measure Yourself: Use a tape measure to determine your bust, waist, and hip measurements. Check the size chart provided by the brand to select the right size.
Consider Alterations: If your ruffle dress is slightly loose or long, consider getting it tailored to fit your body perfectly. A well-fitted dress always looks more flattering.
Check the Fabric: Ruffle dresses come in various fabrics, from lightweight chiffon to stretchy jersey. Choose a fabric that suits your comfort preferences and the occasion.
Can you recommend brands known for their comfortable and fashionable ruffle dresses?
Vici Collection
Vici Collection offers a wide range of stylish ruffle dresses. Their collection includes options for casual wear, special occasions, and everything in between. With high-quality materials and trendy designs, Vici Collection is a go-to brand for fashionable dresses.
ASOS
ASOS features a diverse selection of ruffle dresses in various styles and sizes. Whether you're looking for a playful ruffle mini dress or an elegant maxi dress, ASOS has plenty of options to explore.
Zara
Zara offers contemporary and chic ruffle dresses that cater to different tastes. From structured ruffles to delicate frills, Zara's collection is versatile and on-trend.
H&M
H&M boasts a variety of ruffle dresses at affordable prices. You can find both casual and formal options, making it a budget-friendly choice for adding ruffles to your wardrobe.
What accessories and shoes pair well with ruffle dresses?
To complete your ruffle dress ensemble, you'll need the right accessories and shoes. Here are some ideas to enhance your ruffle dress look:
Footwear:
Strappy Sandals: A staple for summery ruffle dresses.

Ankle Boots: Add an edge to your look with leather boots.

Heeled Mules: Elevate your style with comfortable mules.
     2. Accessories:
Statement Earrings: Enhance your outfit with bold earrings.

Wide-Brimmed Hat: Perfect for outdoor events and beach outings.

Clutch Bag: Complete your evening look with a stylish clutch.
Conclusion
Ruffle dresses are a timeless fashion choice that can elevate your style game for any occasion. Whether you prefer a romantic, boho, or modern look, there's a ruffle dress for you. Ensure the proper fit, explore reputable brands like Vici Collection, and don't forget to accessorize to create a stunning ensemble. With ruffle dresses, you'll always be ready to make a fashion statement wherever you go. So, go ahead and embrace the world of ruffles – your wardrobe will thank you! Visit Findwyse for more information.
FAQs