Rabbits are adorable and intelligent animals that require mental stimulation and physical exercise to lead happy and healthy lives. One of the best ways to provide these opportunities is by offering a variety of rabbit toys. Chewy, a popular online pet store, offers a wide range of rabbit toys designed to entertain and engage these furry companions.
Rabbit toys play a crucial role in a rabbit's overall well-being. They provide mental stimulation, alleviate boredom, and promote physical exercise. Rabbits are naturally curious animals that love to explore and interact with their environment. Toys offer an opportunity for rabbits to engage their senses, improve their problem-solving skills, and prevent destructive behavior caused by boredom.
Wide Selection And Types Of Rabbit Toys On Chewy
Chewy offers a wide selection of rabbit toys, catering to different preferences and play styles. Here are some popular types of rabbit toys available:
Chew toys:

Rabbits have a natural instinct to chew, and providing appropriate chew toys is essential to keep their teeth healthy. Chewy offers a range of chew toys made from safe and non-toxic materials, such as wooden toys, hay-based toys, and mineral chews.

Interactive Toys:

These toys are designed to engage rabbits in play and mental stimulation. Interactive toys can include puzzle toys, treat-dispensing toys, and toys that encourage foraging behavior. These toys keep rabbits entertained for hours while promoting their natural instincts.

Tunnel Toys:

Rabbits love to explore and hide, making tunnel toys a popular choice. Chewy offers tunnel toys made from durable materials that rabbits can run through, hide in, and play with.

Toss and Throw Toys:

These toys are designed for rabbits to pick up, toss, and play with. They can be soft toys, balls, or even toys with bells or rattles to attract a rabbit's attention.
List of the top 5 rabbit toys on chewy that you never want to miss for your pet:
1. Frisco Balls Pet Chew Toy
The Frisco Trio Balls Small Pet Chew Toys are a fantastic addition to any rabbit toys bundle, providing your furry friend with hours of entertainment and mental stimulation. These chew toys are specially designed to meet the natural instinct of rabbits to chew and explore their environment. The bundle includes three different balls, each offering a unique texture and sensory experience.
The first ball in the Frisco Trio Balls Small Pet Chew Toys bundle features a woven grass material that is perfect for rabbits who love to nibble and chew. The natural grass texture is not only great for dental health but also provides a satisfying tactile sensation. 
The second ball is made of durable rattan material, offering a slightly different texture and encouraging your rabbit to engage in playful activities such as tossing and rolling. The third ball is a colorful and engaging sisal ball, designed to pique your rabbit's curiosity with its vibrant colors and sturdy construction.
---
2. Chew & Treat Toy For Rabbit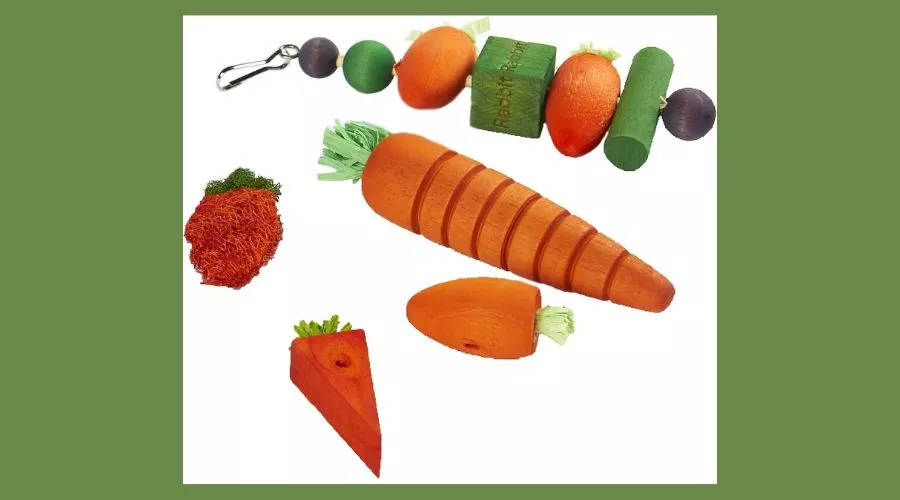 The Kaytee Chew & Treat Toy Assortment for Rabbits is a fantastic bundle of rabbit toys that is sure to keep your furry friend entertained and engaged. With a total of five toys included in the assortment, your rabbit will have plenty of options to explore and enjoy. The toys vary in design, ensuring a diverse and stimulating playtime experience for your pet.
Each toy in the bundle is carefully crafted to provide both mental and physical stimulation for rabbits. They are made from safe, non-toxic materials that are specifically chosen to withstand the chewing habits of rabbits. The assortment may include toys such as wooden chew toys, woven willow balls, and puzzle toys that can be filled with treats. These toys are designed to encourage natural chewing instincts, promote dental health, and alleviate boredom in rabbits.
---
3. SunGrow Rabbit Chew Ball Treats Cat Toy
The SunGrow Rabbit Assorted Chew Ball Treats Cat & Guinea Pig Teeth Cleaning & Grinder is an excellent choice for pet owners looking to provide their rabbits, cats, and guinea pigs with a fun and engaging toy that also promotes dental health. This bundle comes with three chew ball treats, each designed to entertain and maintain the oral hygiene of your furry friends.
The chew balls are made from natural materials that are safe for your pets to chew on. They feature a textured surface that helps to clean and grind down their teeth, preventing overgrowth and potential dental issues. 
The varied assortment of chew balls adds to the excitement, keeping your pets engaged and entertained. Whether your pet is a rabbit, cat, or guinea pig, they will find joy in playing with these chew toys.
---
4. Oxbow Willow Play Cube Toy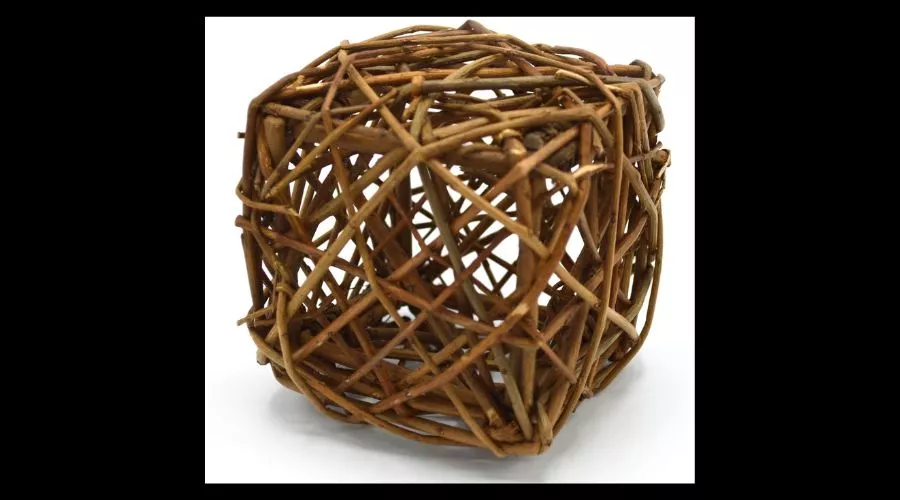 The Oxbow Enriched Life Willow Play Cube is a fantastic small animal toy designed to provide hours of entertainment and enrichment for your furry friend. This cube is specifically created for small animals like rabbits, guinea pigs, and hamsters, making it an ideal choice for your beloved pet. Made from natural willow, it offers a safe and chewable material that satisfies your pet's instinctual need to gnaw and chew.
The Oxbow Enriched Life Willow Play Cube is a versatile toy that encourages exploration and play. Its cube shape allows for easy rolling and tossing, stimulating your pet's natural curiosity and providing mental and physical exercise. The willow material is not only safe to chew, but it also provides a great texture for your pet to sink their teeth into. The cube can be used as a hideaway, providing a cozy and secure space for your small animal to relax and feel safe.
---
5. Frisco Wooden Prism Small Pet Toy
The Frisco Wooden Prism Small Pet Toy is a fantastic option for small pets, designed to provide hours of entertainment and enrichment. This high-quality toy is specifically crafted for small pets such as rabbits, guinea pigs, and hamsters, offering them a safe and engaging playtime experience. Made from durable, natural wood, the Frisco Wooden Prism is both sturdy and non-toxic, ensuring the well-being of your furry friend.
With its unique prism shape, this toy stimulates your pet's natural instincts to explore, gnaw, and play. Its compact size is perfect for small paws to grasp and nibble on, promoting dental health and alleviating boredom. The Frisco Wooden Prism Small Pet Toy is a versatile plaything that can be tossed, rolled, or even used as a chew toy. It provides mental stimulation and helps prevent destructive behaviors by diverting your pet's attention towards a more appropriate outlet for their energy.
---
Conclusion
Rabbit toys play a vital role in keeping these adorable pets entertained, mentally stimulated, and physically active. Chewy offers a wide range of rabbit toys, including chew toys, interactive toys, tunnel toys, and toss and throw toys. With its extensive selection, commitment to quality and safety, and valuable customer reviews, Chewy is the perfect place to find the best rabbit toys to enhance playtime and enrichment for your furry companion. For more information, visit Findwyse.
FAQs