Ninja Foodi Dual Zone Air Fryer AF300UK is the UK's best-selling dual-zone air fryer. Its best ability is to cook two foods in separate compartments simultaneously in two ways. It also finishes their cooking at the same time.
FEATURES
Two independent cooking zones
This air fryer is capable of preparing two different foods with different programs at the same time. It has two separate cooking compartments in the form of drawers that you can match in terms of programs and flexible times. It has a capacity of 7.6 L, feeding almost eight people. Each of its two sections can air fry about 1 kg of fries.
Up to 75% Faster Than Fan Ovens
This air fryer works 75% faster than a fan oven. As a result, it takes less than half time to cook your food. Hence, it is a perfect kitchen gadget for a quick served delicious dinner.
Up to 75% Less Fat
Ninja Air Fryer AF300UK uses almost no oil to cook the food. It circulates the super-hot air uniformly around your food. It gives a quick and delicious golden finish to your food. Hence, the food it prepares contains less fat than the one made using conventional frying techniques.
More Than an Air Fryer
This product is not only a fryer, but it has five other programs to cook the food, Max Crisp, Bake, Roast, Dehydrate and Reheat. You can customize it with different temperature controls and transform the food from frozen to crispy in a few minutes.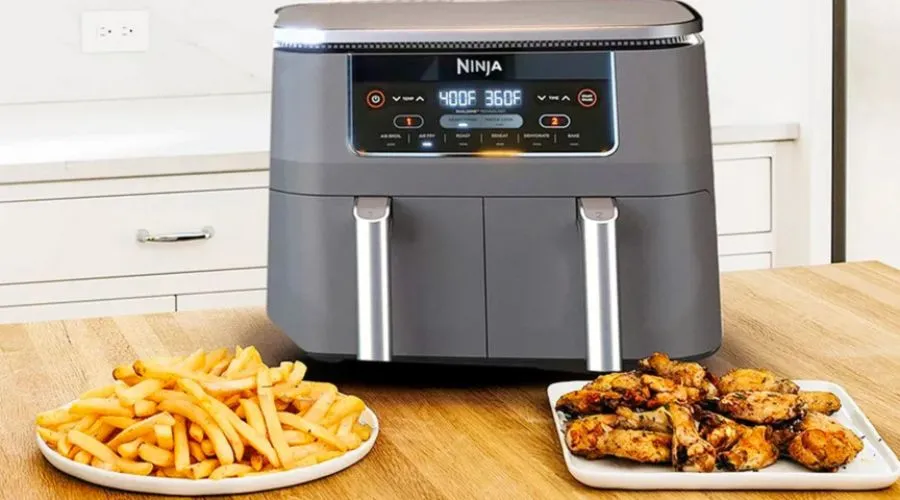 PROS
It has sections as baskets for simultaneous cooking.
It is pretty easy to use.
This air fryer has an instant cook feature for frozen foods.
CONS
It is a very big
The air fryer has no stirring paddle.
The chips prepared by this gadget are not as good as other competitors.
Many air fryers available conduct the fundamental task of preparing food using hot air and little oil. However, the Ninja air fryer offers a little more than the bare minimum. Due to its dual cooking baskets, which can cook various dishes simultaneously at different temperatures, the new Ninja air fryer model stands out from the competition. This surprisingly easy addition of this air fryer elevates it to the top of the available air fryers list.
What do you get for the money?
Appearance
This air fryer is not your typical air fryer. It has a wide design due to the twin compartments. Thus, you'll need a lot of room to keep it. However, it will match your upscale kitchen if you decide to leave it on display. It does feel slightly plastic-bodied in certain places. But its matte finish, digital screen, and chromed highlights make it look like a luxury product.
Price
It is available at a premium price compared to other versions on the market. While it might seem like a lot for a device that circulates hot air, it represents decent value. Any excellent air fryer will cost you £100 or more, and hardly any of them have as many programs or an extra cooking basket as the Ninja air fryer.
Control Panel
You can manage all programs of this ninja air fryer using a large control panel at the front. However, there are not anyone-touch buttons, but there are lots of present programs, like baking, dehydrating, and roasting.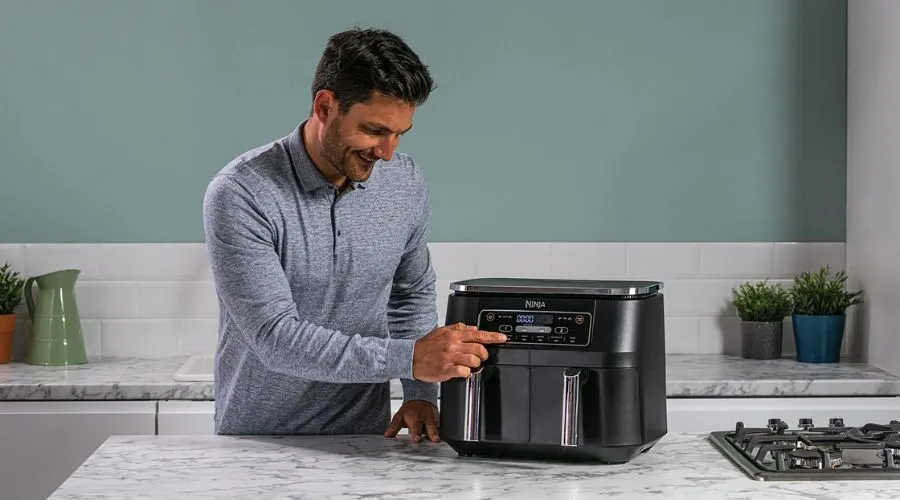 Frying Baskets
The frying baskets of the ninja air fryer are accessible by pulling the two chromed handles beneath the panel in your direction. Each one has a maximum capacity of 3.8 litres, for a combined volume of 7.6 litres.
There isn't a stirring paddle inside, unlike the Tafel ACTi fry range. Thus, you must shake or stir the food occasionally for uniform browning. The Ninja air fryer operates very much like most other ninja air fryers. It pumps hot air over your food to deliver a similar result to deep frying, except that you often need to add a tablespoon of cooking oil.
The Ninja's dual cooking feature goes beyond just placing food in each basket and manual time and temperature adjustment. It boasts several clever features dubbed "sync" and "match" designed to help you get the most out of its dual baskets.
Sync calculates the difference for you if you're cooking two different types of food at various temperatures and timings. Hence, it ensures the cooking of both baskets finishes simultaneously. Alternatively, the match button automatically adjusts the second basket to match the first one's settings if you want to cook a large quantity of the same items.
What's it like to use?
The lack of a stirring paddle and quick cook options is not an issue while using Foodi Dual Zone. To achieve uniform coloration on the outer covering of food, you have to shake it every five minutes. Nevertheless, I discovered from my testing that skipping this step had little impact on the general flavour of the cuisine.
Otherwise, this highly efficient ninja dual air fryer is simple to operate. It also comes with a cooking manual for people who have never used an air fryer.
While testing, both the sync and match settings worked well. The Max Crisp feature works well for thinner frozen items like French fries or onion rings. In tests, perfectly crispy 160g of potato lattices and crisp veggies were prepared at the same setting in just six minutes as opposed to 15 minutes in a conventional oven. Additionally, it can handle larger batches. I am capable of cooking 24 frozen nuggets in just eight minutes.
Although time-consuming, the Ninja also makes dehydration of food simple. However, one should be ready for some trial and error, as slight modifications in the thickness or quantity of an ingredient can result in the alteration of cooking durations.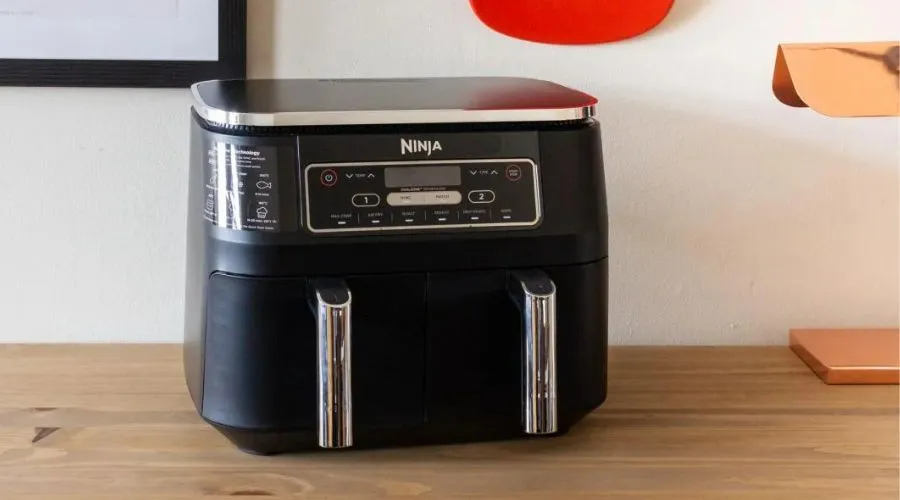 Conclusion
Overall, the Ninja Foodi Dual Zone is much simpler. It has fantastic extra features, especially the incredible Max Crisp setting for frozen foods. Additionally, it is substantially less expensive than Tafel's newest Genius 2in1 model. Shaking the food after every five minutes is not a difficult task to do. Hence, I strongly suggest the Ninja Dual Air Fryer AF300UK as a superb purchase.
FAQs
Read More Reviews Findwyse.