The ability to prepare low-fat chips has made air fryers a popular kitchen gadget. However, Ninja Air Fryer AF100UK proves this gadget can do much more.
---
FEATURES
Up to 75% Less Fat
It reduces the fat content of fried food by up to 75% more than traditional frying methods. Using little to no oil gives your favorite foods the same taste and flavor without guilt.
4 Functions
The Ninja Air Fryer AF100UK, with a sleek touchscreen display, can do much more than an air fryer. Select the Roast setting to have perfectly crispy roast potatoes, onions to complement, and beautifully sweet peppers as a big family meal. You can also go for a Dehydrate function to prepare delicious snacks like dried fruit slices and vegetable crisps for work. You can even reheat your last night's leftover pizza and get that same crispy texture.
Feed the Family
It has a 3.8L capacity which can fit 900g of fries. Thus, you can gather the whole family around the table for an instant homemade meal.
Dishwasher safe
Without the worry of cleaning up, fried meals taste even better. Cleaning is simple with the Ninja Air Fryer AF100UK's non-stick, dishwasher-safe basket. When you finish, take it out of the fryer and place it in the dishwasher. There is no need to scrape for hours; it will be spotless.
Pros
Easy to operate
Prepares low-fat food
Has options to roast, dehydrate and reheat
Dishwasher safe
Comes with recipes and manual
Great performance
Cons
Capacity is limited for a family meal
Requires preheating for 3 minutes
Large worktop footprint
What you need to know
The size of an air fryer, the simplicity of cleaning, and the variety of functions are the main factors determining whether to buy one.
With a 3.8-liter non-stick basket that can hold 900g of fries, a completely dishwasher-safe drawer, and four settings that can alter by time and temperature, the Ninja air fryer model performs admirably on all of those fronts. Its ability to dehydrate sets it apart from the others, while most are designed to fry at temperatures between 160 and 200 °C and lack the low-temperature range needed to dry slowly.
---
Features and design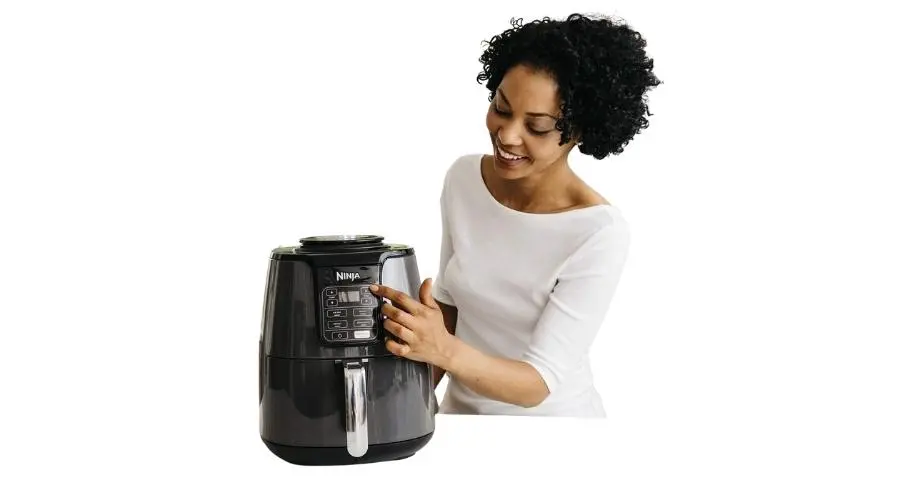 Although the style is standard for most, the Air Fryer stands out for its features. It has clearly labeled controls for the functions of air frying, roasting, reheating, and dehydrating, as well as up and down buttons for adjusting the temperature and time (maximum one hour for air frying and reheating, four hours for roasting, and 12 hours for dehydrating). The time and temperature specified are also clearly shown, and they can be changed midway through cooking if, for instance, a setting proves to be too hot.
The food elevates inside a removable ceramic-coated crisper plate to drip away the excess fat as it fries. By using this technique, Ninja air fryer predicts that the Air Fryer can prepare chips using up to 75% less fat than traditional frying methods for deep-fried, hand-cut French fries. However, to get the best results, you have to apply the oil on the fries a bare minimum of half a tablespoon to at least double that.
One and a half tablespoons of oil produce the best minimum oil run-off and exceptionally crispy fries. It can cook golden chips with a sparkling, crisp surface, a soft, fluffy center, and outstanding consistency. Although they weren't all the same size, there were no lumps of burnt or undercooked potato.
The Ninja air fryer AF100UK cooks well once it starts. However, the need for a three-minute preheating before cooking is one thing that lets it down. Because some more expensive models heat up faster, the cooking times are impacted, taking a little longer. You also have to heat it, then remember to put food in right away and reset the clock.
Cleaning and maintenance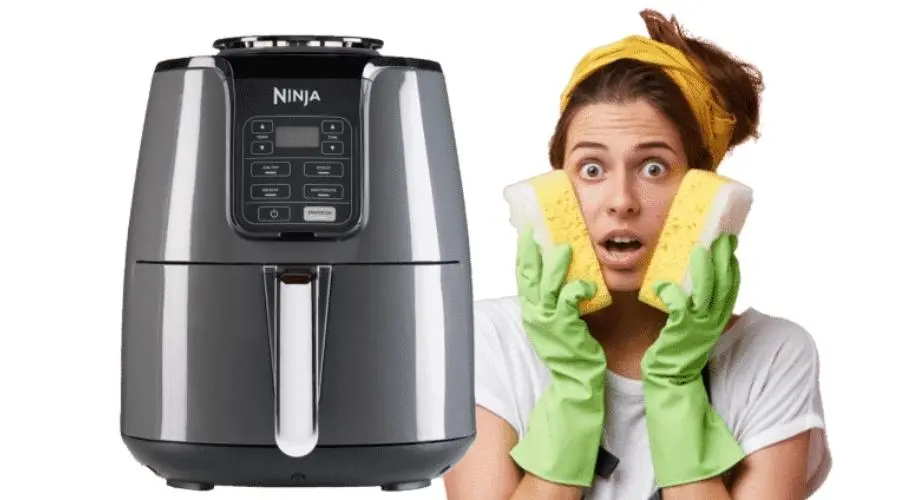 The Air Fryer requires cleaning after every usage. The pan and crisper plate are both dishwasher-safe and thus take seconds. Since the removable components are ceramic-coated, food glides off during hand washing. The top intake can be a magnet for dust, so you'll probably need to periodically wipe away any dirt from the vents and remove any residue from the heating element.
The air fryer's slick plastic exterior is easy to clean using a damp towel. However, it is a little annoying that the silver handle may show marks if you hold it in greasy or moist hands. It is appreciable that the control panel's matte finish prevents fingerprints from adhering to it.
The crisper plate and frying pan can both be kept in the dishwasher. Due to the non-stick surface, you can wash them by hand numerous times before thoroughly cleaning them.
Verdict
If you wish to buy a healthy fryer, this air fryer is the best one to consider as it is fit for small families or couples and has many features. It has few flaws and offers a lot for the money.
It is an appliance that prepares low-fat food and has its place in daily food preparations in the kitchen instead of occasional usage. Although less expensive air fryers might work just as well, the AF100UK's features, like increased temperature and time control, super-hot cooking, and simple clean up, make it worthwhile to spend the extra money. It's full of heated air, but that's how we like it.
There are many benefits to purchasing this air fryer, and only a few minor drawbacks come to mind. It is a simple appliance to handle and has nothing complicated or fussy about the working. It works instantly and uniformly crisps and browns everything kept in it. The only minor grumble is the separate preheat stage setting.
At the price of AF100UK, you can buy another air fryer of larger capacity from other brands. Hence it is on the expensive side. However, if you want a smaller one, it is the best one as it would not occupy much space on your kitchen countertop.
---
Conclusion
Overall, the Ninja Air fryer AF100UK is much simpler to operate. It has fantastic extra features other than air fry, including reheat, roast, and dehydration, that make it's functioning flexible. However, it is expensive in terms of its small size. But if you have a small family, it is the best fit. It prepares the fried food with an evenly cooked outed, crispy surface and less fat content.
FAQ's