Mountain bikes, contrary to their name, are used for more than only mountainous terrain. A mountain bike is a type of bicycle built primarily for off-road riding. Mountain bikes have specific characteristics with other bikes, but they also include strategic elements meant to improve durability and performance on rugged terrain. Equip your Mountain bikes with a light frame, front or full suspension mountain bike, substantial knobby tires, sturdy wheels, strong brakes, and lower gear ratios for climbing steep terrain. You can use these bikes for mountain trails, singletrack, and other dirt terrain. Also, get the best deal possible on trek mountain bikes on the Wiggle Online Cycle Shop website.
List of Top 5 Mountain Bikes 
There are multiple Mountain bikes available in the market. We at Findwyse have curated some of the best Mountain bikes you can consider while purchasing. The list of the best Mountain bikes is as follows:
1. Nukeproof GX Eagle Reactor 275 Pro Alloy Bike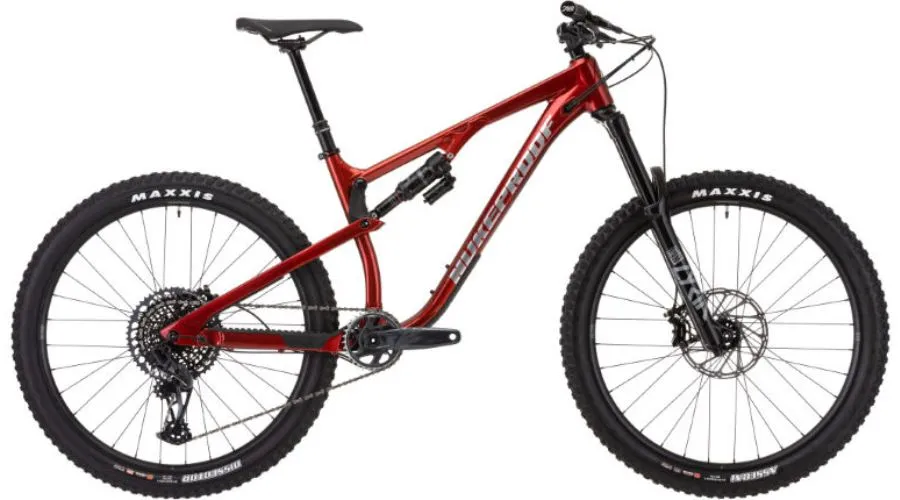 The Nukeproof Reactor 275 Pro Alloy Bike (GX Eagle – 2023) is ready to hit the trails as hard as you dare, thanks to a sophisticated aluminum/carbon frame, RockShox Lyrik forks, rear shocks, and 12-speed SRAM gears. The Reactor is built from the ground up to be the ideal aggressive trail bike, from concept to design, Kinematics, geometry, and specification. It thrives on steep climbs but is most at home, smashing the most demanding terrain you can direct it at during an adventure. The Alloy Reactor has a bespoke triple-butted hydro-formed tube set and carbon seat stays to decrease overall weight. This significantly minimizes unsprung weight, allowing the suspension to be as active as possible. 
---
2. Vitus Escarpe 29 CRX Mountain Bike
The Vitus Escarpe 29 CRX Mountain Bike is a fashionable high-performance long-travel full-suspension trail bike featuring a full-carbon frame, Fox Float Factory Kashima suspension, and a Shimano XT M8100 12-Speed groupset. The Escarpe 29 CRX has an exquisite full-carbon frame with Fox Float Factory Kashima-coated suspension front and rear, which provides a buttery-smooth ride with great agility, control, and traction. It has a Shimano XT M8100 12-Speed groupset with a Shimano XT chainset, a 10-51 Tooth wide-range cassette, and powerful XT hydraulic disc brakes. It comes with Tubeless Ready Nukeproof Horizon V2 wheels and Tubeless Ready 3C MaxxTerra compound Maxxis tires. This full-suspension race bike excels in all-weather and all-terrain situations, making it the ideal travel companion or race-day partner for riding anywhere on the planet—warm dusty paths with dappled woodland light.
---
3. Fuji Nevada 27.5 1.9 Hardtail Bike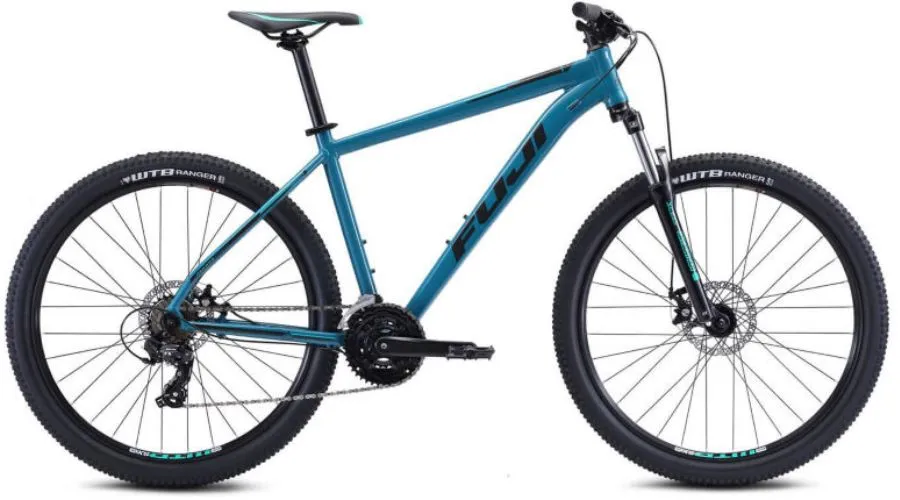 Wherever you like riding, the Fuji Nevada 27.5 1.9 Hardtail Bike will provide an enjoyable and controlled ride. Its light yet durable aluminum frame is energetic and quick, and Shimano Tourney gears and disc brakes support it. This handy and powerful hardtail will keep you in control no matter how difficult the terrain becomes. It is due to the Suntour XCE forks' 100mm of trail-smoothing travel. These forks are also highly adjustable, with the ability to be at a difficult position for more efficient climbing or road riding. Fuji has also added Tektro mechanical disc brakes to assist you in maintaining fine control of your speed and the ability to "drop the anchor" when necessary. Fuji's mid-level aluminum frame material and the most often used frame material, with a double-butted profile in the frame tubes, minimizes material in low-stress regions and offers a lightweight, very robust frame.
---
4. Octane One Melt Pump Track Bike Black One Size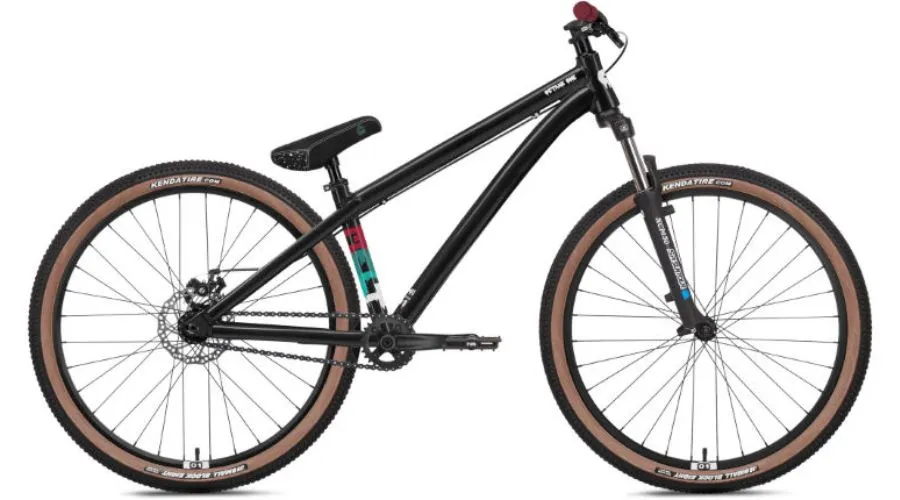 The Octane One Melt Pump Track Bike is the ultimate freestyle hardtail mountain bike for street riding and pump track sessions, featuring an aluminum frame, RST Suspension forks, and Kenda Small Block 8 tires. The Melt Pump has the same robust and lightweight frame as the other Melt bikes and comes with high-performance, low-cost components. It includes a 100mm-travel RST suspension fork, strong brakes, and a single-gear drivetrain up front, providing you the agility, control, and pace you need to ride confidently over all terrains. It also depends on high-quality Jalco rims with high-grip Kenda Small Block 8 tires. If you ride your bike with gears, you may order a rear derailleur kit separately. The Melt Pump has the same lightweight and robust aluminum frame geometry as the NS Bikes FMB World Tour riders. 
---
5. Cube Aim Pro Hardtail Bike
The Cube Aim Pro Hardtail Bike has an Aluminum Lite frame, SR Suntour suspension, and a Shimano 2×8-Speed groupset with Tektro disc brakes, making it suitable for cross-country and singletrack trail riding. The Aim Pro is to make the most of off-road riding. It has an Aluminium Lite frame with current enduro-inspired geometry for a strong, elegant, and lightweight performance over various terrains while also looking at the Shimano 3×8-Speed gear, Tektro hydraulic disc brakes, and a fast-rolling Cube wheel/tire combo. This bike is best suited for fast trail riding, steep climbs, and long days in the saddle. Bikers enjoy quick cross-country runs because of its gripping 2.25″ wide Schwalbe tires and the Suntour fork's 100mm travel, which shines brightly when the road ends, and the tails begin. Also, the broad Shimano 2×8-speed gears give first-rate assistance even on the most challenging slopes.
---
Conclusion
These are some of the best mountain bikes you can purchase this year. You can only secure the best deal while buying Mountain Bikes at the official Wiggle Online Cycle Shop website. Moreover, you can check the official Findwyse to learn more about downhill mountain bikes, specialized mountain bikes, giant mountain bikes, and more such mountain bikes.
FAQ's