The concept of minimalism- "Less is More" has captivated quite an audience as it celebrates the simplistic way of living a wonderful life. But with time, many people have made their own versions of minimalistic living without a proper understanding of the concept.
One of the major industries that actually follows it accurately is design and watches. And, Fossil, a renowned premium watches brand, is one such player that houses a wide selection of minimalist watches at competitive prices. Here is a list of selected items that offer elegant watch designs, so you can easily take your pick.
6 Ever-Lasting Minimalist Watches by Fossil
Fossil is a very famous and older player in the watches world offering a diverse portfolio with timeless designs and world-class quality. The company has recently created a new minimalist watches category especially curated for those who live and believe in the concept of minimalism. The best part about choosing Fossil watches is you get the free engraving option, so you can ask whatever you'd want to be inscribed on the back of the watch.
1. The Minimalist Two-Hand Black Leather Watch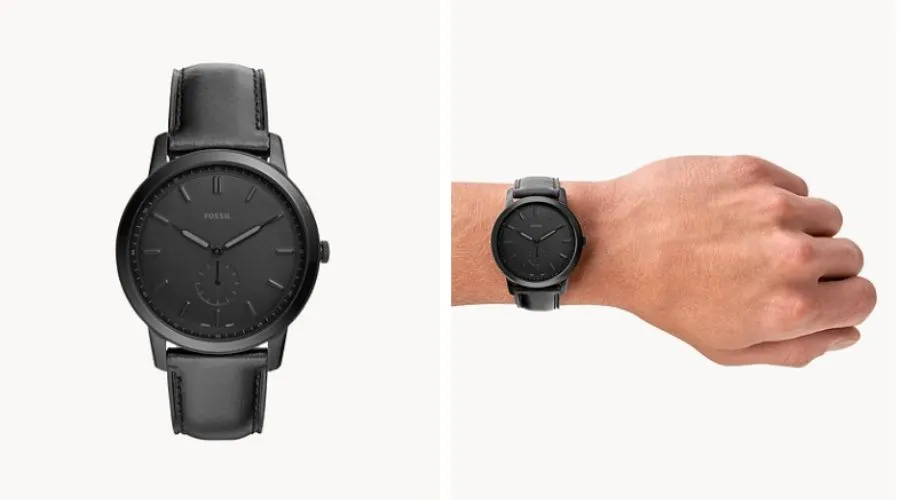 The Minimalist Two-Hand Watch is the best-seller minimalist watch for men sold by Fossil. It is a 44mm watch that features a monochrome color palette along with a matte black dial, a matching leather strap, and two stylish hands. You can either buy this beautiful piece in-store or through Fossil's online channel.
You can even check how they look on your wrist and what size you should choose, through the Try On & Compare Size feature on the website. The minimalist watch is available in two colors- white and black and costs £129.
---
2. Everett Three-Hand Date Two-Tone Stainless Steel Watch
Everett's Three-Hand Date Silver and Gold Minimalist Watch offers a stunning design and the perfect blend of both colors. This 42mm watch comes with a cream sunray and textured dial, along with three-hand date movements. The golden-silver two-tone gives it a lavish bracelet look that will fit perfectly well on your arm.
The watch is made from top-quality stainless steel material, with a strap of 18mm width, and a single pusher foldover clasp. It is available in four vibrant colors- silver & gold, black, and two silver bands with black and blue dials, costing £169.
---
3. The Minimalist Slim Three-Hand Light Brown Leather Watch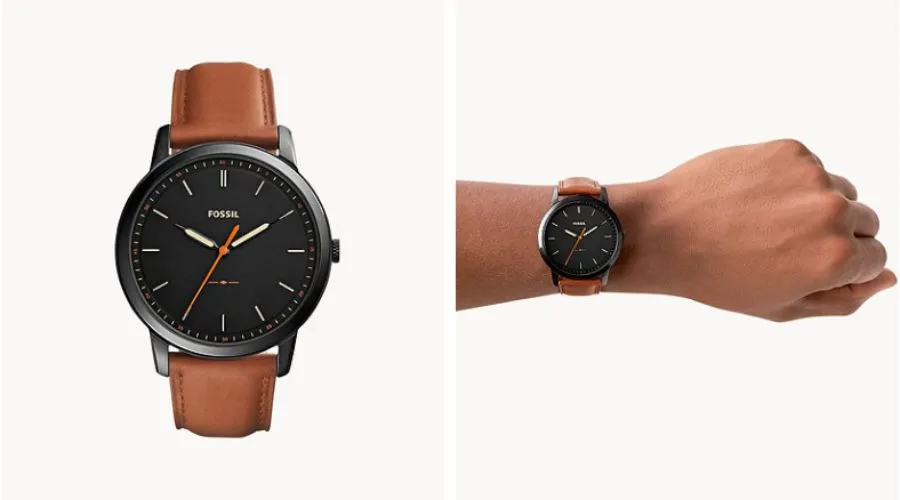 The Minimalist SIlm Three-Hand Leather Watch is a perfect article for those who prefer antique looks infused with modern designs. This 44mm stunning timepiece provides a simple outlook with a brown leather strap, black dial, and three-hand quartz movement. It is one of the best and most affordable minimalist watches for men to bag quickly.
The strap width is 22mm and comes with a standard strap buckle to fit the watch ideally according to your wrist size. You can choose from two different articles that come with two distinct colored dials- black and blue. And, the article costs £129 only.
---
4. Defender Solar-Powered Stainless Steel Watch
The Defender Solar-Powered Watch has a bold grey appearance making it a lavish watch to invest in. This 46mm watch features a matte black textured dial, along with solar-powered three-hand movements and a stainless steel bracelet. It has a strap width of 24mm and a single pusher folder clasp for an ideal fit.
This minimalist watch is a unique timeless watch that comes with a 2-year of product warranty from the date of the purchase made. You can either buy it in-store or check out Fossil's online website to place your order. It costs £199.
---
5. The Minimalist Three-Hand Brown Leather Watch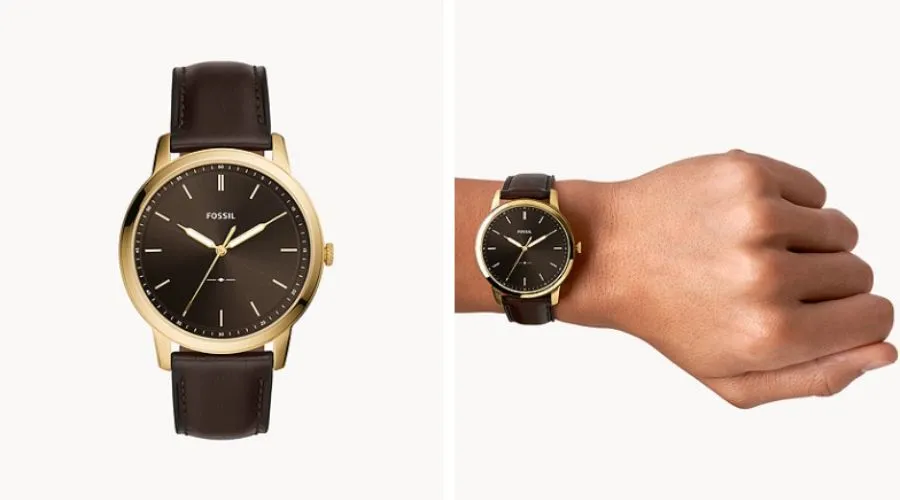 The Minimalist Three-Hand Leather Watch is another classic yet stylish men's minimalist watch to take a look at. It incorporates similar features to those of the Minimalist Slim Three-Hand Leather watch except for the sturdy brown strap made with leather sourced from LWG Certified tannery.
This 44mm minimalist watch features a black sunray dial, along with three-hand quartz movements, and a 22mm width strap. It has a single-prong strap buckle with a golden case. The timepiece comes in various colors like navy blue, burgundy, and black, and costs £129.
---
6. Fossil Heritage Automatic Stainless Steel Watch
The Fossil Heritage Automatic Watch is one of the best minimalist watches you can opt for. It comes in a vintage-looking box with the 43mm watch that features a matte green dial, along with automatic movement, and a stainless steel bracelet. The strap is silver-toned with a width of 22mm and a bracelet deployant closure.
This article comes in varied-colored dials like green, aqua blue, black, and gold. The collection also holds golden and two-toned silver-golden stainless steel bracelets you can choose from. Being a heritage collective, this timeless piece costs £299.
---
Conclusion
Fossil has always been a forever brand that offers classic and everlasting watches at premium prices. And, with their newest category addition of Minimalist Watches for Men, they are gaining more popularity amongst customers. So, if you are looking for a minimalist watch to gift yourself or to your man, the above-mentioned choices are worth looking into. For more such information, visit Findwyse.
FAQs