In today's contemporary living rooms, the coffee table is a piece of furniture that enhances the space around it while also serving multiple functions. Every piece of furniture we bring into our homes reflects our tastes. It also gradually animates our attitudes, comfort, and emotions. A coffee table gives a space vitality by acting as a hub for gatherings, talks, and confessions.
Glass coffee table usefulness has increased because some of them include extra space for our TV remote, periodicals, and drinks. They also go well with our sofas, chairs, and other seating configurations.
People pay great attention while selecting the best tables to liven up their living area. If you go shopping for a coffee table, there are many options. However, glass coffee tables have become popular among them. The glass frame enhances the elegant appearance of any furniture. The glass coffee table's delicate and frail appearance complements its overall design. Go and check out the website of Dunelm to search for the best glass coffee tables from the comfort of the four walls of your abode.
List of 5 glass coffee tables by Dunelm
If you are planning to purchase a glass coffee table, there are multiple options, so Findwyse is offering a concise selection of 5 glass tables that you may select for your home design. Examine it; you might finally find what you've been looking for.
1. Henley Glass Coffee Table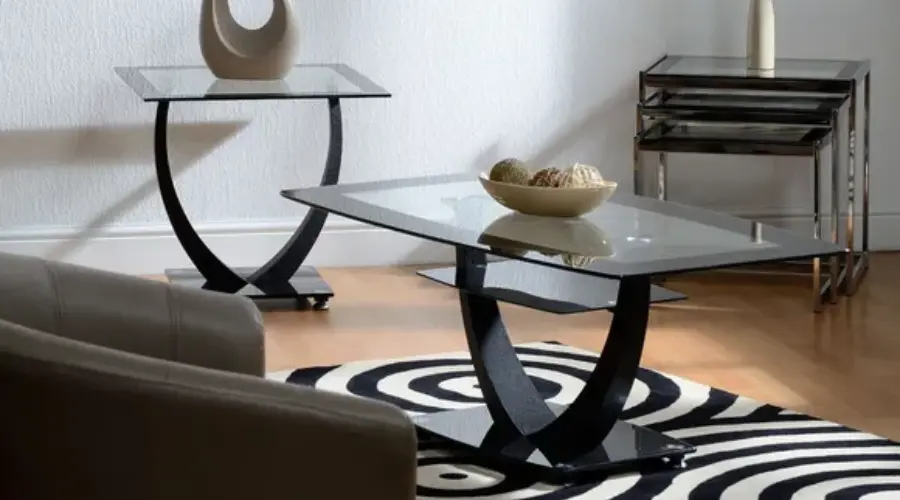 With today's modern fashions in mind, this unique U-shaped frame was designed. The top of the frame is fitted with crystal clear glass that has been tempered and given a classic glossy finish. The sturdy body of the U-shaped frame supports another little glass.
This glass can hold a TV remote, a phone, magazines, and Kleenex. It is for people who want to add a modern touch to their living areas. You have the choice of having this elegant glass coffee table delivered to your residence.
---
Also Read: Get Party Vibes at Home with the Best Wine Glasses from Dunelm
---
2. Milan Oak Glass Top Coffee Table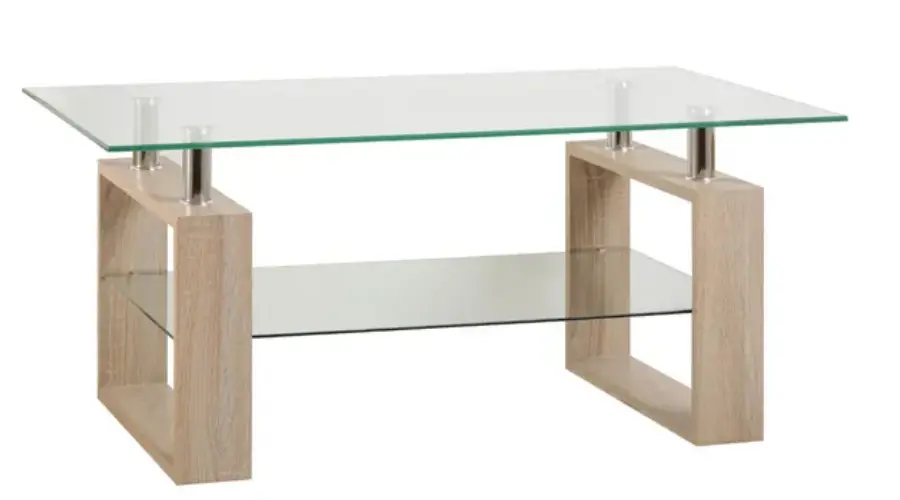 This specific glass coffee table is an excellent example of the marriage of traditional wood with a modern glass design. It has a gorgeous Sonoma oak body with glossy tempered glass on top. The way the brittle glass contrasts with the sturdy oak frame gives it a unique appearance.
This is undoubtedly the best option for anyone who wishes to enhance their living spaces with the beauty of traditional wood. A nice little compartment for the extras is created by the smaller glass that is positioned below the upper one. Your periodicals, photo albums, TV remote, and cell phones can all be tucked inside of them. Regular cleaning of this table involves wiping it down with a gentle cloth. Look at this wonderful creation.
---
3. Milan Glass Top Nest of Tables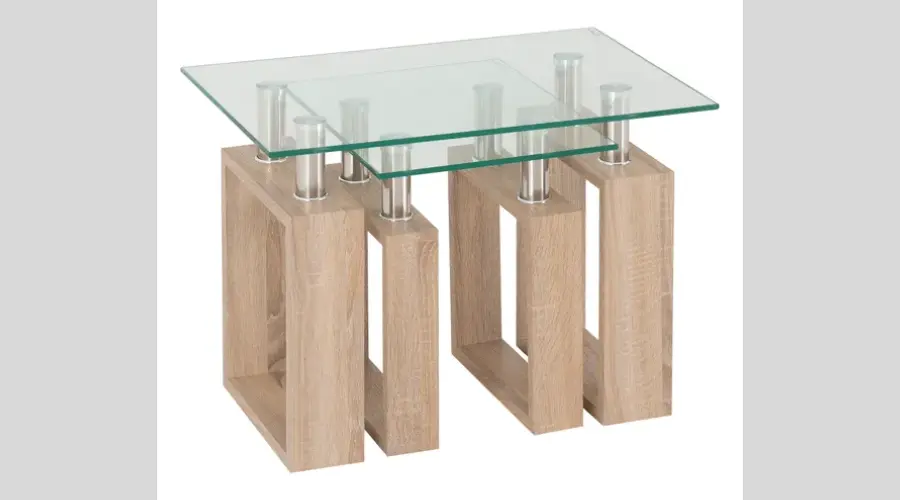 When this table is in your living area, it will look like a wonderful item made of wood tapestry. It is distinctive. It is made up of two tables, one of which is wider and higher than the other. The smaller frame is positioned below or between the larger one. A superb piece of glass is being held in place by both frames, which are fashioned of solid Sonoma oak.
The piece's sumptuous appearance is only enhanced by the glass finish. Additionally, the combination of contemporary delicate glass and classic solid wood is flawless. Your living space will be the ideal fusion of modern and traditional tastes. Check out this glass coffee table.
---
Also Read: Best Budget Friendly Products to buy at the Dunelm Christmas Sale
---
4. Yolanda Coffee Table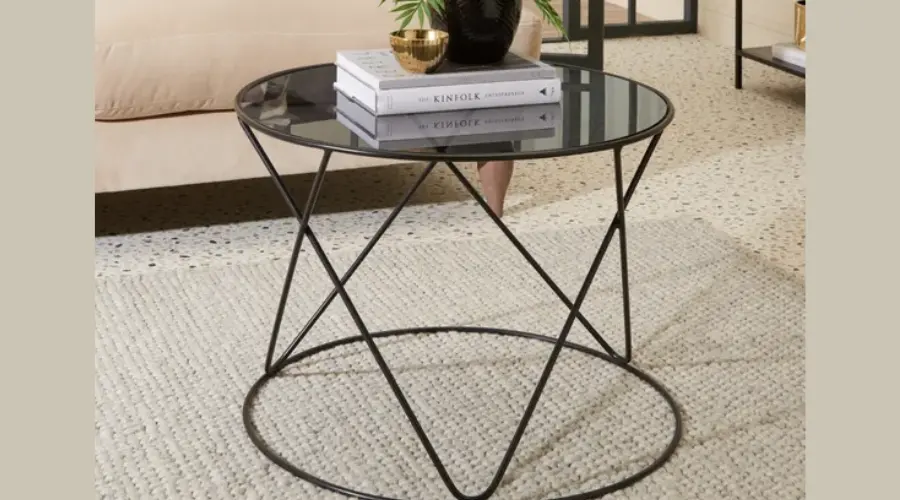 This round coffee table is ideal if you're seeking furniture that compliments your minimalist tastes. It has a strong, polished steel frame with a geometric motif. Some owners' living rooms might not be large enough to accommodate more gorgeous tables.
This compact table will help you save room. A chic glass frame occupies the top of the frame. It is ideal for contemporary living areas. The steel frame guarantees that it is strong enough to give the glass frame firm shoulders.
---
5. Brea Round Coffee Table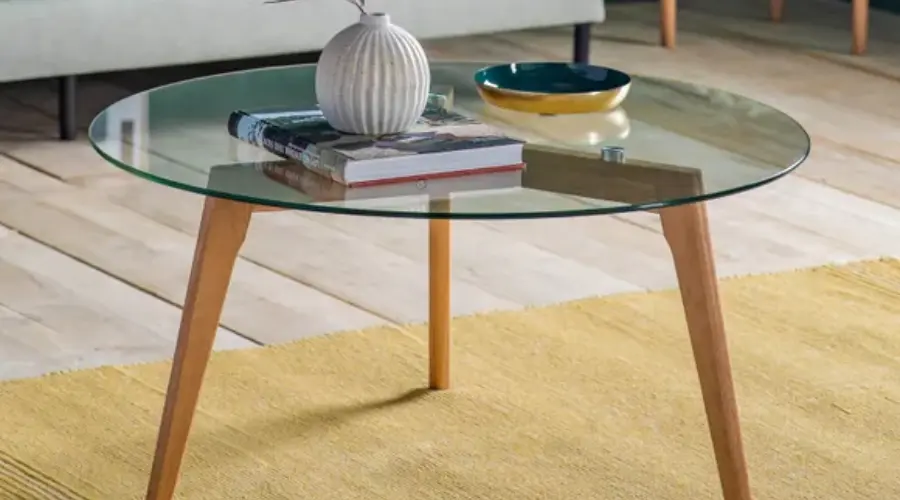 Although you already know that there are multiple options available when purchasing a glass coffee table, But you must also check out this item on the list. This modern table is also suited for those who dislike having tall and bulky furniture take up too much space. This furniture will go well with your tastes if you're a minimalist.
It is supported on three simple, light hardwood legs by a sleek glass panel on top that can withstand the weight of the best coffee machine. The glass has enough width to accommodate your drinks, snacks, and other foods. It also has ample space for legs underneath it. It's ideal for areas where people don't want to crowd themselves. Click on the link given below to  check it out and decide for yourself.
---
Conclusion
This list will help you pick the best piece of furniture to suit your tastes. An ample variety of options are available to you for selection. Make a wise decision by also visiting the official website of Findwyse to learn more about the tables and look for some others. Adorn your house with the best coffee tables to enhance its overall aesthetic.
FAQ
Affiliate Disclosure: Our website may contain affiliate links, which means we may receive a commission if you click a link and purchase something that we have recommended. While clicking these links won't cost you any extra money, they will help us keep this site up and running. Thank you for your support!