The garden arbour has long been an enchanting and versatile addition to outdoor spaces. With its elegant design and functional purpose, a garden arbour can transform any garden or backyard into a picturesque haven. Homebase, a renowned retailer specializing in home and garden products, offers a wide range of garden arbours that cater to various styles and preferences.
Design options to suit every taste
A. Materials and construction:
Homebase offers garden arbours crafted from various materials such as wood, metal, and even durable plastic, catering to different preferences and durability requirements.
Wooden arbours for the garden exude a rustic charm, while metal arbours provide a more modern and sleek appearance.
Plastic arbours, available in various colors, offer an affordable and low-maintenance alternative without compromising style.
B. Styles and features:
Homebase boasts an extensive collection of garden arbours with different architectural styles, such as arched, pagoda, or trellis designs, allowing you to find the perfect match for your garden's overall theme.
Some garden arbours come with integrated trellis panels, providing an ideal structure for climbing plants, such as roses or ivy, to create a natural, beautiful canopy.
The following is a list of the best garden arbour from Homebase that you shouldn't miss:
1. Mercia Pergola Seated Arbour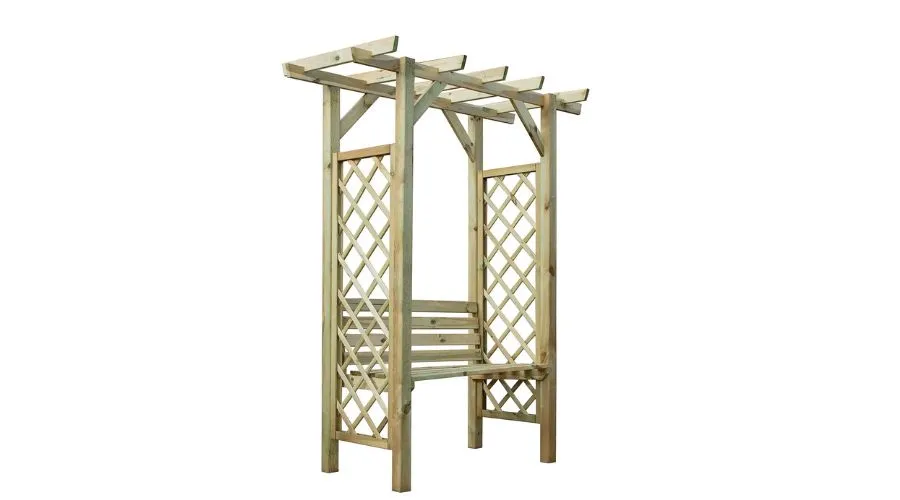 The Mercia Pergola Seated Arbour is crafted with high-quality materials, ensuring its durability and longevity. Constructed from pressure-treated timber, this arbour is resistant to rot and decay, making it suitable for all weather conditions.
The arbour features an exquisite pergola roof design, with open slats that allow sunlight to filter through, creating a delightful interplay of light and shadow. This design element is a great way to elevate the look of your landscape.
The Mercia Pergola Seated Arbour incorporates built-in bench seating, providing a comfortable and inviting spot to unwind. The bench is ergonomically designed and can accommodate multiple individuals, making it ideal for enjoying moments of relaxation with family and friends.
2. Country Living Wilmcote Arbour Seat Painted + Installation – Aurora Green
The slatted roof of the Wilmcote Arbour Seat provides shelter and shade from the sun, allowing you to enjoy your garden even on hot summer days. It offers a cool and comfortable spot to read a book, have a cup of tea, or simply take in the beauty of nature.
The trellis sides of the arbour not only add an elegant touch but also create a sense of privacy and seclusion. It provides a secluded retreat where you can escape from the hustle and bustle of daily life, offering a peaceful sanctuary for relaxation and reflection.
The bench seat inside the arbour offers ample space for two people to sit comfortably. Whether you wish to spend quality time with a loved one or simply relax on your own, the garden arbour accommodates your needs. Additionally, you can personalize the arbour by adding cushions or throws to make it even more cozy and inviting.
3. Shire Honeysuckle Corner Arbour – 4x4ft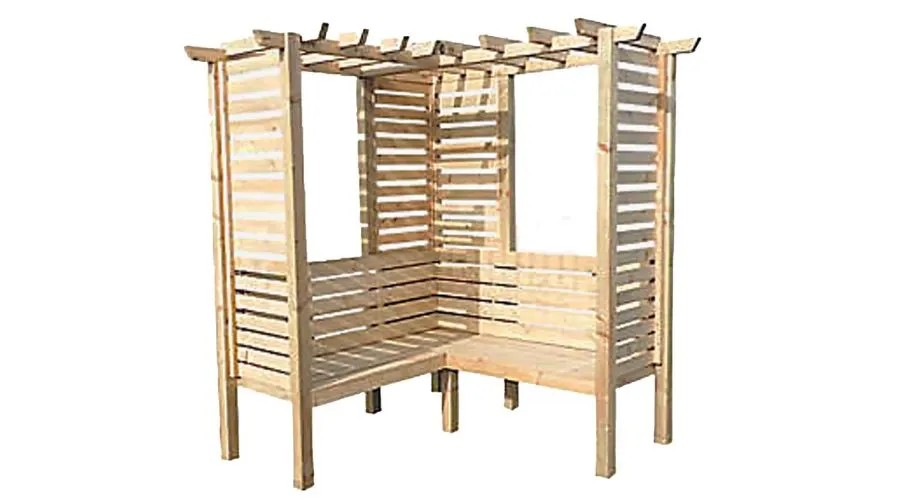 The Shire Honeysuckle Corner Arbour boasts an exquisite design that seamlessly blends with the natural surroundings of your garden. Crafted from high-quality timber, it exudes durability and timeless elegance.
The arbour's 4x4ft dimensions make it ideal for small to medium-sized gardens, where it can be placed in a corner, maximizing the use of space. Its compact design also allows it to be nestled amidst climbing plants or placed as a standalone feature, enhancing the visual appeal of your garden.
The primary purpose of a garden arbour is to provide a serene and inviting space for relaxation. The Shire Honeysuckle Corner Arbour fulfills this objective admirably. Its ergonomically designed seat ensures optimal comfort, allowing you to sit back and unwind.
4. Anchor Fast Storage Arbour FSC
One of the standout features of the Anchor Fast Storage Arbour FSC is its dual functionality. The spacious seating area provides a comfortable retreat where one can relax and enjoy the tranquility of the garden. Whether it's sipping morning coffee, reading a book, or simply unwinding after a long day, this garden arbour offers a peaceful haven.
Furthermore, hidden beneath the seat lies a generous storage compartment that can effortlessly accommodate various garden essentials. From tools and gardening equipment to cushions, outdoor games, or even barbecue accessories, the arbour's storage capacity ensures a clutter-free and organized outdoor space. This feature is particularly beneficial for individuals with limited garden storage options, allowing them to keep their belongings conveniently close at hand while maintaining a neat and tidy environment.
5. Shire 4x2ft Blossom Garden Arbour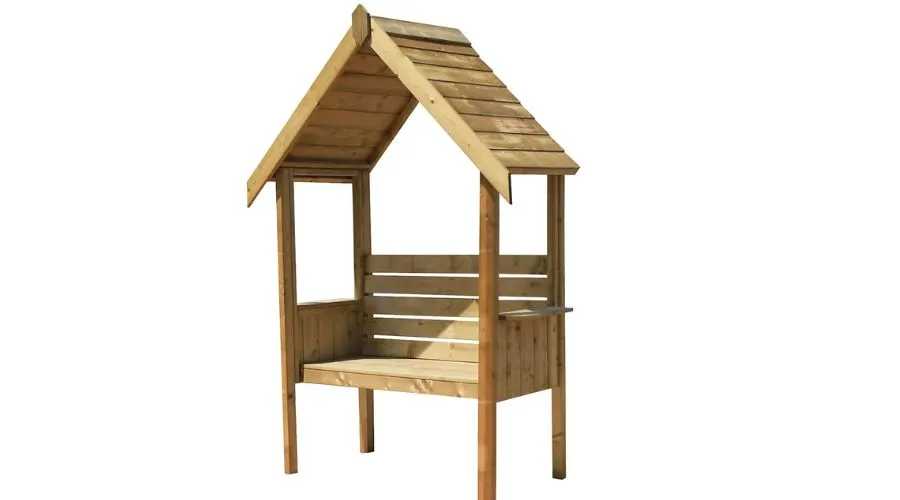 The Shire 4x2ft Blossom Garden Arbour boasts several notable features that make it an exceptional addition to any garden. The arbour's compact size, measuring 4x2ft, allows it to fit seamlessly into gardens of all sizes, including smaller or more restricted spaces. This makes it a versatile option for homeowners with limited outdoor areas. Crafted from high-quality, durable timber, the arbour is designed to withstand the elements and retain its elegance for years to come. The timber is pressure-treated, ensuring resistance against rot and decay, which is crucial for outdoor structures exposed to moisture and varying weather conditions.
Conclusion
The garden arbour is an exquisite addition to any outdoor space, providing a gateway to tranquility and enhancing the overall ambiance of your garden or backyard. Homebase offers a vast array of garden arbours that cater to various design preferences and budgets. For more information, visit Homebase and the official website of Findwyse.
FAQ's