Frozen pancakes aren't just a convenient breakfast option; they're also a versatile canvas for your culinary creativity. Whether you're looking to add a playful twist to your meals or create impressive treats, there's no shortage of fun ways to enjoy frozen pancakes. These delectable discs of joy offer the perfect blend of ease and indulgence, allowing you to savor the goodness of homemade pancakes without the hassle of mixing, flipping, and measuring. In this blog, Findwyse will let you into the realm of frozen pancakes, uncovering their benefits, flavors, and creative ways to enjoy them.
Why Choose Frozen Pancakes?
Convenience: Frozen pancakes eliminate the need to mix pancake batter, stand by the stove flipping pancakes, and deal with messy kitchen cleanup. With frozen pancakes, you can have a warm and delicious breakfast ready in minutes.
Time-Saving: In our fast-paced lives, time is a precious commodity. Frozen pancakes offer a quick solution for busy mornings when you need to grab a satisfying meal on the go. Simply pop them in the toaster, microwave, or oven, and you're good to go.
Consistency: Frozen pancakes are designed to provide consistent quality. You can expect the same fluffy texture and delightful taste every time you indulge. This consistency ensures that you never have to worry about imperfect pancakes or uneven cooking.
Variety of Flavors: The frozen pancake aisle offers a wide array of flavors to choose from. Whether you're a fan of classic buttermilk, chocolate chip, blueberry, or even whole grain options, there's a flavor for every palate.
Nutritional Value: Many frozen pancake brands offer options that are made with high-quality ingredients. This means you can enjoy a nutritious breakfast without sacrificing taste. Look for options with whole grains, natural sweeteners, and real fruit additions.
All-Year Availability: Frozen pancakes are available year-round, which means you can enjoy the same great taste and convenience regardless of the season. No need to wait for the blueberry season or maple syrup tapping time.
List of best frozen pancakes with different flavors
1.   De Wafelbakkers Mini Pancakes Buttermilk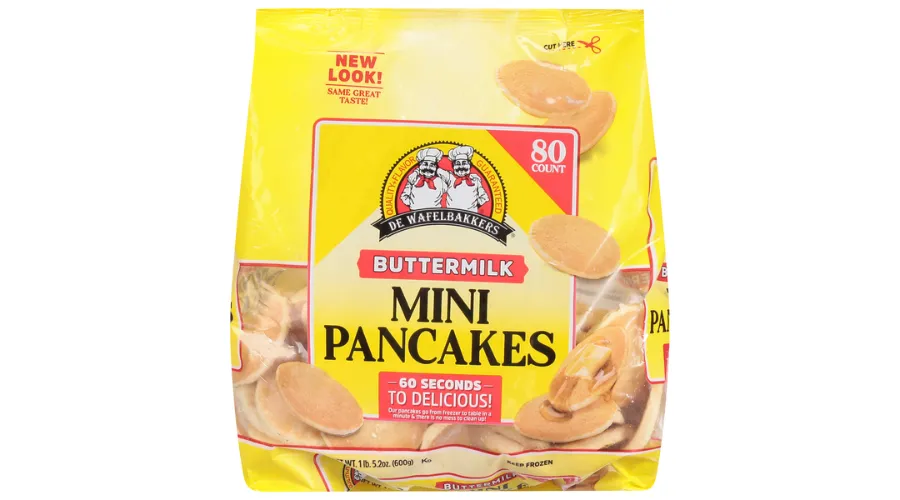 Introducing De Wafelbakkers Mini Pancakes Buttermilk—a delightful treat made with quality ingredients. These frozen mini pancakes are crafted with unbleached, enriched flour, ensuring a wholesome foundation. Infused with the goodness of buttermilk, they offer a rich and comforting flavor. With a touch of sweetness from high fructose corn syrup and sugar, these pancakes promise a delectable experience.
2.   Eggo Pancakes Buttermilk
Discover Eggo Pancakes Buttermilk, a delightful pack of 12 pancakes made with a blend of premium ingredients. Crafted with enriched flour containing wheat flour, malted barley flour, and essential vitamins to ensure a nourishing start to your day. Eggs play a crucial role in lending these pancakes their fluffy consistency. Sweetened with high fructose corn syrup, these pancakes offer a hint of sweetness that perfectly complements their comforting taste.
3.   Hungry Jack Pancakes Buttermilk Microwavable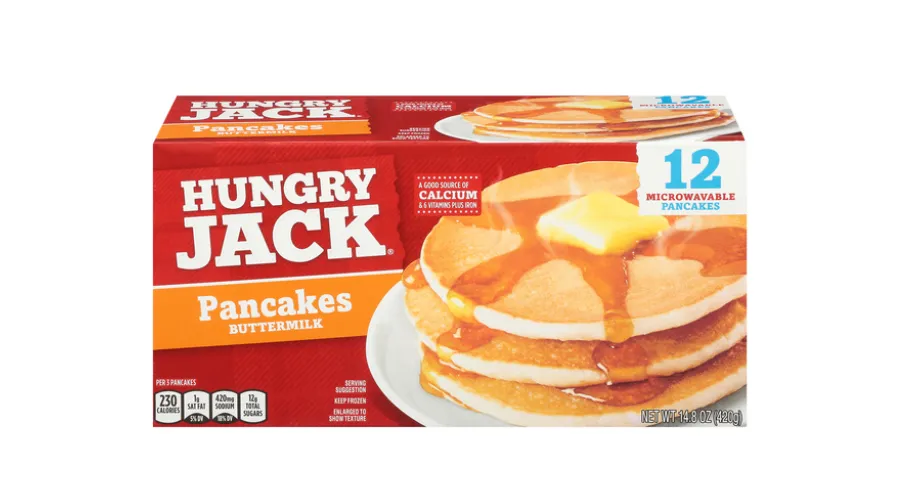 Indulge in the delectable convenience of Hungry Jack Pancakes Buttermilk Microwavable – a delightful offering of 12 pancakes that bring the classic breakfast experience to your fingertips. Crafted from a blend of enriched wheat flour, including essential nutrients like niacin, riboflavin, and iron, these pancakes embody a balanced combination of flavors and nutrition. Further enriched with vitamins and minerals like Vitamin A, Vitamin B12, and iron, these pancakes offer more than just great taste; they're a source of nourishment to kickstart your day.
4.   Good Food Simple Pancake Puffs Gourmet Bites
Savor the delightful fusion of flavor and convenience with Good Food Made Simple Pancake Puffs Gourmet Bites in the enticing Chocolate Chip variant. This pack boasts 36 bite-sized pancake puffs that redefine breakfast indulgence. Crafted with care, the puffs feature an unbleached wheat flour base, expertly combined with a medley of rich chocolate chips that provide an intense cocoa taste. The batter is composed of essential ingredients such as vegetable oils – a blend of canola and coconut – along with eggs, and sugar, ensuring a decadent yet balanced texture.
5.   De Wafelbakkers Pancakes Buttermilk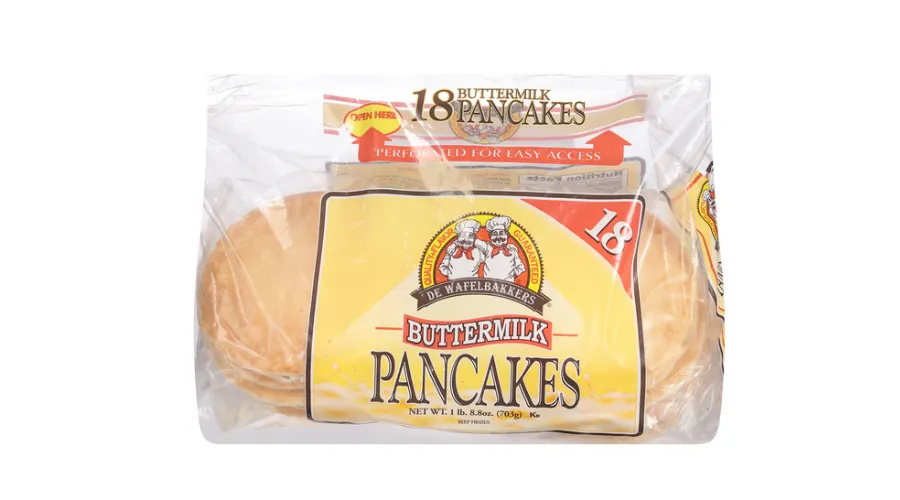 Elevate your breakfast experience with the delectable goodness of De Wafelbakkers Buttermilk Pancakes. This pack contains 18 pancakes crafted to perfection, offering a harmonious blend of taste and nutrition. Enriched with the richness of buttermilk, the batter is expertly balanced with high fructose corn syrup, sugar, canola, and soy oil, ensuring a satisfyingly moist and slightly sweet bite. further enriched with vitamins and minerals such as Vitamin B3, Vitamin B6, and Vitamin B12, which, alongside the other essential nutrients, make these pancakes a delectable and nourishing breakfast option.
Creative and fun ways to enjoy frozen pancakes
Pancake Parfait: Layer bite-sized pieces of frozen pancakes with Greek yogurt and an assortment of fresh berries or sliced fruits. Repeat the layers to create a visually appealing pancake parfait. Top with a drizzle of honey or a sprinkle of granola to add some crunch.
Pancake Sandwiches: Transform your frozen pancakes into delicious sandwich creations. Spread nut butter, cream cheese, or yogurt between two pancakes for a delightful and portable breakfast or snack option.
Pancake Tacos: Fold your frozen pancakes into taco shapes and fill them with scrambled eggs, sautéed vegetables, avocado slices, and a dollop of salsa. This savory twist is perfect for a hearty breakfast or brunch.
Pancake Waffles: Toast your frozen pancakes in waffle iron to transform them into waffle-like creations. The ridges will hold onto syrups, sauces, and toppings, creating a delightful texture.
Pancake Sushi Rolls: Spread a thin layer of cream cheese or yogurt on a frozen pancake, then place slices of fruit such as mango, kiwi, or berries on top. Roll up the pancake like a sushi roll and cut it into bite-sized pieces for a unique treat.
Conclusion
Frozen pancakes are more than just a breakfast option; they're a culinary canvas waiting to be adorned with your creativity. Offering the perfect blend of convenience, taste, and versatility, they cater to busy mornings, lazy weekends, and every moment in between. With a myriad of flavors and a range of ways to enjoy them, frozen pancakes from Giant Food ensure that breakfast remains an enticing affair. So embrace the ease, savor the flavors, and elevate your mornings with the delightful wonders of frozen pancakes. For more information, visit Findwyse.
FAQs