The breed and personality of the dog should be the primary considerations when choosing the best dog bowls for them. 
When it comes to size, bowls that are more compact and have a shallower depth are ideal for smaller breeds. Larger breeds tend to want bowls that are both deep and wide. 
In addition, giant breeds have a higher shoulder height than smaller breeds; hence, it is strongly advised that food and water bowls be elevated from the ground. This is primarily because of how they hold themselves when they are eating or drinking. 
Research conducted in the field of veterinary medicine has demonstrated that some breeds of dogs should not be allowed to lower their heads when they consume food or drink water. 
Let us understand in detail, with the help of this blog, how you can choose the best dog bowls along with the top options available in the market.
A guide to choosing the best dog bowls for your companion
The bowl's dimensions should be such that your dog can eat from it and drink from it without any difficulty. You should also take into consideration the height of the bowl to ensure that your dog will not have to stoop too low in order to eat or drink from it.
For improved digestion, use elevated dog bowls.
Stainless steel, plastic, ceramic, and bamboo are just some of the materials that can be used to make dog bowls. Other options include bamboo. Owing to their long-lasting feature, stainless steel dog bowls are an excellent material choice. 
Plastic is more affordable than stainless steel, but it is more likely to become scratched and soiled over time. Ceramic is another excellent option, despite the fact that it is typically more delicate than stainless steel. Bamboo is a more recent construction material that is quickly gaining popularity. It is hardy and inherently resistant to the growth of bacteria.
The form of the bowl is something that should be considered as well. For dogs that have a tendency to drool or make a mess, a bowl with a shallow rim is the best option. For dogs that have difficulties with their necks or joints, a higher bowl may be useful.
The bowl should have a good level of stability so that it does not readily topple over. This is especially important to keep in mind if your dog tends to make a mess while eating.
It is important to have a bowl that is easy to clean in order to inhibit the growth of bacteria.
Types of dog bowls you can consider buying 
Bowls made of stainless steel have a long lifespan and are simple to maintain. 
The price of plastic bowls is significantly lower than that of stainless steel bowls. They are also portable and easy to carry due to their low weight. 
Ceramic bowls are known for their longevity as well as their natural anti-bacterial properties. 
Bamboo is an up-and-coming material, and bowls made of bamboo are quickly gaining in popularity. They are hardy and inherently resistant to the growth of bacteria. Lightweight and simple to transport, bamboo bowls are a great option.
Bowls that are elevated can be helpful for dogs that have problems with their neck or joints. They also have the potential to make dining less messy.
Top options for dog bowls available in the market
OurPets Durapet Premium Rubber-Bonded Stainless Steel Bowl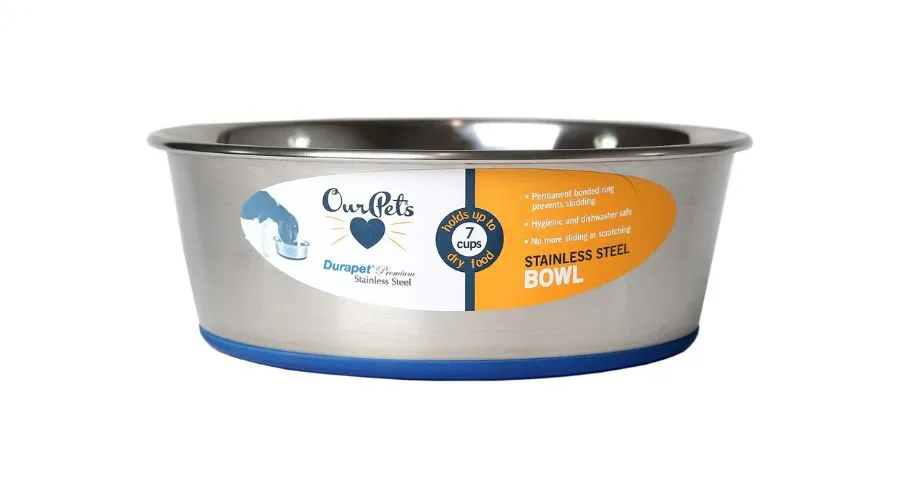 Crafted from durable, heavy-weight stainless steel, this bowl boasts exceptional quality.

Its rubber base ring is molded permanently, ensuring it stays securely in place.

It curbs sliding and noise, enhancing your pup's mealtime experience.

The

bowl is dishwasher-safe

for effortless cleaning or can be washed with warm, soapy water.

Available in three sizes, ranging from large to small dog bowls.




---
    2. Ethical Pet Stoneware Crock Pet Dish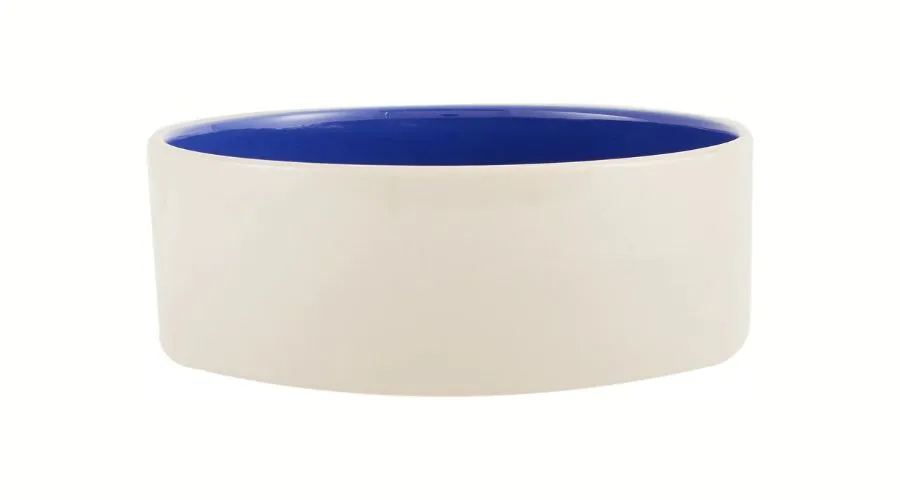 Crafted from robust heavyweight stoneware, this pet food dish offers durability.

Its sturdy construction prevents slipping and movement while your pet dines.

Resistant to tipping, it minimizes spills during mealtime.

Cleaning is a breeze.

Enhanced by a high gloss finish, it boasts a stylish appearance.




---
    3. Frisco Chevron Brushed Melamine Bowl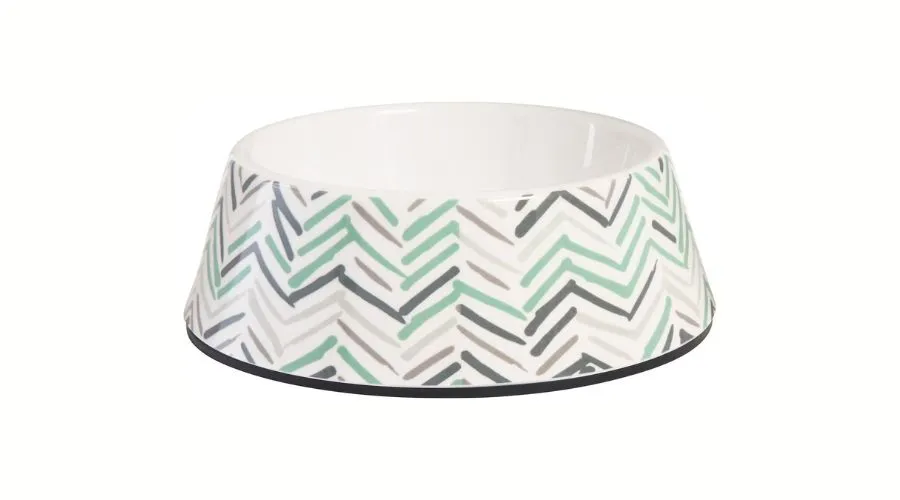 Featuring a trendy chevron pattern and an amusing "Current Mood = Food" message inside, this bowl adds a touch of fun to mealtime.

Equipped with a non-skid bottom, it ensures your pet's food remains in place.

Cleaning is convenient as it's top-rack dishwasher safe.

Available in 1.5 cups and 3 cups sizes, it caters to different appetites.




---
Conclusion
When making a decision, you should take into consideration your dog's feeding style, age, breed, and size, as well as your own routines and habits, and you should be honest about what you and your dog both require. It is also important to keep in mind that needs can alter over time.
Pets that aren't fussy about their food will be fine with the more elegant options, while pets that devour their food quickly might benefit from a slow feeder. If you find yourself cleaning up after your pet on a regular basis, investing in a set that can contain the waste left behind by multiple meals may make your work more manageable. 
Furthermore, if you are looking for dog bowls with stands, then you can visit the online store of Chewy. Besides, check out the official website of Findwyse for more informative and interesting content. 
FAQs