Welcome fashionistas! The world of fashion is diverse, and with so many ways to style oneself, we always have a bounty of options! Clutches for women have stood out as a symbol of sophistication and elegant fashion. They have been here for ages and continue to remain strong in the market. Clutches for women are easy to style and carry, and they make excellent accessories! Fossil, a watch and lifestyle company, has a plethora of products catering to men's and women's fashion needs. 
About Fossil
Fossil is a company specializing in lifestyle based products. Its product portfolio includes- watches, handbags, wallets, and jewelry. Fossil also partners with luxurious brands like- Armani Exchange, Zodiac, Diesel, and Skagen. The company is dedicated to providing the best quality lifestyle products catering to different customers. It was founded in 1984, and ever since then, it has come a long way in the realm of watches and lifestyle products. 
The perfect accessory: top clutches for women on Fossil!
1. Jori RFID Zip Clutch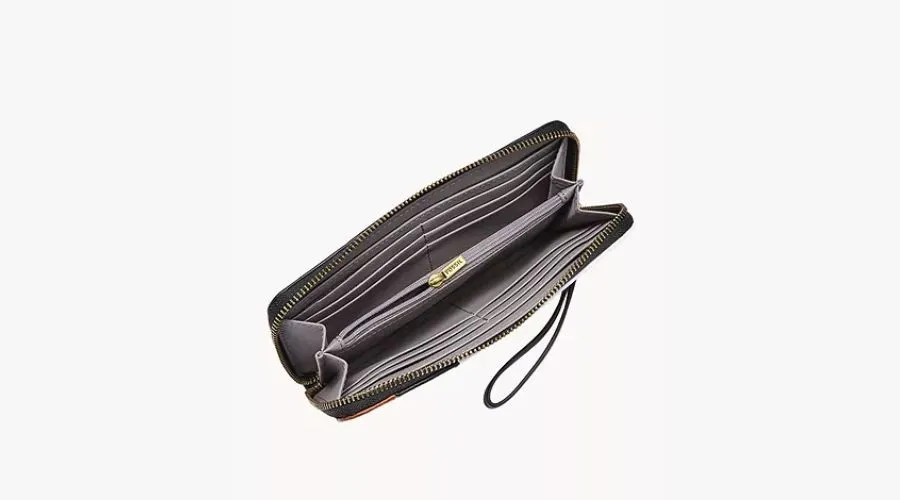 Ideal for casual outings or ladies hangout sessions, this polychromatic toned clutch is absolutely gorgeous! The earthy shades help the clutch blend in perfectly with different outfits. The interior material is made of recycled polyester, and the outer texture is leather. Leather clutches for women are popular go-tos! The interior structure of the clutch consists of- 1 zip pocket, 2 note compartments, and 12 card slots. The finishing details are given in the form of a Fossil logo in a golden tone and one wristlet strap. So if you like being extra cautious, secure the clutch on your wrist using the strap! 
There is one outer zip for closure and keeping your items secure. If you love neutral shaded items, then this one's for you!
---
2. Jori Flap Clutch
This navy colored clutch bag is for vibrant girls! If you love incorporating different colors into your style catalog, then this clutch is a great option for you. The interior structure of the products consists of- 14 card slots, 1 ID, and 1 zip pocket. There is a back zip pocket on the exterior part. 
Take it to work or a business meeting. Whether it's your corporate girl duties or a formal event, this bag is the perfect go-to for them! If you are unsure about the size and how it will look on you, then try out the 'Try on and compare size' section for a realistic look! 
---
3. Tara Zip Clutch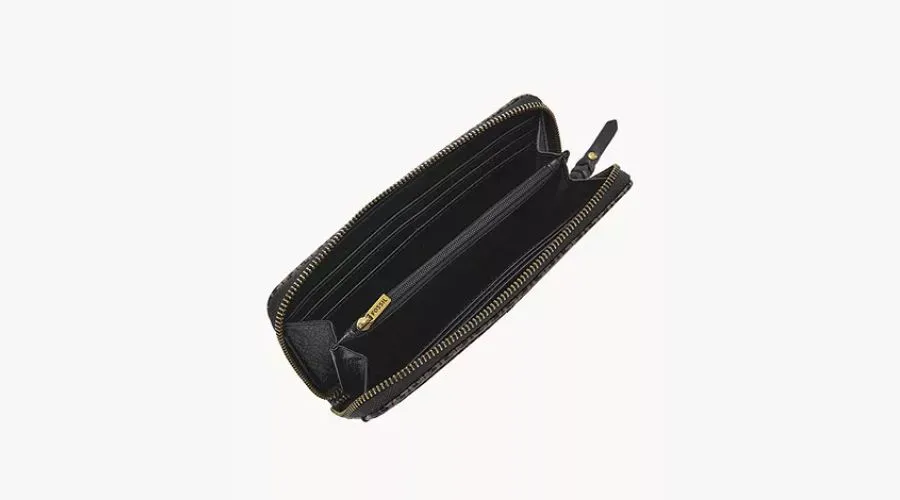 For the sophisticated girls! This bag will add a touch of elegance and chic to your outfit. A great accessory to elevate your look! The interior structure consists of- 1 zip compartment, 8 card slots, 2 note compartments, and 2 gusseted pockets. This clutch can fit sizes as big as the iPhone 14 and the Samsung Galaxy S22. The captivating patterns displayed on the bag seamlessly give a classy finish to the overall look.
---
4. Cora Clutch 
This graystone clutch bag is well-suited for casual outings, parties, and work events! It's versatile functionality makes it an appealing choice for the ladies. It is quite spacious and can fit an iPhone 14 or Samsung Galaxy S22 easily! There is 1 front flap pocket and a zip pocket. The interior details consist of- 12 card slots, 1 note compartment, 1 zip pocket, and 1 ID Window. 
It has a snap closure, so it is effortless to open and close. The final touches are added in the form of a golden ornament on the snap lock.
---
5. Berry Stripe Zip Clutch 
If you love colorful and radiant accessories, then this zip clutch is for you! This burgundy shaded clutch bag has exquisite multicolored patterns. The interior material is made of polyester and consists of- 12 card slots, 1 center zip, and 2 note compartments. There is a wristlet strap to secure it to your wrist! And, there is an exterior zip compartment for keeping small daily essentials handy. 
This clutch is suitable for parties, casual meetups, day trips, and work events!
---
Conclusion
Clutches for women are convenient and easy to style, carry, and accessorize. Fossil's wide array of clutches for women is impressive and gives customers the freedom to choose from a huge range. Whether it's a casual hangout or a sophisticated event, you'll find the perfect match! Clutches are more than just adornments for our outfits; they are functional and super versatile. With the world of fashion evergrowing, clutches have remained steady in the market and made their name as a fashion staple. 
For more information, visit Findwyse. 
FAQs