Romper dresses are one-piece garments that have a blouse attached to shorts. They are also popularly called playsuits. You can easily dress them up or down. They can also be a good and practical choice for travel. They come in wrinkle-resistant fabrics too and are a great addition to your traveling bag. In this blog, Findwyse will help you pick some of the best romper dresses for you.
Romper dresses for different body types
1. Hourglass Figure
Romper dresses with defined waist are a great match for hourglass figures. They tend to emphasize your waist and accentuate your curves. Dresses that have a wrap style bodice work wonders for these body types.
2. Pear Shape
Pear shaped bodies have a heavier bottom, so rompers that have an A-line shape create the illusion of a petite bottom and wider shoulders. Off shoulder or halter necklines also add shape to your silhouette and create a balanced look
3. Apple shape
Apple shape figures have a wider waist, so empire waistlines can help add curves to your body. You can also look for romper dresses with belted designs to create the illusion of a smaller waist. They cinch at the smallest part of your torso and give your body definition. Scoop necklines also give the appearance of an elongated torso.
4. Athletic build looking for feminine shape
People with broad shoulders and an athletic build can go for romper dresses that have ruffles, frills, or fringes. These layered details introduce a feminine flair to your outfit. You should also go for dresses that cinch at the waist for additional shape.
The latest romper dresses trends of 2023
1. Monochromatic Looks
2023 has embraced minimalism more than any other trend. You can wear a romper of the same colour family for a perfect monochromatic look. You can elevate your outfit further with a pop of colour in a handbag or your footwear.
2. Utility Looks
Utility style creates a cool and fresh look and brings a casual outlook to business casual style with additions like functional pockets or hardware details like carabiners etc.
3. Boho/Bohemian Look-
Boho style romper dresses with intricate embroidery and earthy shades are a great option for a laid-back and refreshing look.
4. Backless Dresses
Open abc is one of the trendiest fashions of 2023. These dramatic designs are a great way to look more chic and stylish.
Top Picks for romper dresses to buy from VICI
1. Elysica Halter Top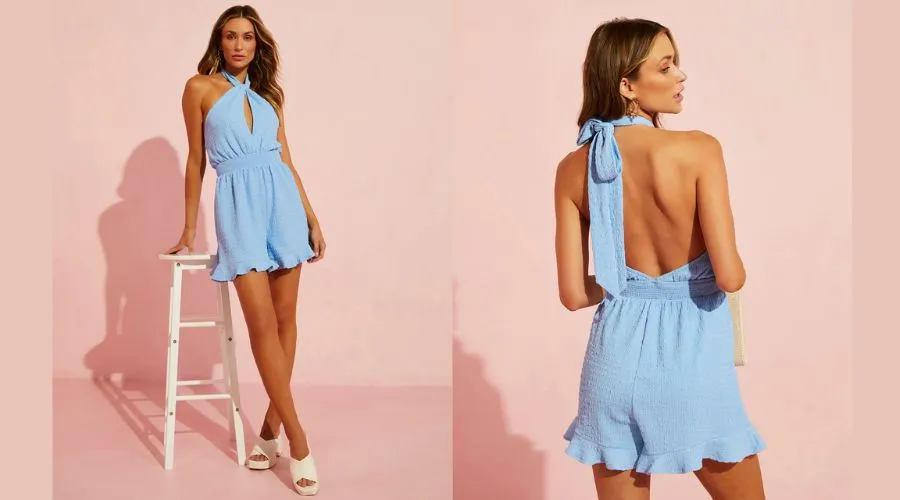 This beautiful romper dress has a smocked waistband that gives you the perfect fit at the waist. The shorts have a flutter hemline that makes the dress cuter. The halter neckline also has a center cutout that makes the dress more beautiful. The crinkled fabric adds extra texture to the fabric and makes it look trendier.
---
2. Beachside Bliss Cover Up Romper & Bra Set
This beautiful set features a bra and a romper. The romper has a loose v-neckline with an elastic waistband that is comfortable and soft. The striking berry color embellished with multicolour stripes is a gorgeous highlight of the dress. Do remember that the bra runs on the smaller side, so if you have a heavy bust, the bra may not work the best for you.
---
3. Wind in my sails cotton pocketed tie romper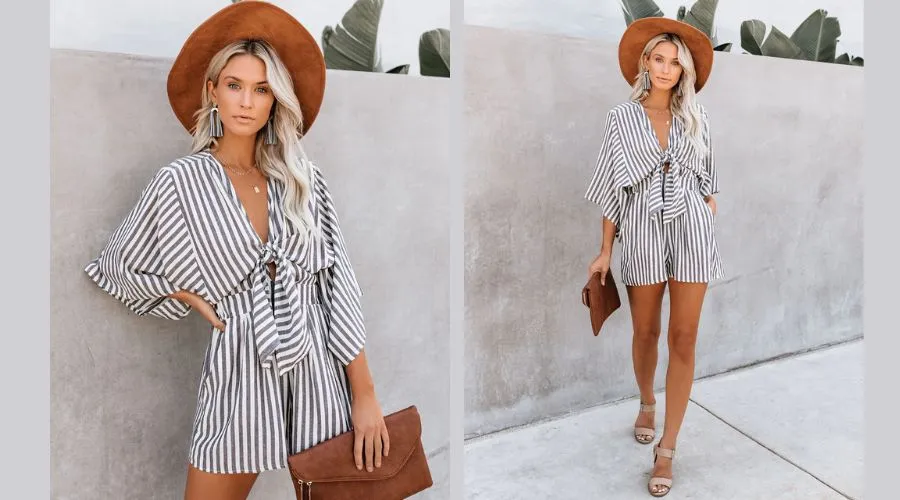 This romper dress is a comforting dress made of linen-like fabric with a relaxed billowy fit and a v-neckline that gives you a fresh look. The adjustable front tie bow along with the three quarter sleeves give you a great shape. The dress also has a cutout on the bust that gives it a stylish look. Best of all, the dress has pockets, which makes it a really convenient outfit.
---
4. Ocean wishes printed strapless romper
This strapless romper is a great addition to your summer wardrobe. The strapless neckline lets you show off your shoulders while keeping you breezy in the summer heat. The smocked waistline also gives you a flattering fit. The flowy skirt has a playful feel to it that will look great for the beach vibe.
---
5. Kiernan cotton fitted romper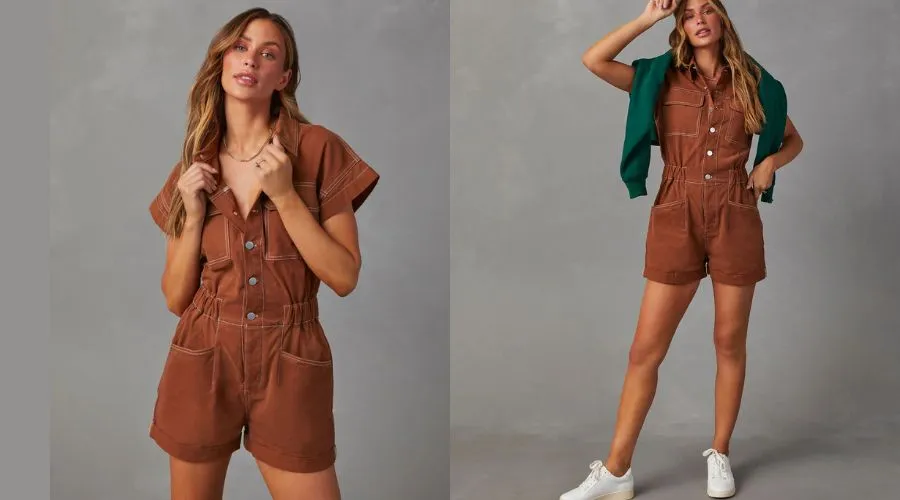 This romper dress has a collared neckline and short sleeves. The cuffed hem gives the dress a finished look. This dress also features an elastic waist that ensures a good figure. This utility dress has multiple pockets on the front, back, and waist. The rich brown hue is perfect for all skin shades, and the front button closure gives it a smart outlook.
---
6. Lizetto cutout crochet tassel romper
The romper dress has a gorgeous V-neckline with side cutouts. The top also has crocheted tassels that add a boho feel to the outfit. The dress has a back zipper that keeps it secure and in place. The piped straps give the outfit a very balanced look
---
7. Brennan square neck unitard romper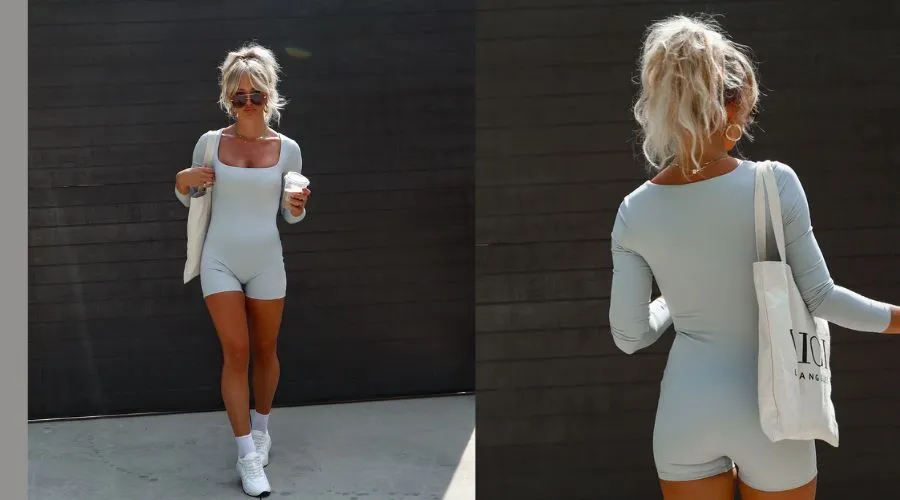 This unitard romper is a sleek addition to all of your wardrobes. The fitted fit also cinches your waist, giving it a cleaner silhouette. The square neckline and long sleeves give it a modern vibe. For a relaxed fit, remember to size up!
---
Conclusion
Romper dresses are a great way to add versatility to your outfit and give you a blend of style and comfort that you will surely adore! Romper dresses are more secure than typical dresses as they are easier to carry and are generally more secure. You can easily add them as a staple in your wardrobe and look your charming best with them. Visit the VICI and get yourself the top picks of romper dresses provided by Findwyse.
FAQs