Welcome to our complete cat ear care guide! Cats rely significantly on their ears to explore, communicate, and enjoy their surroundings. Proper ear care is critical to your pet's health and comfort. In this article, we'll look at the indicators that your cat's ears need cleaning, several types of cat ear cleaners, and particular tips for cleaning a kitten's ears. In addition, we'll point you in the direction of the best location to get premium cat ear cleaners. So, whether you're a first-time cat owner or a seasoned cat aficionado, keep reading to find out how to keep your feline friend's ears in tip-top shape.
What are the signs that my cat's ears may need cleaning?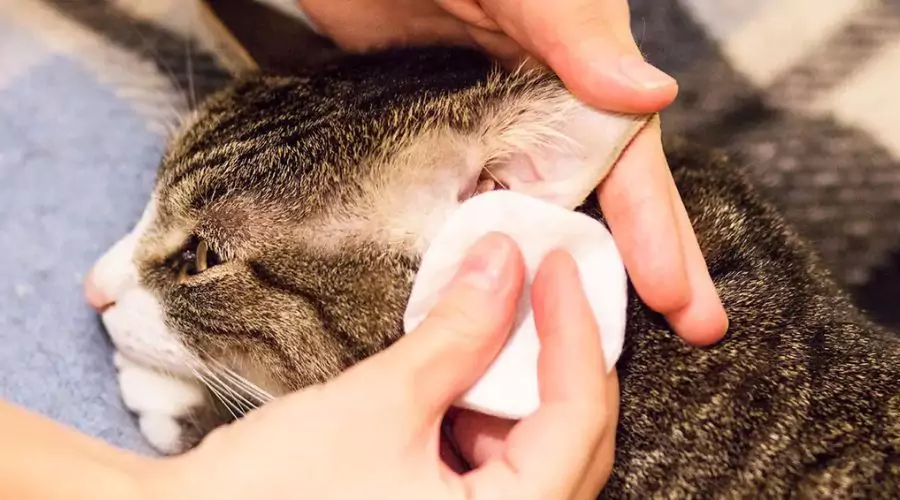 Excessive wax in the ears: A modest bit of light brown earwax is normal in a healthy cat. However, if you notice a lot of it, especially if it's a dark colour or clumps together, it's time to clean your cat's ears.

Ear mites: Ear mites are microscopic parasites that can infest your cat's ears. They can cause irritation, itching, and a black, crumbly discharge. This is one of the most important occasions to use a cat ear cleaner.

Ear infection: Ear infections are a common health issue in cats. It can cause inflammation, pus, pain, and a foul odour from the discharge.

Excessive head shaking: If you see your cat moving its head frequently and excessively, check its ears for dirt, wax, or other debris.

Scratching: Your cat's continuous ear scratching could be caused by earwax buildup, ear mites, or an infection. 

Horrible odour: Your cat's ear infection could be the source of the foul odour emanating from its ears. 
If you see any of these signs, take your cat to the doctor to ensure nothing is serious. Your veterinarian may advise you to use ear drops or ointment to keep your cat's ears clean and healthy.
What is the best type of cat ear cleaner – liquid, wipes, or drops?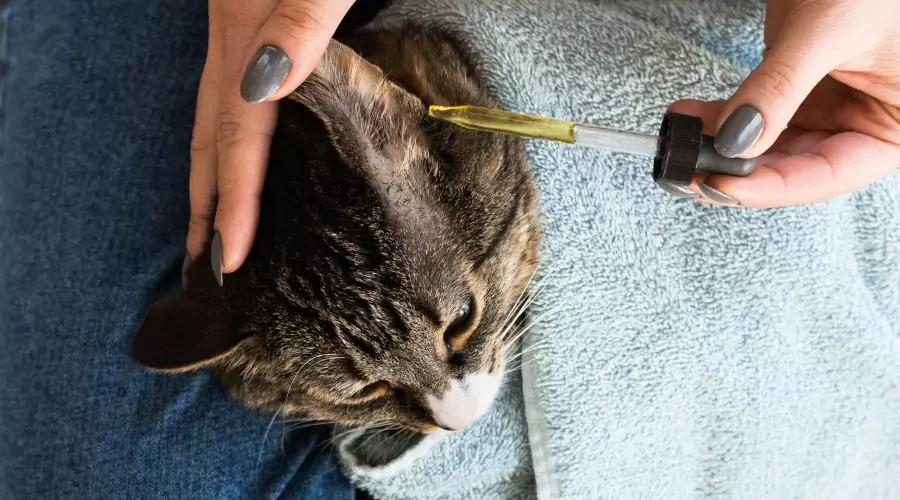 Your cat's individual needs and preferences will dictate which ear-cleaning method is best for them. Some felines may choose to use a liquid cat ear cleaner rather than a wipe or a drop. The following are several sorts of cat ear cleaners you can test on your pet:
Liquid
A liquid is the most common type of ear cleaning for cats. They are frequently applied with a cotton ball or swab. A liquid cat ear cleaner can successfully remove dirt, wax, and other material from the ear canal. They can, however, be filthy and difficult to use.
Wipes
Cleaning your cat's ears using wipes is a simple and mess-free option. You won't have to worry about measuring or applying the ear cleaning solution because they come pre-moistened. Wipes are also safe for your cat's sensitive ears.
Drops
If your cat has sensitive ears, try using drops. They are less prone to cause irritation because they are placed directly into the ear canal. However, administering drops can be tricky, and your cat may not take kindly to the sensation.
Are there any specific guidelines for cleaning the ears of a kitten?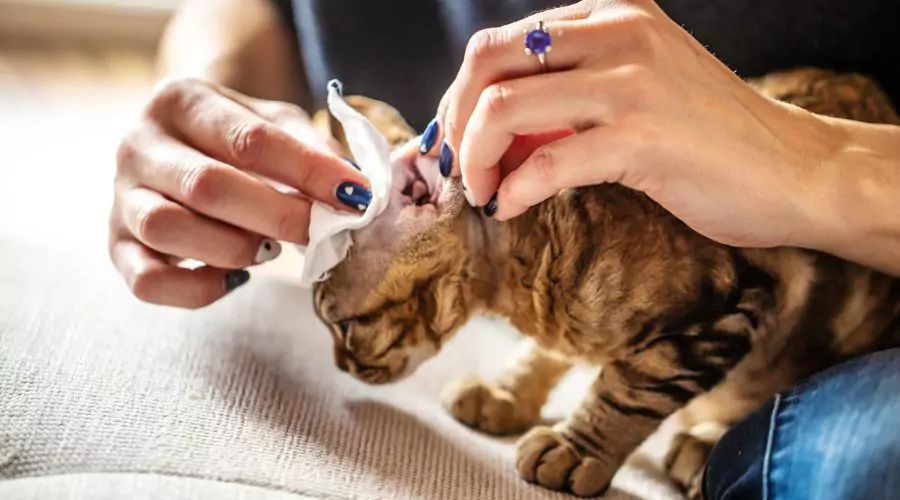 Yes! Here are some specific instructions you can follow for cleaning a kitten's ears:
One should get an early start. It's best to get your kitten acclimated to having their ears cleaned from an early age.

Try a gentle eardrop cleanser. Pick a cat ear cleaner that hasn't got any harsh chemicals or alcohol in it because cats have sensitive ears.

Take it easy. The kitten's ear canal is quite sensitive, so don't go in too far.

Cotton swabs shouldn't be used. Cotton swabs can cause eardrum perforation because they force wax deeper into the ear canal.

Ear manipulation. To assist in releasing the wax, massage the kitten's ear base for a few seconds after administering the cat ear cleaner.

Clear the dust and dirt away. Remove any stray particles from the exterior of your ear with a cotton swab or tissue.
Where to get the cat ear cleaner from?
Chewy is a great place to shop for quality and affordable cat ear cleaners. They offer a wide range of products for canines, felines, fish, birds, rodents, amphibians, and reptiles. Free delivery for orders over $49, prescription refill reminders, and real-time chat help are just a few of the additional services provided by this business. Here are some of the many benefits of using Chewy:
Cat ear wipes, dips, and sprays are some of the products you can find on Chewy. You can tailor your selection to your cat's specific requirements and preferences this way.

Chewy is an online store, so you can get cat ear cleaners without leaving the house. If you're constantly on the go or don't have easy access to pet retailers, this is a great option to consider.

The

customer service at Chewy

is second to none. Chewy has a customer support department to assist you with any issues you may have with your order.

Chewy stands by all of its products 100%. As a result, if you are dissatisfied with your purchase for any reason, you can send it back and get your money back.
Conclusion
Ear care for your cat is an integral part of being a conscientious pet owner. You may give your cat a life free of ear pain by learning to recognise the symptoms of ear problems, selecting an appropriate cat ear cleaner, and adhering to the recommended cleaning procedures. Keep in mind that Chewy is a dependable supplier of high-quality cat ear cleaners with a wide selection of alternatives to fit your cat's tastes. If you take good care of your cat's ears, it will keep them healthy and happy. Browse through Chewy to go through all the products and services they offer when it comes to taking care of your pets. For such updates, visit Findwyse!
FAQs