One of the crucial parts of a bicycle that directly impacts the rider's comfort and efficiency is the pedal. Choosing the best pedals with so many choices on the market can be difficult. Because of this, we've done our homework and compiled a list of the top bike pedals from Ribble Cycles, a well-known bicycle manufacturer noted for its premium bikes and parts. From road cycling to mountain biking, Ribble Cycles offers a selection of pedals appropriate for various riding styles and preferences. To assist you in making an educated choice and improving your riding experience, we'll examine the features and advantages of the top 5 bike pedals by Ribble Cycles in greater detail in this article.
Best Bike Pedals by Ribble Cycles
---
Hope F20 Flat Pedals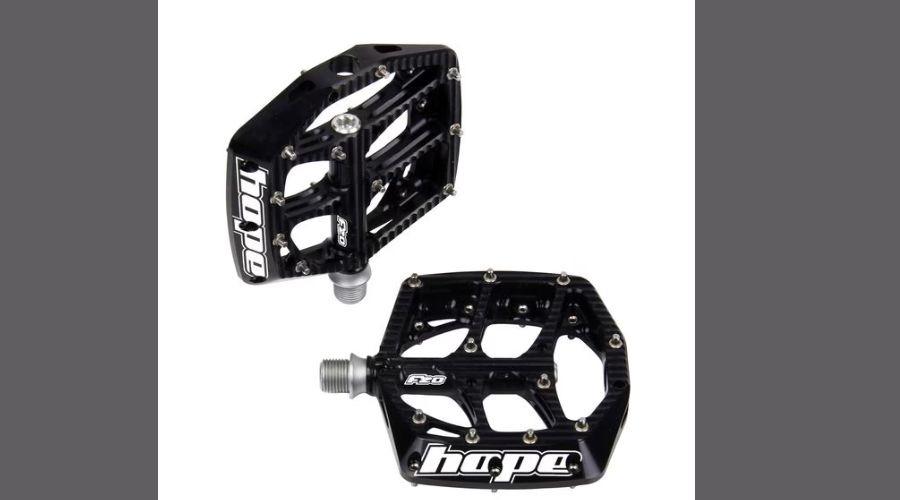 No matter the terrain, the Hope F20 Flat Pedals are a high-performing option for any riding style. These bike pedals are made to last and endure even the most extreme conditions because they are made of a strong and resilient 2014-T6 alloy. Thanks to their maintenance-friendly design, they are simple to maintain, and Hope's renowned build quality guarantees that they will continue to function properly for many years. Only 2 of these elegant black pedals, which cost £120.00, are currently in stock.
They appear as good as they work, thanks to the anodised finish on the CNC-machined platform. Your feet will stay firmly in position thanks to the concave pedal design and replaceable hollow pins, giving you excellent traction and grip. A lengthy, smooth life is provided by the three cartridge bearings and no glide bushes in a completely sealed chamber. No matter what you ride, the strategically positioned pins on each pedal will keep your feet securely planted. These pedals are light and easy to use, weighing only 390g.
All things considered, the Hope F20 Flat Pedals are a great option for anyone searching for high-quality, long-lasting pedals that are reliable and stylish. You can ride with stability, control, and superb traction thanks to their suitability for various riding styles.
---
Shimano PD-GR500 MTB Flat Pedals Black
For all-mountain and trail bicycling, the Shimano PD-GR500 MTB Flat Pedals Black is the ideal entry-level pedal. With chamfered edges, it helps deflect rock strikes so you can easily navigate even the roughest ground. The pedal's distinctive concave platform and broad base offer exceptional stability and pedalling effectiveness. Thanks to the nine pins per side, your feet won't slip even on the trickiest parts of the path, which lets you customise the pedals for the ideal feel and grip. 
The sturdy, low-profile flat pedal is ideal for beginner trail and all-mountain cycling. The replaceable pins are screwed in from the rear for convenience during maintenance, and the sealed Chromoly axles require little maintenance. The platform pedal's screw size is 9/16″, and its stack height is 9.4mm. Therefore, the Shimano PD-GR500 MTB Flat Pedals Black is a great option if you're looking for a reasonably priced yet sturdy and dependable pedal for your all-mountain and trail biking excursions.
---
Wellgo MTB Pedals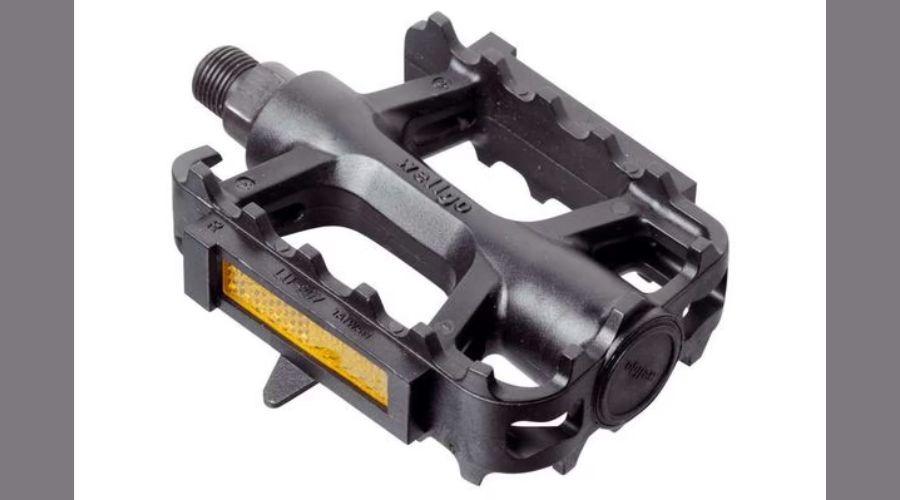 For those searching for reasonably priced replacement mountain bike pedals, the Wellgo MTB Pedals are a popular option. Although these pedals are out of supply, they can still be bought for £9.99. These MTB pedals are compatible with most cycles thanks to their 9/16″ thread fitment. They are strong and lightweight because they are made of plastic. 
Their flat design gives your feet a secure platform and more control and grip while cycling.
These pedals are a fantastic option for beginners or those on a budget, even though they are not as fancy as some of the more expensive choices. They might not have as many features as more expensive bike pedals, but they still do the job and work well.
---
Ribble Classic Flat Pedal
With the Ribble Classic Flat Pedal, you can pedal a bike while wearing regular shoes, thanks to its superior foot comfort features. The pedal's wide body design and moulded pins will help your feet feel securely planted in both dry and wet conditions, whether riding to work, the corner store, or conquering the trails. High-quality alloy is used in the construction of the pedal to make it long-lasting and simple to keep. 
The Ribble Classic Flat Pedal's strategically positioned gripping pins and broad platform give the rider's foot the most stability possible, enhancing power transfer. Reflectors are another element of the pedal electric bike that improves visibility and safety in low light. The Ribble Classic Flat Pedal is a fantastic option that ensures comfort, stability, and durability whether you commute or are an avid mountain cyclist.
---
Crank Brothers Mallet 2 Pedals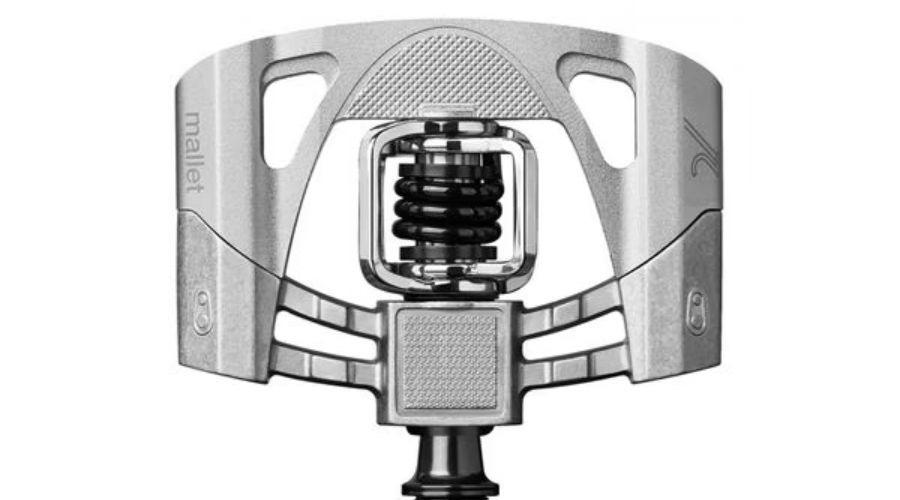 If you want the best of both worlds, the Crank Brothers Mallet 2 Pedals, sold at Ribble Cycles, are a great option. These flat-feeling pedals provide clipped-in control for the best possible power transmission and stability. The platform has increased strength and longevity because it is made completely of sturdy 6061-T6 aluminium. These pedals' four-sided entry system, which enables simple engagement from any angle and better mud shedding, is one of their main benefits. These pedals also let motorcyclists fine-tune their setup to their preferences thanks to adjustable float and release angles. 
A double-seal system and premium bearings are other features of the Mallet 2 Pedals that guarantee a dependable and comfortable journey. The wings are made of stamped steel, and the spindle is made of forged SCM 435 steel, offering exceptional durability and resistance to wear and tear. These pedals are appropriate for a variety of riding styles and taste thanks to their 52mm q-factor and 15° or 20° release angle. The Crank Brothers Mallet 2 Pedals are available from Ribble Cycles for a fair price of £89.99 and come with a 5-year warranty.
---
Conclusion
Choosing the proper bike pedals is essential for a rider's comfort and efficiency. A wide selection of high-quality pedals from Ribble Cycles is available to suit a variety of riding tastes and styles. The Shimano PD-M520 Pedals, Look Keo 2 Max Blade Pedals, Crank Brothers Mallet 2 Pedals, Time XPRO 12 Pedals, and Speedplay Zero Pedals are the top 5 cycle pedals recommended by Ribble Cycles, and they are all great options for various riders. Each of these bike pedals has distinct advantages and features, including increased sturdiness, adjustable drift and release angles, and quiet bearings. To make the purchasing process more convenient for customers, Ribble Cycles offers competitive pricing and a variety of delivery choices. So, whether you're a triathlete, road cyclist, or mountain biker, Ribble Cycles has a pedal that's right for you. For more information, visit Finewyse.
FAQs
Affiliate Disclosure: Our website may contain affiliate links, which means we may receive a commission if you click a link and purchase something that we have recommended. While clicking these links won't cost you any extra money, they will help us keep this site up and running. Thank you for your support!