Did you know that betta fish are kept separately in cups because they are pretty aggressive and have territorial tendencies, making it difficult for two male bettas to stay together? So, if you are planning to pet a betta fish, you need to figure out the correct size betta fish tank for them to grow properly and have enough space to roam around. Here are a few things you should consider before making a purchase, including how quickly you can set up the fish tank.
Betta Fish Tank Factors to Consider Before Purchasing
There are many options available on the market, but which is the ideal size for holding a betta fish, and what decorative items can you add to it that wouldn't harm your fish inside? Let's find out!
1. Shape and Size of the tank
Investing in a minimum of 5-gallon tank for a single betta fish which is wider than taller is an ideal choice. The tank is easier to clean and maintain and gives enough territory to your fish that reduces their stress and eventually makes them happier. However, if you want to add a tankmate with your betta fish, go for the 10-gallon betta fish tank or bigger, as they should be wide enough for all the fish to swim around easily.
---
2. Decorative things to add
The smaller tank you'd opt for, the lesser space it will have for decorative items to add to it. And, if you incorporate many things in the small betta fish tank, there might be not much space left for your fish to explore and freely roam around the tank. It's better to invest in a bigger tank as you'd also have to add the essentials like heaters, filters, and gravel. And, if there's any space left you can add items like pineapple houses, artificial plants, and decorative stones.
---
3. Tank with a closed lid
It's always better to purchase a closed tank with a lid as you'd never know when your betta fish gets angry and make a run for it. So, it's best for both the fish and yourself to keep the lid closed and let your betta float around inside the tank instead of outside. However, if you have already bought an open tank, you can always purchase the lids separately and attach them or make one yourself at home.
---
Setting Up the Betta Fisk Tank with Ease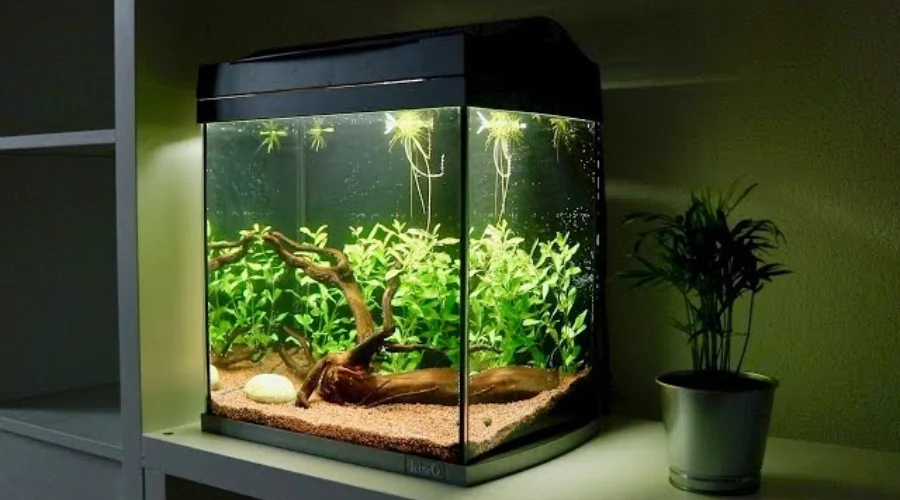 1. Find a Good Spot
The betta fish tank needs to be placed at a good location with electrical ports in sight. Pick a spot away from direct sunlight and air-conditioning, and because the tank would most likely be made of glass or acrylic, so don't put it in a place where people could crash in it. Simply choose a peaceful corner and place your aquarium.
---
2. Use Aquarium Stand
Fish tanks are obviously pretty heavy, so using a sturdy and stable aquarium stand would make it easier for you to keep your betta fish tank safe and sound. However, if you don't want to spend extra money on a stand, ensure the flat surface you are choosing can hold the weight of the aquarium accurately.
---
3. Clean and Install the Supplies
Wash the tank with just warm water and rinse it thoroughly. Don't add any soap or detergent as it could be harmful to your betta fish. Also, fill the tank with water and check for any leaks before adding the fish. Install all the supplies you got like filters, heaters, and ornaments in an alluring format.
---
4. Add the Water and the Fish
Lastly, fill your betta fish tank with tap water and add a de-chlorinator to remove any chlorine and other toxic elements that could harm your fish. Plug in the filter but wait half an hour for starting the heaters to acclimate the water temperature. Now, that your tank is up and ready, it's time to add the aquatic pet and let them liven up your space.
---
4 Best Betta Fish Tanks in Budget
1. Frisco 2 Betta Aquarium with Divider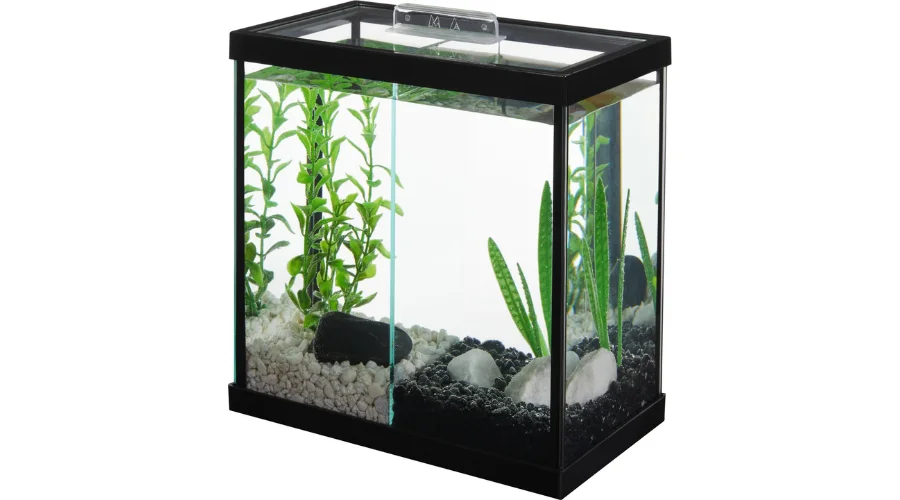 With a partition in the middle, your betta fish can easily have a roommate without getting upset or stressed. With a capacity of around 1.1 gallons of water and a tank size of up to 5 gallons, this Frisco 2 Betta Aquarium with Divider is made with a top-quality plastic and crystal-clear glass combination. The commercial-grade black silicone sealant gives the betta fish tank a classy look that would fit anywhere around your house easily. It costs $25.99.
---
2. Aqueon LED MiniBow SmartClean Fish Aquarium Kit
The Aqueon LED MiniBow SmartClean Fish Aquarium Kit is a desktop aquarium that looks amazing when placed in drawing or living rooms. With a clear-acrylic tank, low-profile LED hood, an elevated base, water care, and food samples, the kit incorporates every essential required. The powerful filter is equipped with SmartClean technology that self-cleans the betta fish tank in just 2 minutes. The tank size varies between 6-10 gallons and costs $67.95.
---
3. Penn-Plax Spongebob Betta Aquarium Kit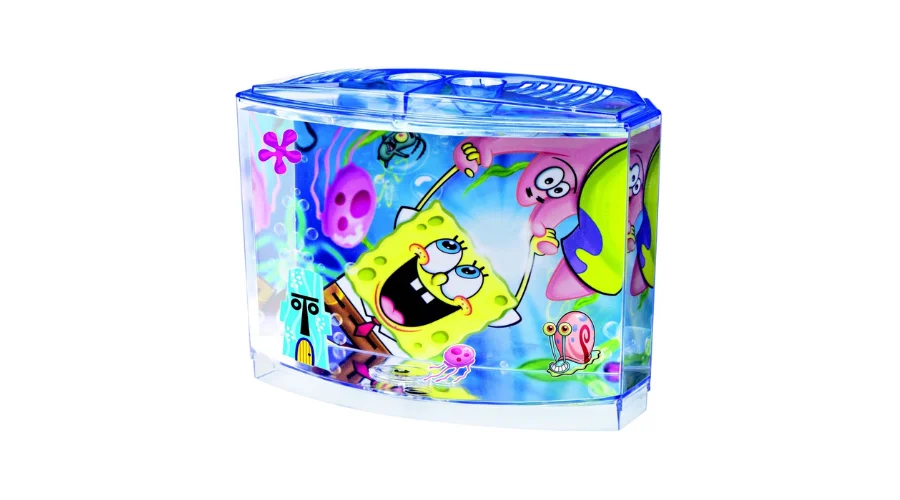 If you have kids in your house, this Penn-Plax Spongebob Betta Aquarium Kit is the best choice to make. The SpongeBob SquarePants-themed aquarium kit includes a tank, a cover, a water release cap, and a colorful background with fun and changeable stickers to play around. Not only this tank is easy to set up and maintain but is a great choice for both your kids and your betta fish as it has a tank size of up to 5 gallons with 0.5 gallons of water capacity. And, it only costs $15.12.
---
4. Cascade All-in-One Desktop LED Light Glass Fish Tank Kit
Give your fish a safe haven with this deluxe Cascade All-in-One Desktop Glass Fish Tank Kit. The tank has a capacity of 3.2 gallons of water and a tank size of 5 gallons and is made of a mixture of plastic and glass. The aquarium kit houses a crystal clear lid, one internal filter, and many blue and white LED lights. It is an ideal betta fish tank that can be easily placed in smaller spaces and gives enough room for your fish to roam around. It costs $89.98.
Conclusion
If you are looking for a betta fish tank that's affordable and is made of top-quality, Chewy houses a variety of classic and quirky aquariums you can choose from. Whether you need a tank size of 5 gallons or 10 gallons, the platform has it all. So, check out Chewy's page and find your family an adorable betta fish tank right away. For more such information, visit Findwyse.
FAQs