Mom jeans are a tried-and-true denim cut that we'll never get tired of and will forever remain in fashion. We can confidently claim that we are not the only one who hasn't worn skinny jeans in the last year. It's also not fair to blame this only because we have been wearing leggings and loungewear for quite some time. We can't think of anything worse than forcing ourselves into a pair of tight skinnies with no give – they'd been on their way out for more than two years. The mom jean shape may have been unfashionable for a couple of decades (even the name emphasizes their lack of trendiness), but they're now firmly back in favor owing to our nostalgia for all things the 90s. If, like us, you're looking for something trendy yet still comfy to wear to work, let us introduce you to our pick of the finest mom jeans. Moreover, you can check the official NA KD website to get the best deals on all your mom's jeans purchases.
What is the difference between boyfriend and mom jeans?
Mom jeans, boyfriend jeans, wide-leg jeans, straight jeans, high-waisted jeans – the possibilities for denim are limitless. So, how can you distinguish between mom jeans and girlfriend jeans? If you look at 90s mom-jean inspiration, you'll see that mom jeans are high-waisted, have less stretch than traditional denim, and have a baggy fit, especially over the buttocks and thighs. They then taper down at the ankles, giving the 1980s and early 1990s look.
How to style mom jeans?
In our view, the ideal way to wear them is with an oversized white shirt, a tee, or some knitwear, preferably tucked in. A pristine white shirt or white t-shirt looks effortlessly great with mom jeans, a basic combo that will set you up for whatever the day has in store. Mom jeans go well with trainers and ankle boots thanks to the tapered cut around the ankle; simply roll up the hems for more style points.
List Of The Best Mom Jeans:
There is a wide range of mom jeans that you can consider while purchasing your next mom jeans. However, selecting one from the wide range of options can sometimes be challenging. Therefore, we at Findwyse have curated a list of the best mom jeans options to make your shopping experience easier. The list of the best mom jeans is as follows:
1. Organic Blue Mom Jeans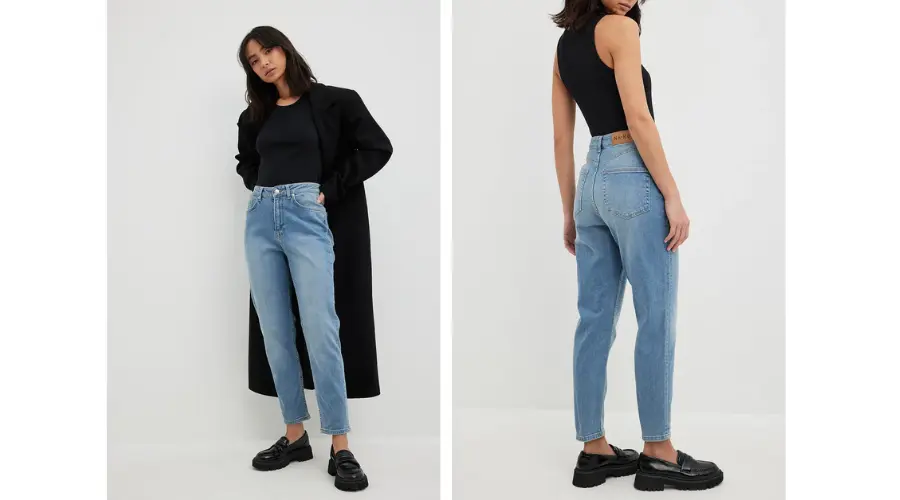 The legendary Mom jeans are also one of the original jean styles—the same kind worn by moms in the 1990s. This famous jean style is our most excellent overall option for that reason, as well as others we'll discuss shortly. We adore these jeans because they have a tailored yet relaxed fit and fit the body like a glove, molding over time to contour the more you wear them. It's also available in various great washes and comes in multiple colors and patterns.
---
2. Blue Detailed Mom Jeans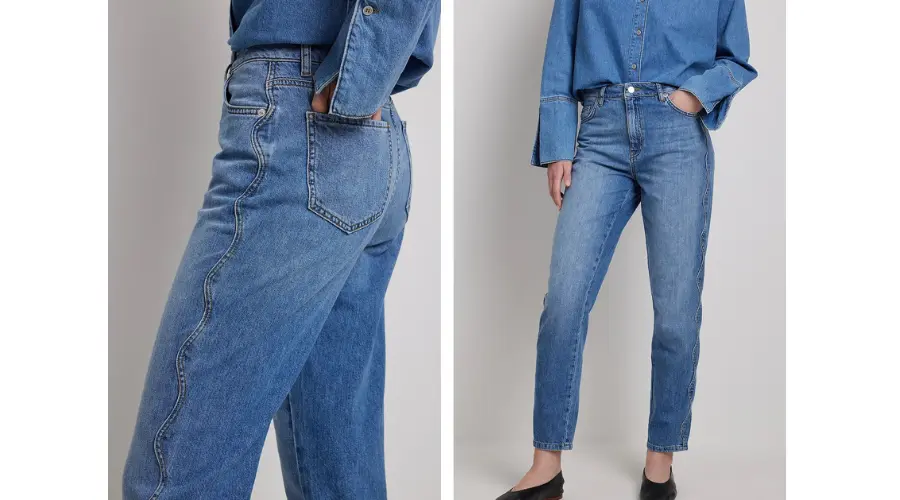 We look to Good American's Good Mom jean for mom jean that will endure the test of time and be that one pair you grab over and over again. The high-rise shape features a looser fit, increasing comfort and making it simpler to move in daily. Their clean hem and tapered style are also highly flexible, allowing you to wear them with anything from heels and a shirt to shoes and a grungy old band tee. The mom jean have a mid-rise silhouette, five pockets, and an uneven and decorative side seam.
---
3. Grey Mom Jeans with pocket detail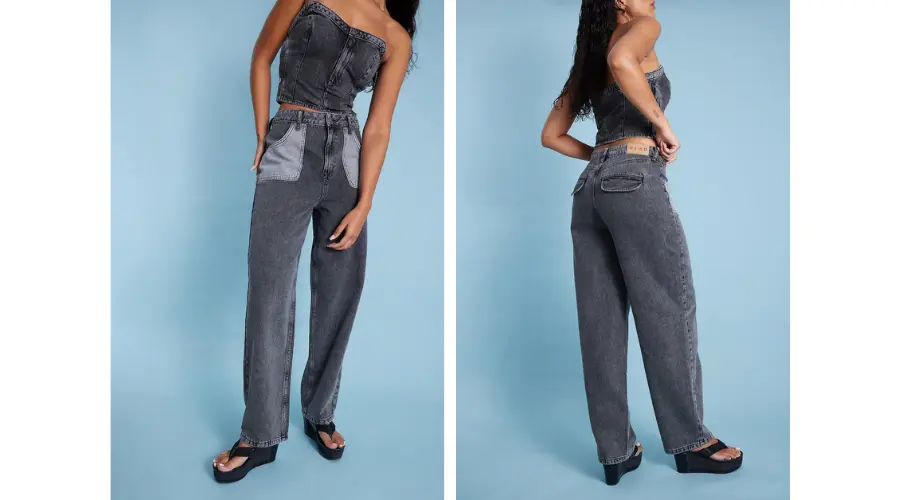 Look no further if you're searching for a classic pair of mom jean. The high-waisted silhouette features a slight distressing for a lived-in look, a '90s-worthy light wash, and a flattering yet loose fit. The typical mom jean comprise 100% stiff cotton, but this pair has a little spandex, making them a little more comfortable and will break in faster. The pocket details make it the best mom jean on the list.
---
4. Organic worn mom jeans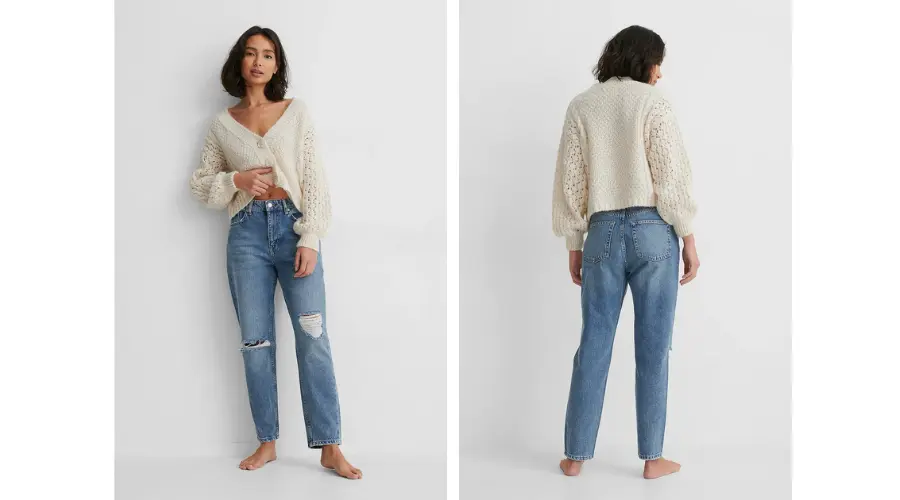 Because mom jean's usually terminate around the ankles, folks on the higher end of the height spectrum may benefit from getting a pair explicitly designed for their height. The Extra High-Waisted Button-Fly Sky-Hi Straight Ripped Jeans from Old Navy are our top pick in this category. The jeans come in standard, tall, and petite sizes and are composed of a soft combination of cotton and recycled cotton with a touch of spandex for added elasticity. The mom jean's have a cropped length and a high-waisted fit. They include five pockets, a zip and button fly, torn knee detailing, and a zip and button fly.
---
5. Blue Skinny Look Mom Jeans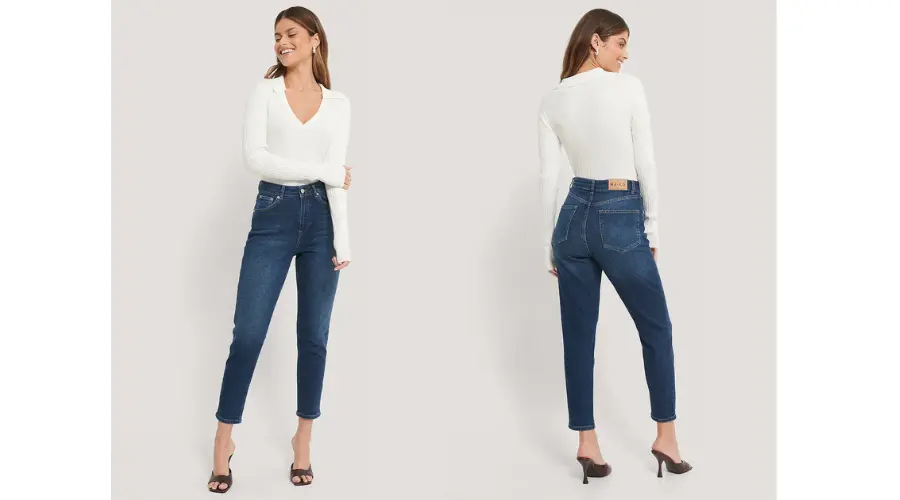 As a tribute to 1990s fashion, mom jean's have traditionally had a lighter wash. But times have changed, and many of us prefer black mom jean. These Mango Tapered Jeans are ideal if that describes you or if you want to experiment with a darker wash. In ultra-dark denim made of 100 % cotton, the classic silhouette is high-waisted with ankle-gazing tapering legs. The jeans have a high waist, a belt loop, five pockets, a zip and button closure, and a straight leg. This pair of jeans is an environmentally friendly alternative to vegan leather. Our patches are FSC certified and created from raw cellulose. It provides good dimensional stability and is an 'animal-free' alternative to typical leather patches.
---
Conclusion
These are some of the best options you can explore while purchasing your next mom jeans. Moreover, you can check the official Findwyse website to learn more about high-waisted  options, details about mom jeans outfit ideas, and even explore slim-fit options.
FAQ's