A healthy diet including lots of vegetables is crucial and doable with the right resources. You can rely on the best food steamer to prepare your food perfectly without assistance. However, they are not only for vegetables, but you can also cook meat, fish, rice, dumplings, or potatoes all at once with tier-based food steamers. It indicates spending more time unwinding and less time fretting over the stove.
It is well-known that steaming is ideal for preserving flavors and nutrients in food. Since it requires less water and heat, it is rapid and more energy-efficient than boiling. The main benefit is that the dishes prepared in the steamer are lighter. Since the steaming technique of cooking takes place in the absence of oil, unwanted fats are minimal in food. Hence, the dishes are healthier. Ahead is a helpful guide that covers everything you need to know if you're not sure what kind of food steamer is ideal for you.
Best Food Steamers
1. Russell Hobbs 21140 3-Tier Food Steamer 9L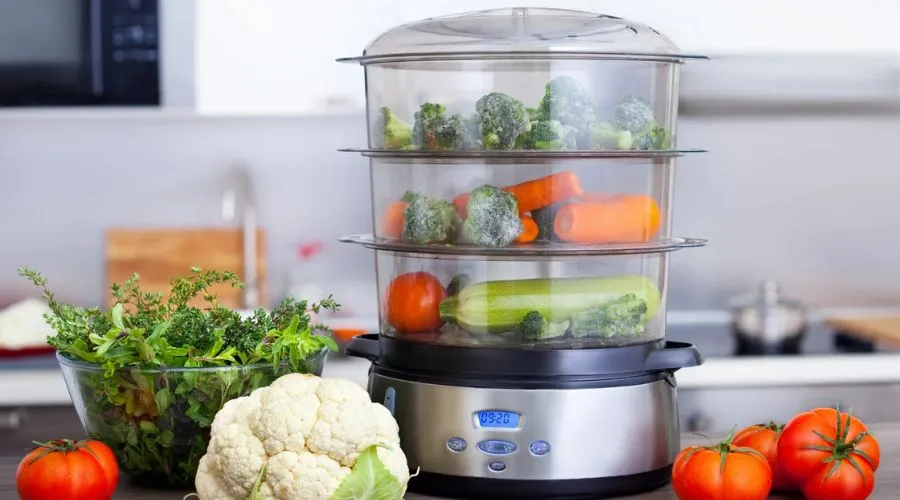 Russell Hobbs steamer is the best pocket-friendly food steamer. It checks all the relevant boxes at an attractive price. With a nine-liter capacity, it can make a fantastic main dish or many tasty sides for large households. The Russell Hobbs 3-Tier Food Steamer is available with three baskets that fold into one another. It is also simple to store and has a 1L rice bowl and little egg cup holders.
The turbo steam ring starts heating your food in 40 seconds after being plugged in. Russell Hobbs food steamer has a sizable water reservoir supporting an hour of steaming. However, juices from the upper basket flow into the sections below. Thus, be cautious when putting a meal with a strong flavor, like salmon, at the top of the basket. Ideally, fish and meat should go on the bottom, followed by potatoes or vegetables in the middle, and rice on top. Don't forget to disconnect the food steamer at the outlet if your food is ready earlier than planned. The baskets and accessories of this steamer must be hand-washed as it is not dishwasher safe.
2. Morphy Richards Intellisteam Food Steamer 6L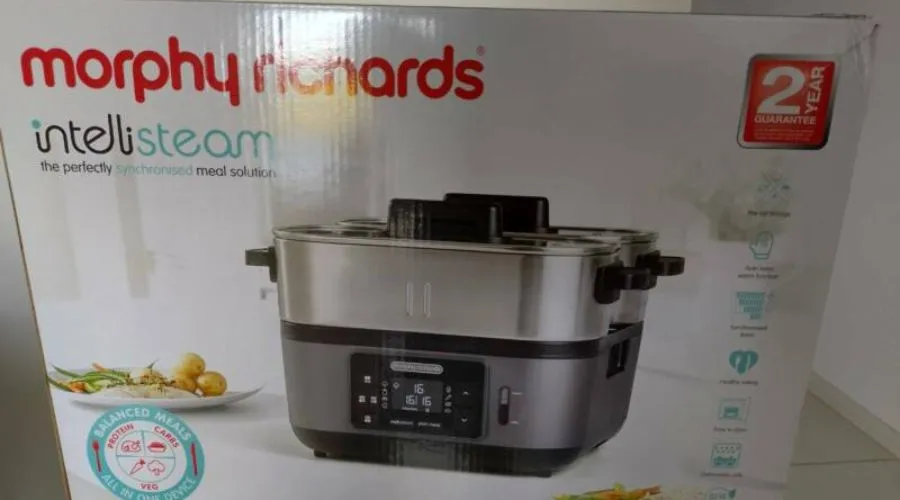 It is one of the best food steamers. The Morphy Richards Steamer looks pretty beautiful and has a clear LED display on the front face and a decent solid base that rests properly on a kitchen counter. The container and other inside accessories of the Morphy Richards Steamer contain BPA-free plastic. It indicates that they are safe for dishwashing. Thus, it makes cooking easier, eliminating the stress of washing it up after use. The steamer has an internal intelligent timer that separately regulates the heating in each section. Thus, promising apt cooking of dishes so that it all finishes simultaneously. The Morphy Richards steamer also has eight adjustable pre-set timings for each compartment, eliminating the guesswork of determining cooking times. You can customize the pre-adjusted time according to your preferences. The steaming of food in Morphy Richards Steamer is highly flexible and simple. Morphy Richards Intellisteam Steamer is here to help you. It can keep your dishes warm and retain their freshness. When cooking is complete, the keep-warm function automatically keeps food hot for up to 40 minutes to be ready to serve when you are. All the accessories of this steamer fit inside the bowl with the storage of the plug and cord underneath. Hence, it makes everything small and takes up little room.
3. Tower Essentials 3-Tier Steamer: Best food steamer for the hob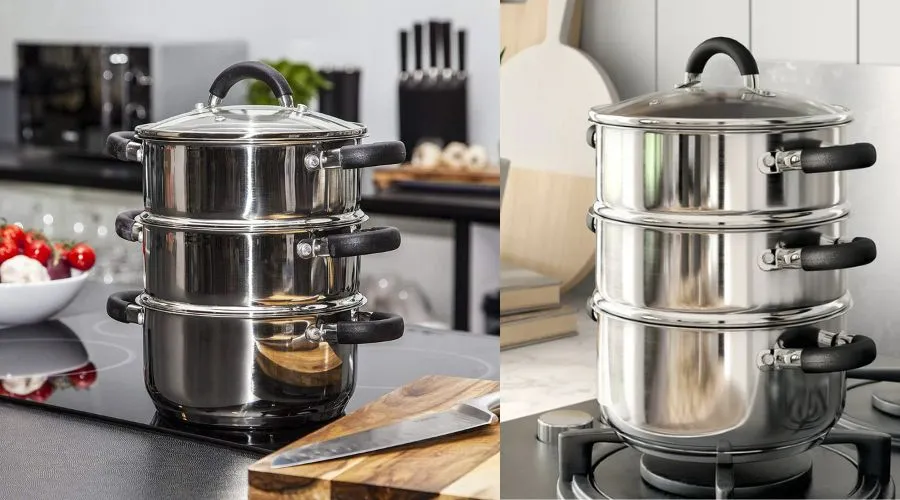 It is the best food steamer for the hob. Although the Tower Essentials 3-Tier Steamer lacks some of the modern conveniences seen in feature-rich electric models, it still accomplishes the job the old-fashioned way. You may instantly enjoy freshly steamed vegetables, potatoes, and beef loins by placing them on the stove. The mirror-finished stainless steel provides a fashionable touch to it. It also has riveted silicone handles, making it simple to take the pan off the heat.
Additionally, it is dishwasher safe, saving you the post-dinner cleanup. The steamer has an enclosed base for uniform distribution of heat. Its toughened glass lids with vents allow the gradual release of steam while cooking.
When it comes to cooking your food without giving off flavor or moisture, the Tower Essentials Steamer delivers on its promise. Since you can stack the pans on top of one another to create more space on the burner, it's ideal for dinner parties or roasting meat.
4. Crock-Pot Multi-Cooker 5.6l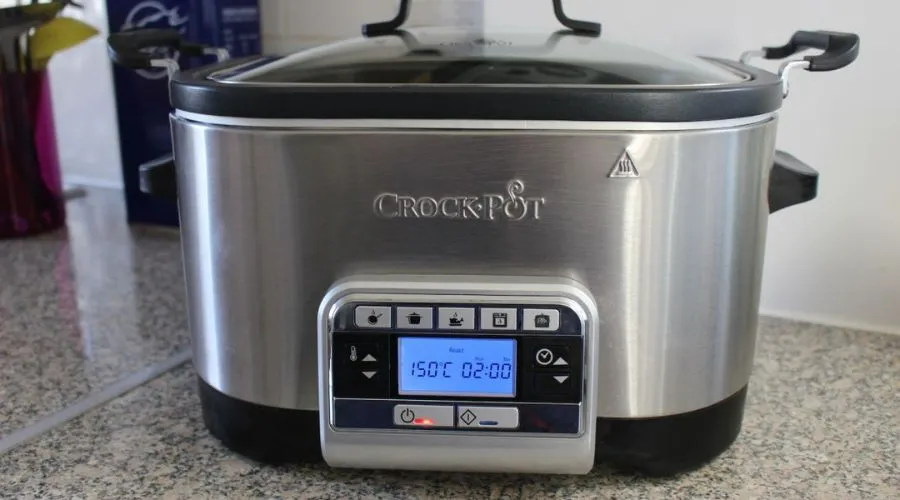 You don't need to purchase many kitchen gadgets when choosing a multi-cooker that can prepare most meals. Crock-Pot Multi-Cooker combines six cooking methods into one handy appliance: steam, roast, saute, slow cook, sear, and bake. Hence, it is the best multi-cooker with a food steamer. It is an impressive multi-cooker as it allows changing the temperature and time so that your food preparation takes place according to your preferences. Additionally, thanks to an automatic keep warm feature. You don't have to worry about setting your food on the table immediately. The tough glass cover of the Crock-Pot Multi-Cooker makes it simple to check on the progress of your meal. The control dial and heat settings are simple to understand. This chic hot pot will be hard to match, especially considering how instantly you can whip up a great curry, beef stew, or brownies.
5. Philips Avent Combined Baby Food Steamer and Blender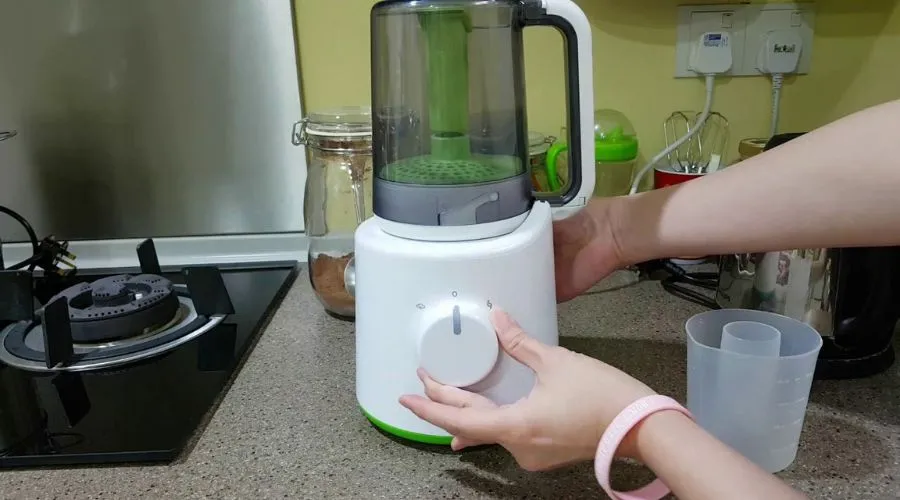 It is the best food steamer for the preparation of baby foods. We always want to give our children the best when we start to wean them into solid foods. Nothing is better than the food made lovingly with parental love. The Philips Avent Combined Baby Food Steamer and Blender is a 2-in-1 appliance that will first steam your vegetables, potatoes, meat, or fruit. Then, when it is turned over, secured, and switched to the blend mode, it will blend them to create a delightful home-cooked meal. Hence, it offers one step further, eliminating the need for moving between kitchen appliances. Throughout your child's weaning phase, use the Philips combination steamer as you start with smooth pulses and eventually add chunkier foods like meat and fish. It is also available with a recipe book and app to provide some helpful advice.
CONCLUSION
Food steamers with separate baskets are fantastic for cooking everything in one go without cross-flavoring. However, wide and deep sections work best when cooking heavy foods like chicken. The article covers the best types of food steamers suitable for different circumstances. You can know the best one for you and purchase it for healthier food consumption. Visit the official website of Findwyse For more information about the best food steamer.
FAQs
Read More Such Articles at Findwyse.