The 1970s were one of the most varied, boundary-breaking, and sought-after fashion decades, with everything from ultra-glam disco to effortless boho and punk rock. As a result, it's no wonder that aesthetic elements from that era continue to resurface in fashion—including in 2023. Sky-high platforms, crochet pieces, tiny skirts, and yes, even flared jeans are all over the place — from the runways to the red carpet to TikTok — delivering a minor '70s revival from head to toe. After years of wearing straight-leg and slim jeans, the reappearance of flared denim is a refreshing change. Moreover, you can get the best deals on your favourite flared jeans only on the official NA KD website.
What are flared jeans?
If you're unsure about the distinctions between flared, bootcut, and wide-leg jeans, you're not alone — especially because some jeans may straddle many cuts. However, a few essential design characteristics set flared jeans apart from the others. "A flared jean normally fits snug around the waist, hips, and legs, then flares or widens towards the bottom," Sarah Ahmed, co-Founder and Chief Creative Officer of DL1961, says. "A relaxed fit or wide-leg may fit looser around the lower thighs and knees and can be cropped or long." Flared jeans are a flattering bottom that elongates the legs due to the tighter fit across the hips and thighs combined with the flared-out portion – even more so when coupled with a heeled shoe or boot.
Observations explain that today's flared jean styles differ somewhat from the original appearance from the 1970s. Today's fashion is a little more updated than '70s flares. Raw hems and split hems, for example, are prevalent. Also, back then, you'd probably wear a clunky heel or heeled boot, but nowadays, many people wear flares with sneakers or simple shoes.
List of the best flared jeans to buy from NA KD
There is a wide variety of flared jeans available in the market that you can consider purchasing. However, selecting just one pair of flared jeans can sometimes be challenging. Therefore, we at Findwyse have curated a list of the best flared jeans options for you to choose from and purchase accordingly. The list of the best flared jeans options is as follows:
1. High-waisted organic bootcut skinny jeans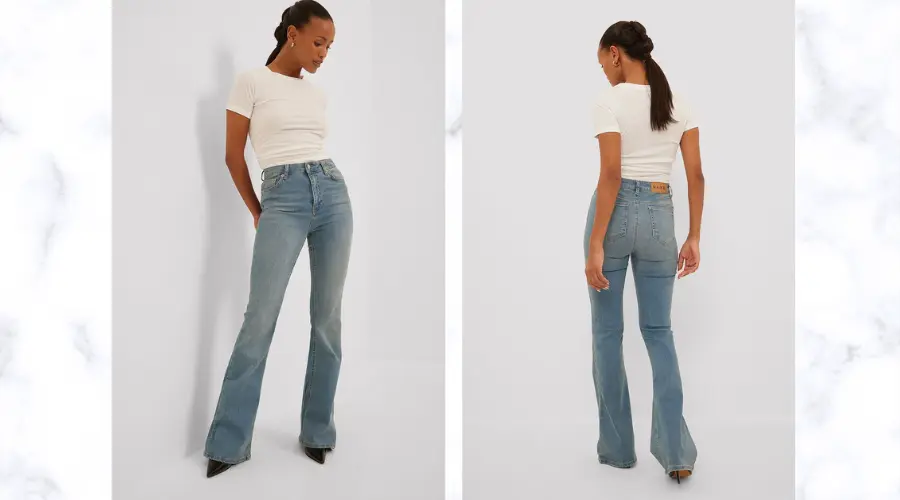 The mid-rise flares are the ideal easy-to-wear bootcut jeans and consist of organic cotton. These jeans come from blue stretch denim material with a mid wash for a worn-in effect, which is devoted to sustainable luxury. For a more pared-down take on the flared jeans trend, the mid-rise cut boasts a narrow fit with a bit of flair from the knees. As an added plus, the ankle-grazing crop makes these jeans suitable for year-round use, from sandals to heeled boots to sneakers.
---
2. Organic 1970s wide-leg jeans with front pockets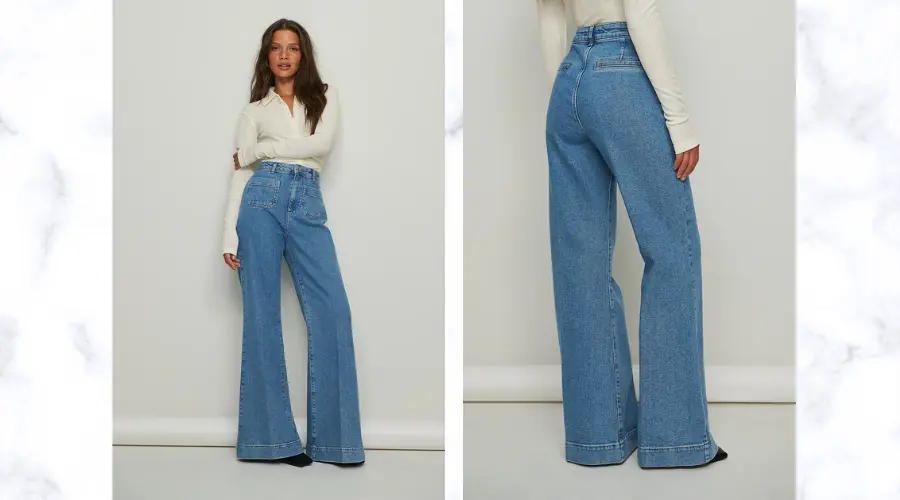 If you're searching for a real modern twist on the '70s flared jeans, go no further than this high-rise bootcut. The ultra-high rise waist and classic flare with a contrast inseam panel and softly frayed hemline provide nostalgic design features that go well with tucked-in shirting and heeled boots or sandals. However, it is the fit that genuinely jumps out. These jeans include a contoured waistband and Instasculpt technology, a high-retention elastane technology that smooths, lifts, and adapts to your body through the waist, bottom, and thighs for a superior fit while maintaining the vintage style. The exciting part about these jeans is the front pockets which make them attractive and probably the best pair on the list.
---
3. High waisted black organic bootcut skinny jeans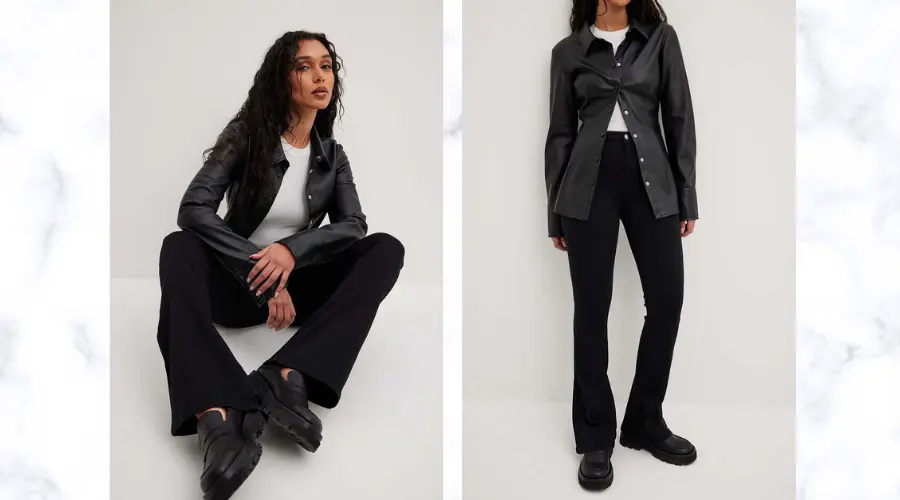 This silhouette, in particular, seems clean, stylish, and straightforward. The flare is there but not as pronounced as in some other forms. It's the ideal flare for newcomers. Stretch denim adapts to the body without becoming overly broad or stretched out in this vintage-inspired style. The rich black wash creates a sleek, professional twist on flared jeans that you can dress up or down for work or a night out. Madewell also provides small, standard, and tall sizes to offer a better fit and minimise the need for hemming.
---
4. Off-white Shiny Flared Jeans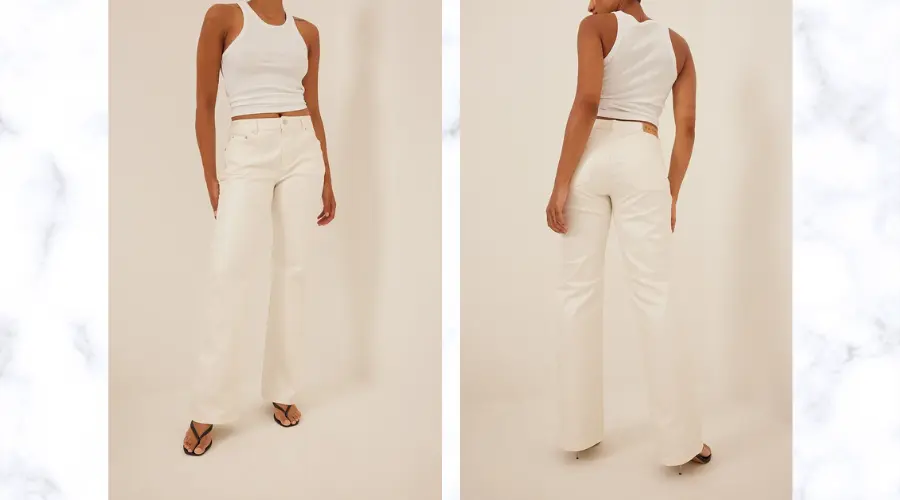 White denim is favourite among fashionistas for its basic designs with a retro and vintage feel. The high-waisted jeans from the brand are no exception, with a sleek flared leg that begins at the knee. These jeans are made of form-fitting stretch denim and have a narrow, tight fit-up top with a sharp flare at the bottom that's perfect for dressing up or down. According to one reviewer, the fit is excellent, although some may need to hem it. These jeans have amazing stretch and fit. Moreover, the hems are too long for an average-looking gal like me, even with high heels. They are most likely ideal for a leggy/tall individual.
---
5. Blauw skinny bootcut jeans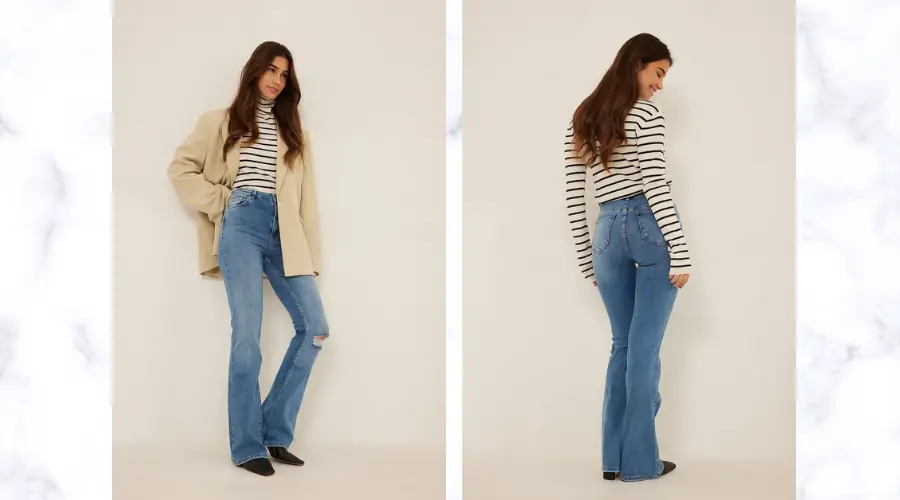 While many denim brands only provide sizes 16 or 18, we offer a wide selection of sizes 14 to 28. These flared-leg jeans are made of stretch denim and have a contour waistband and a high-rise waist for a tight fit through the hips and thighs. "Love these jeans," comments one reviewer. They fit well, are pretty high-waisted, and keep my stomach in place!" These jeans, with just the perfect amount of flair, are excellent for wearing with sneakers, sandals, or heels for flexible use.
---
Conclusion
These are some of the best flared jeans options that you can consider purchasing. Moreover, you can also check the official Findwyse website to learn more about the high waist flared jeans explore more beige flared jeans options and even find the perfect blue flared jeans outfit.
FAQ's