Air fryers are an effective solution to satiate your desire for "fried" foods with a significantly lower fat level. Thus, enabling you to eat your favorite comfort foods using less oil. They operate by convection as they move hot air around your meal to cover every surface area with oil and heat. The only thing you have to do before turning on the device is to spray or sprinkle a little oil onto whatever you're cooking. It involves a sophisticated chemical mechanism that produces a crispy outcome with far less fat (up to 99% in some instances).
Although features among different models vary, air fryers typically function between 150 and 200°C. Hence, the healthier food preparations below are best from the best air fryers. You can choose the perfect one based on your budget and requirement.
Best Air Fryers
1. Ninja Air Fryer AF100UK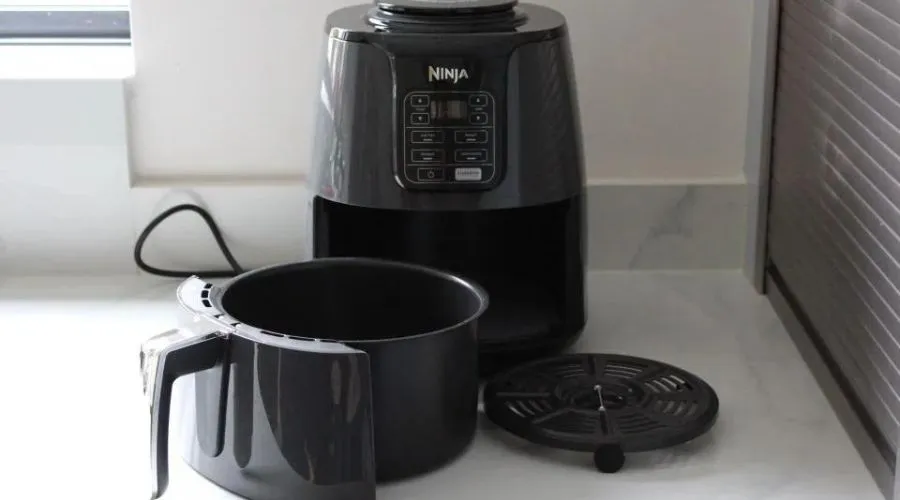 This Ninja air fryer, which promises healthy chip frying with up to 75% less fat than deep-fried hand-cut French fries, is undoubtedly much more. It can produce up to 900g of fries, but it is far more adaptable with its removable crisper plate and two fan speeds. In addition to roasting and frying, you can dehydrate food to make beef jerky, chewy apple rings, banana chips, veggie crisps, and other healthful treats.
One of the other fantastic features of this air fryer is a reheat mode. This mode is excellent for crisping up individual pizza slices and reviving leftovers without turning on the oven. The Ninja is excellent for frozen food. Still, you can easily modify programs to fit whatever you're preparing, owing to straightforward controls and a digital display.
2. Tower T17005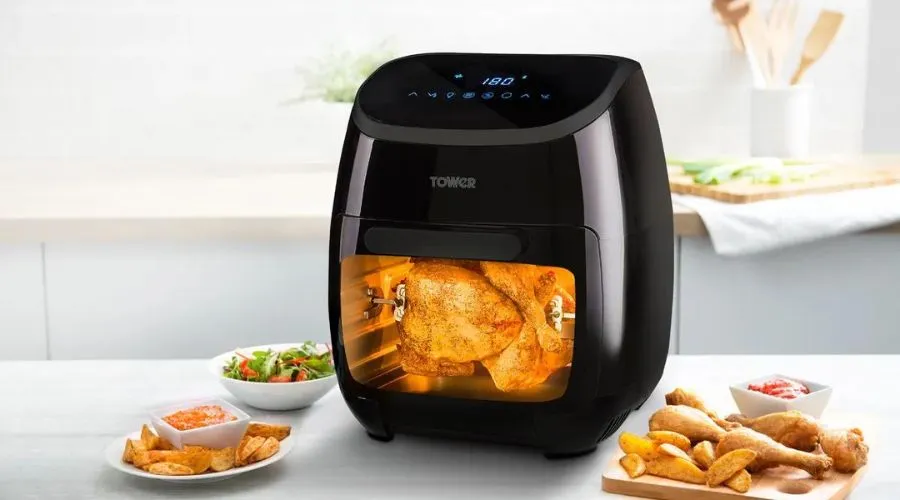 This pocket-friendly air fryer is sturdy and pretty easy to handle. It can fry and crisp up every food item, from chicken goujons to chips, and cut down the fat content of the prepared food by 80%. Thus lies on the healthy side of the spectrum with a large capacity, making it fit for family usage. Since it has dishwasher-safe parts, it involves instant clean up post-cooking. It has a baking pan with a divider that enables the preparation of two food items at a time.
Additionally, even though the Tower still uses a manual 30-minute timer with an auto-off feature, it has the advantage of working with the Tower Recipe Alexa skill. Thus, you can prepare more than just delicious, crunchy chips. This is considered one of the best Air fryers.
3. Tower Xpress Pro Combo 10-in-1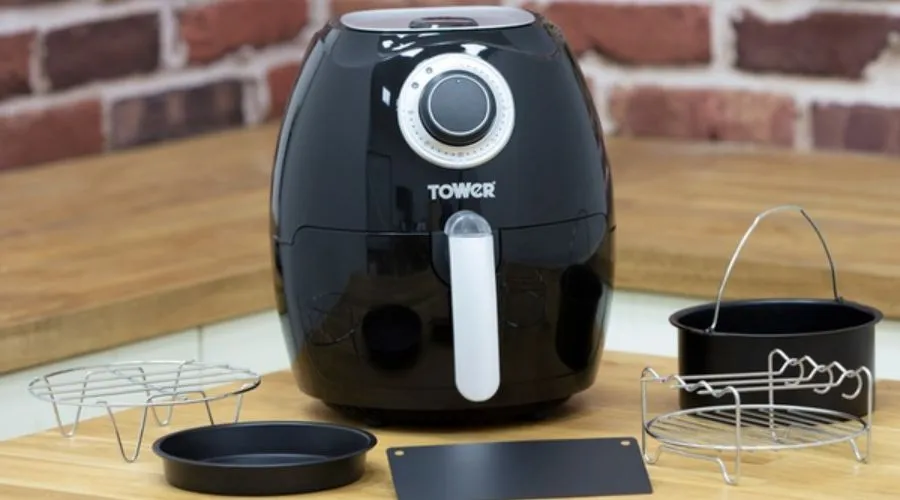 It is the best air fryer for cooking chicken and doesn't feel too big on the kitchen countertop. Its spacious interior can roast, bake, dehydrate, and air fry your food. Since it has separate crisping trays, it appears as a mini tabletop oven, unlike other air fryers with basket drawers for cooking food. It is a reasonably priced compromise if you want an air fryer that can make a little more than just chips and chicken nuggets but can't afford a high-end one like the Tefal Genius XL.
But the air fryer's automatic rotisserie feature enables you to roast a tiny 1 kg chicken in just 45 minutes.
Thus, this feature is its real bright spot. With little effort, the outcomes are fantastic, yielding a chicken with crispy skin and a juicy, perfectly cooked interior. Moreover, this updated edition also includes a tiny pizza crisping dish, silicone oven mitts, and kebab skewers.
A cheaper version 5-in-1 model by Tower is also available. This model has fewer features, including an excellent rotisserie, and is ideal if you want to save more money.
4. Ninja Foodi Dual Zone Air Fryer AF300UK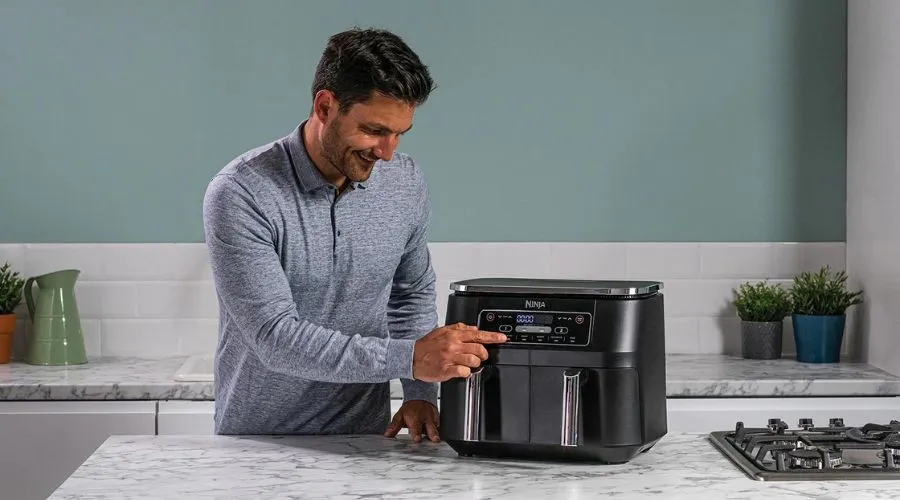 Its best attribute is it can simultaneously cook two different items in two different ways. At the same time, their cooking is likewise complete. This air fryer takes less than half time to cook your food and is a perfect kitchen gadget for a quick-served delicious dinner. It uses almost no oil to cook the food. It circulates the super-hot air uniformly around your food, giving a golden finish to your food. Hence, the food it prepares contains less fat than the one made using conventional frying techniques. This product is not only a fryer, but it has five other programs to cook the food, Max Crisp, Bake, Roast, Dehydrate and Reheat. You can set it with different temperature controls and transform the food from frozen to crispy in a few minutes.
However, you must shake the food items in the basket every five minutes for uniform coloration of their surface due to the absence of a stirring paddle. But in my opinion, it is not something that will make you overlook this unbelievable air fryer. It has fantastic additional features, especially the Max Crisp setting for frozen foods. Ninja Dual Air Fryer is one of the best air fryers.
5. TefalActifry Genius+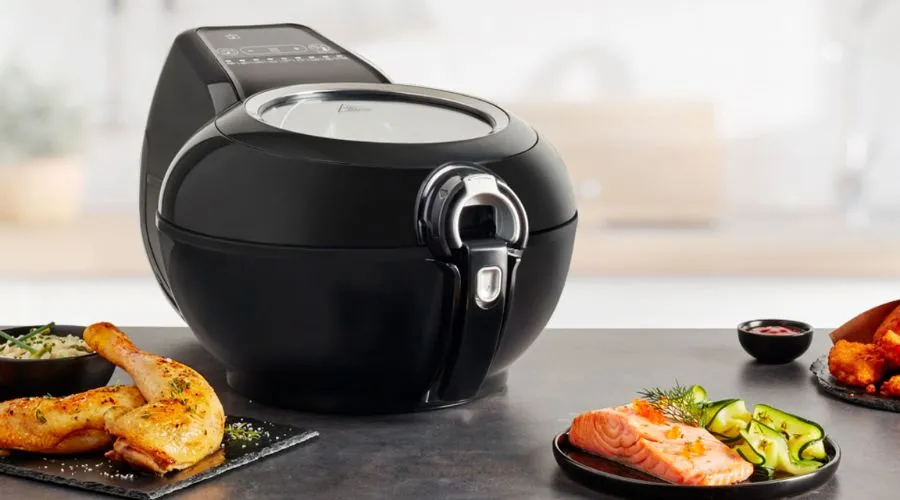 Tefal Genius+ is one of the best air fryers offering easy deep frying options. It has a capacity of 1.2 kg and can cook six portions of food with minimal effort. This model has an ideal size than the other versions of the Genius range.
The 360-degree stirring paddle guarantees the consistent cooking of food without being shaken by you during the cooking process. Further, the nine automated cooking processes omit most guesswork in air frying. However, setting the time and temperature yourself is still an option.
Additionally, the Genius+ automatically modifies the temperature and stirring paddle throughout cooking if you use these settings to prevent overcooking your food. Although Tefal's Genius line is pricey, there aren't many air fryers on the market that perform as well.
6. TefalActifry Genius XL 2in1: The best high-end air fryer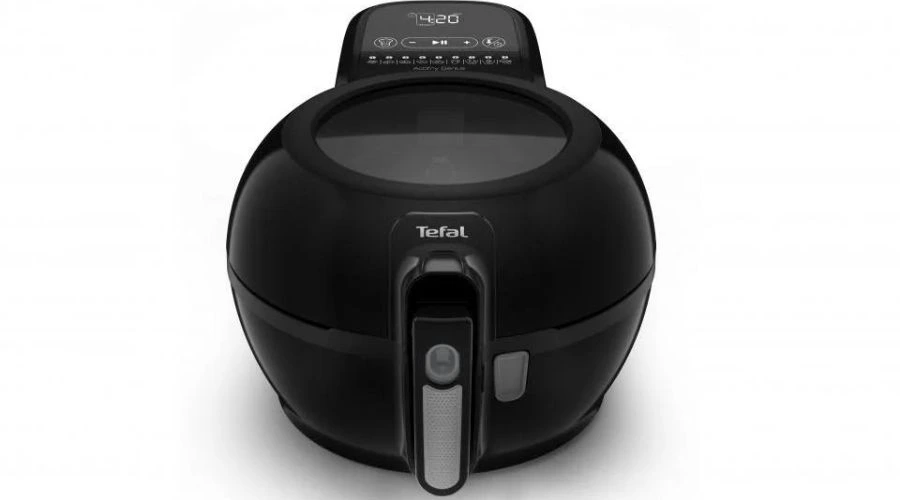 With an enormous capacity of 1.7 kg, Genius 2in1 is one of the large-sized items on our list. There are a lot of preset settings for cooking traditional dishes like chicken and chips, stir-fries, and more, just like the other appliances in Tefal's Genius line. It is in your hand to set the time and temperature manually or use the automatic settings by choosing a program.
Tefal's 2in1 function enables you to prepare two separate components of your meal in one place due to its extra-large capacity. You can cook a curry and air fry samosas in the same appliance with a spinning stirring paddle on the bottom and a static upper tray on top. Hence, it saves time and dishwashing. At the same time, it is testing this product, using only one tablespoon of oil, and preparing homemade chips, and chicken in just 25-30 minutes. Since it has a stirring paddle, there is no need to flip or check the food from time to time.
Conclusion
An air fryer is ideal to satisfy your craving for "fried" dishes with lower fat content. It circulates the hot air around your food, making its crispy surface golden-brown. Consequently, you'll be able to enjoy your favorite comfort dishes with consuming less oil. The article covers all the best air fryers available for the effortless preparation of a healthy fried dish. They have various features that make them super-flexible in their functioning in daily life.
FAQs