Evening Dresses are formal gowns worn for special occasions, such as weddings, proms, and black-tie events. They come in various styles, lengths, and colours, and are often made from luxurious materials such as silk, chiffon, and satin. Some popular styles include ball gowns, mermaid dresses, and A-line dresses. Evening dresses often feature intricate details such as beading, lace, and embroidery, and may also have dramatic elements such as trains and high slits. They are typically accessorised with jewellery, high heels, and clutch bags. Choosing the perfect evening dress can be a daunting task, but the right one can make you feel confident and glamorous for your special occasion.
Styling evening dresses the right way
Styling evening dresses involves careful consideration of the dress style, colour, and occasion. Here are some tips to help you style your evening dress:
Choose the right accessories: Statement jewellery, high heels, and a clutch bag can elevate your look and add some sparkle and glamour to your outfit.
Pick the right hairstyle: Up-dos, sleek buns, and soft waves can complement your dress and add some elegance to your look.
Consider the dress length: If your dress has a long train, avoid wearing shoes with ankle straps as they can get caught in the fabric. If the dress is short, you can show off your legs with strappy sandals.
Choose the right makeup: A bold lip or a smokey eye can add some drama to your look, but be sure to keep your makeup balanced and complementary to your dress.
Consider the dress code: If it's a black-tie event, opt for a long formal gown, while a cocktail dress may be appropriate for a more relaxed occasion.
Top picks of evening dresses:
1. Satin Scarf Maxi Dress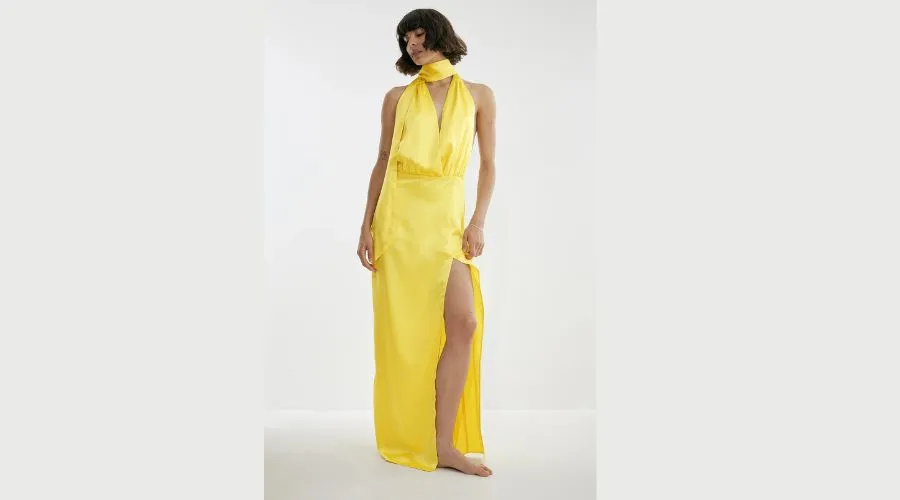 This is a stunning Satin Scarf Maxi Dress in Ice Blue by NA-KD, a popular fashion brand. The dress features a flowing, floor-length silhouette that is both elegant and comfortable. The light blue hue is perfect for any occasion and is complemented by the luxurious, satin material of the dress. The scarf detail at the neck adds a touch of sophistication and elevates the overall look of the dress. This evening dress also features a concealed zipper at the back, ensuring a perfect fit. This dress is perfect for formal events, weddings, or any occasion where you want to feel and look your best.
---
2.  Satin Midi Dress
This Satin Midi Dress in Pink by NA-KD is a fashionable and versatile addition to any wardrobe. The dress features a midi-length silhouette that is both elegant and stylish, perfect for any occasion. The pink hue is soft and feminine, making it a perfect choice for a summer wedding or a romantic dinner date. The dress is made from a luxurious satin material that drapes beautifully and feels comfortable against the skin. This evening dress also features a deep V-neckline and adjustable shoulder straps that allow for a customizable fit. This dress is a must-have for any fashion-forward woman looking for a chic and sophisticated dress for any occasion.
---
3. Ring Detail Maxi Dress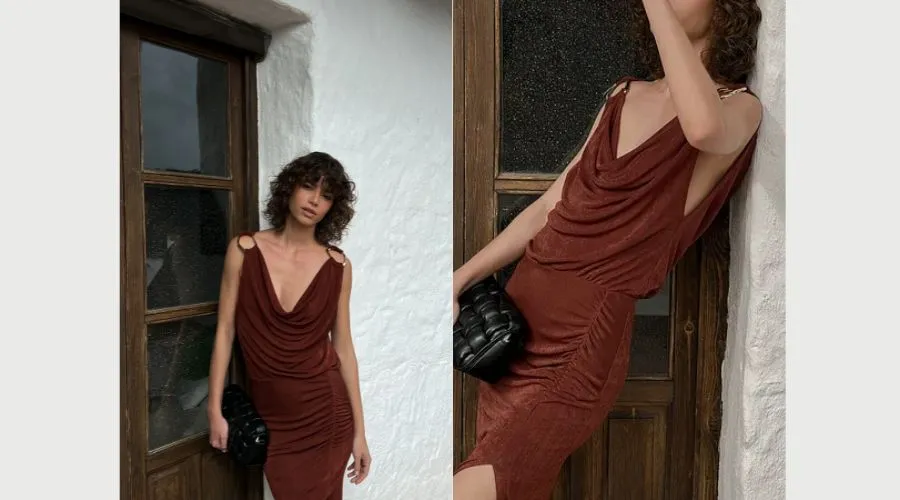 This Ring Detail Maxi Dress in Green by NA-KD is a stunning and sophisticated piece. The dress features a flowing, floor-length silhouette that is both comfortable and stylish. The green hue is eye-catching and perfect for a variety of occasions, from weddings to formal events. The dress is made from high-quality material that drapes beautifully and feels soft against the skin. The ring detail at the front of the dress adds a touch of elegance and sophistication to the overall look. The dress also features adjustable shoulder straps for a customised fit and a concealed zipper at the back for ease of wear. This evening dress is perfect for those looking to make a statement with their fashion choices.
---
Conclusion
Evening dresses are characterised by their long, flowing hemlines and often feature embellishments such as sequins, beads, or lace. They may also include design elements such as cutouts, plunging necklines, or intricate draping. The overall effect of an evening dress is to make the wearer look and feel confident and beautiful while adhering to a certain level of formality. For more information, visit FIndwyse.
FAQs
Affiliate Disclosure: Our website may contain affiliate links, which means we may receive a commission if you click a link and purchase something that we have recommended. While clicking these links won't cost you any extra money, they will help us keep this site up and running. Thank you for your support!